Movie cowboy James (Yakima Jim) Anson was shot to death at the Selma Hotel in Hollywood on August 9, 1925; and the shooter was either Tom Bay or Edward (Red) Carmichael. Because each of the suspects was pointing his finger at the other, no one was sure which of the men had actually pulled the trigger.
On August 11, 1925 the Coroner's Jury heard testimony from a number of witnesses. Among them was LAPD Detective Lieutenant Clark who stated that following his arrest Bay told him: "I was passing the Selma Yotel and Yakima Jim called me up. I went into his room and found him there with a gun in his lap. I saw two or three fellows there. I asked Yakima, 'What's the trouble?' and Yakima said, 'You know what's the trouble.' I saw he was shot and thought I was being framed on, so I got out." The scenario was at odds with Carmichael's version which had he and Bay visiting Yakima's room together–no one else was there when they arrived. According to Carmichael he had stepped out of the room for a moment leaving Bay and Yakima alone. He was certain he'd heard Yakima say. "Put down the gun." Carmichael returned to the room when he heard a shot and saw Bay climbing out of the hotel window. Yakima was still alive and there was a gun on the floor. Carmichael recognized it as his own weapon. He didn't know how it had come to be there so he picked it up and was about to leave the room when police arrived. The cops were conveniently next door at the Hollywood Station.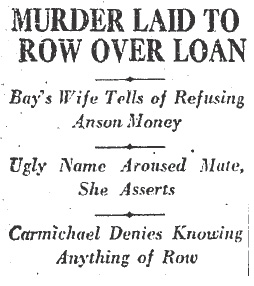 E.D. Musselman, another cinema cowpoke and a roomer in Bay's home, testified that Bay arrived home at 4 p.m. on the day of the shooting and he was completely soused. Musselman said Bay was so drunk he was barely able to talk and muttered something unintelligible about Yakima Jim being hurt.
An intriguing piece of the puzzle was supplied by A.J. Antela, a Hollywood jail trusty, who testified that he found $340 in bills on the ground beneath Anson's window. The money was important was because Bay complained of losing $440 in denominations matching the found money, so it lent credibility to Carmichael's version of events. The inquest panel never heard the theory that the shooting was tied to Bay's failed attempt to borrow money from Yakima; nor did they hear that Yakima had allegedly said some nasty things about Bay's wife.
In his testimony Detective Lieutenant Clark stated that Yakima Jim revealed that he had been shot by "Tom Bay with Red Carmichael's gun." Generally a dying declaration is given a lot of weight, and this one was pretty damned clear, yet the jury couldn't reach a conclusion. They returned with a open verdict–meaning they couldn't affix blame to either Bay or Carmichael and settled for accusing "some party or parties unknown."
A couple of days following the inquest Bay and Carmichael were in front of Judge Russell for arraignment. The Coroner's jury was unable to name the shooter so it was going to be up to a judge and/or jury to try to figure it out.
The defendants' attorneys, Phillips and Kendall, excoriated the cops for failing to produce the ragged, bloody shirt worn by Yakima when he was shot to death. The defense contended that the shirt would show that Yakima was shot during a struggle–not murdered in cold blood. Attorney Kendall shouted at the prosecution: "You have brought everything connected with the case into court, but you didn't bring the shirt. Why? I'll tell you why. Because it shows evidence of a terrific struggle having taken place before Jim was killed, evidence that will exonerate these defendants of the charge of murder."
The judge postponed the hearing to give everyone an opportunity to deal with the mystery of the missing shirt. Bay and Carmichael were handcuffed to each other to be returned to lock-up. As they were being led from the courtroom Bay's sobbing wife rushed to his side begging that cops: "Handcuff me to him and take me to jail." The officers declined.
Was evidence that might clear Bay and Carmichael being deliberately withheld? The hunt for the red shirt was on.
NEXT TIME: Sorting out the shooter. The red shirt mystery solved.