Within hours of her conviction Helen had willed herself into a coma, just like she said she could do. Inmates in the jail who passed by Helen made cracks, to which she was oblivious, about the "sleeping beauty". Maybe they were jealous, because if Helen regained consciousness she'd be svelte.  The first 5 days of her coma she lost 10 lbs! Nothing gets results like a diet of despair and guilt.
The jail physician, Dr. Benjamin Blank, examined Helen and declared that:
"She is suffering from a catatonic condition, a form of stupor brought on by extreme mental strain."
He further stated:
"It is possible that the condition was brought on by fear during her trial that she might be hanged if convicted, or fear of serving the second-degree murder sentence fixed by the jury."
A TIME Magazine article described Helen's condition as:
"a fit of sulks so profound that half a dozen solemn psychiatrists could not even agree on a name for it, variously calling it 'hysterical fugue,' 'split personality,' 'dementia praecox,' 'triumph of the subconscious,' 'self-imposed hypnosis,' 'voluntary stupor.'"
Legally, Helen could not be sentenced for her crime while in an insensible state. Her condition put justice for Harry on hold indefinitely.
Judge Smith was skeptical about Helen's coma, and he wasn't the only one.  Matron Vada Sullivan, who had seen many female prisoners during her tenure at the jail said:
"Mrs. Love is faking.  She has been causing us considerable trouble since the jury returned the verdict that found her guilty of second degree murder.  She has been stubborn and despondent."
After several continuances of sentence, Judge Smith ordered court to be held in the hospital so that Helen's reactions could be observed. There wasn't much to see. Doctors stuck her with pins and otherwise abused the unconscious woman but she responded only when Dr. Samuel M. Marcus, the fifth psychiatrist to examine her, massaged her head and mentioned Harry's name.  Helen muttered: "Please don't go away, Harry!"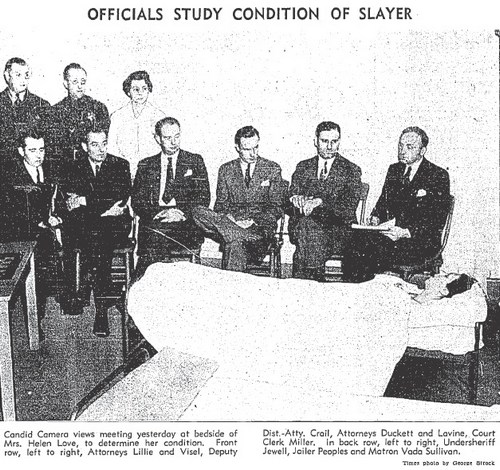 Helen became known as "the husk woman", and she remained unconscious for 158 hours.
After slapping and shaking her, which one can only hope weren't the usual psychiatric treatments for a comatose patient, Dr. Marcus was finally successful in awakening Helen by whispering in her ear:
"Here I come—that Dr. Marcus again—I'm knocking, knocking at that door—let me in now, Helen! Let me in, I say! I am going to get through that door so open it! Wake up!"
Helen did awake, while film crews recorded everything and her attorney stood by. It took 58 seconds for her to rise, and when she did she was terrified and begged for water. When Dr. Marcus asked if she was happy to be back in the land of the living she sobbed, 'No, Oh, I haven't done anything wrong! Let me go back!"
She felt much better the next day. She said to the assembled newspapermen: "Don't I look beautiful this morning?"
Helen was ravenously hungry. She'd been fed intravenously while she was out, but once she was upright she was treated to chicken broth with rice, buttered toast and two glasses of milk.
When asked about rumors that she was going to lapse into another neurotic coma, Helen smiled. She did her nails, wrote letters, read her fan mail, and expressed her disappointment at not being able to play golf with Jailer Clem Peoples.
She was sure she could beat him because she had once driven a golf ball 240 yards. She said, "Can you imagine that? And me a girl?"
When all was said and done, Helen was convicted of second degree murder and sentenced to serve from seven years to life in prison. Helen left HOJJ (Hall of Justice Jail,) for Tehachapi dressed as though off to a fashionable tea. She was wearing a black crepe dress embroidered with silver flowers and a black cloth coat.  Around her shoulders was a silver fox fur. She wore a black straw hat which, she said, she had bought in Paris. Black shoes, gloves, and purse completed her off-to-prison ensemble. Women dressed up for everything in those days, and a trip to prison was no exception. It paid to look your best.
Helen did well at Tehachapi, she even won first place in a baking contest for her coconut cake.
While Helen was baking awarding winning cakes in prison, her mother-in-law, Cora, was embarking on a scorched earth policy where her former daughter-in-law was concerned.
Cora went to court to prove that there was no evidence of a marriage between Harry and Helen.  She got an injunction barring Helen from representing herself as Harry's widow or using the name Love.
In an unrivaled act of optimism, Helen applied for parole in November 1938 under her maiden name, but was told she would have to wait two years before applying again. Not unreasonable given that she had shot a man to death a year earlier.
In 1940 the litigious Cora sued Rio Grande Oil Co., Richfield Oil Co., KNX and CBS for $1M in a libel suit.
Cora claimed her character had been defamed in a broadcast of the radio program "Calling All Cars" (an episode entitled The Silver Cord which aired on January 13, 1939.) I haven't found any record of her suit, so I don't know if she won.  But I doubt it. Listen to the episode and decide for yourself if she had a legitimate complaint. Actually, everyone should have complained. The heavily hyperbolic episode didn't flatter any of the characters.
If Helen was paroled in 1940 it didn't make news; however, she was eventually released. It is difficult to trace women, especially in years past when they routinely took their husband's surnames. That said, I think I've been able to ferret out a few bits of information on Helen.  As far as I can tell she was married a total of four times (three if you agree with Cora Love who adamantly denied Helen was ever legally married to Harry). As far as I know, Helen managed not to kill any of her other husbands or lapse into any more self-induced comas.
Helen Wills passed away in San Francisco, California on November 1, 2000 at the ripe old age of 95.
As for Cora Love, she passed away in Riverside, California on 17 Nov 1950 ten days following her 85th birthday.