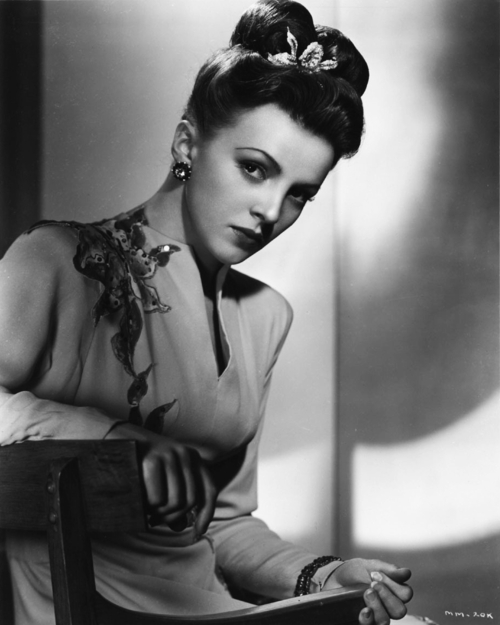 Marjorie Massow was an Iowa Falls, Iowa girl — but she didn't want to be one all of her life. She had big dreams so she moved to Hollywood to make them come true.
Even pretty girls like Marjorie could find Hollywood tough going; it wasn't always as simple as getting off a Greyhound bus and into a starring role, no matter what the movie magazines said. Instead of working on a sound stage, Marjorie found herself ringing up lunch specials at the cash register in the 20th Century-Fox commissary. Even though she wasn't working as an actress, Marjorie saw movie stars every day and she felt sure that  she'd catch a break — after all everyone knew that Lana Turner had been discovered in a Hollywood drugstore.
The Iowa City girl got lucky, and in 1944 she was plucked out from behind the cash register and cast for a role in "Take It or Leave It". Marjorie only made a couple of films for 20th Century-Fox, but they were enough to whet her appetite for more.
By 1946 Marjorie had adopted the stage name of Madge Meredith and she was working for RKO. She was cast opposite Tom Conway in "The Falcon's Adventure", and later that year she appeared in "Trail Street" with Randolph Scott, Robert Ryan, and Anne Jeffries.
RKO terminated Madge's contract early in 1947, and in a few short months her life went from bad to much worse.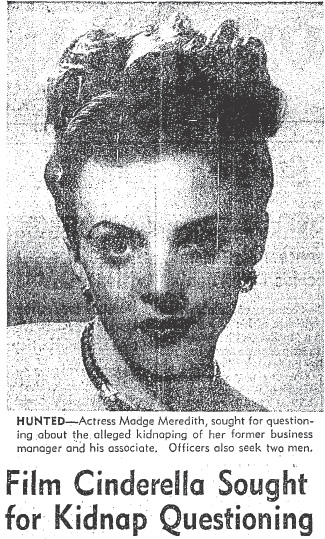 On July 2, 1947, Madge was in the headlines, but it wasn't because she was starring in a film — the actress was being sought for questioning in a kidnapping case!
Nick Gianaclis, Madge's business manager and a restaurant supply man, had filed a complaint in which he said that he and his body guard, Verne Davis, had been kidnapped, beaten, and taken out to Lopez Canyon from where they had managed to escape. According to Gianaclis, he and Davis had caught the man who was watching them off guard and relieved him of his weapon. They ran to a ranch house and called the cops.
In Nick's statement to Capt. W.T. Deal and Det. Sgt. S.W. Robinson of the L.A. County Sheriffs Department, he said:
"It was about 9 a.m. Monday, Davis and I were on the way to work. When we reached the bottom of the hill at Laurel Canyon Road, we met Marjorie Massow driving a new maroon convertible couple. She motioned to us to turn around and follow her up the hill to the house. So we did."
The house to which Nick referred in his statement was in the Hollywood Hills, and it was at the center of a nasty dispute between he and Madge.  About 200 yards from the house, Nick told officers, the actress turned her car to block the road. Gianaclis said that when he stopped a third car drove up behind him.
"There they are! Go get them!" Nick quoted Madge as saying.
Three men got out of the car to the rear, Gianaclis said, and while two of them covered the victims with guns, the third administered a beating with a blackjack.
"We were ordered into the rear of the car. While we were being driven for more than an hour, we were struck from time to time–just about every time we moved. When we finally stopped in a hilly area, the man called Jim taped our eyes. Then they made us crawl over some rocks and through heavy brush. They left a guard to watch us."
Gianaclis said his wallet containing $85 cash and a cashier's check for $4,000 had been stolen.
Police later located Gianaclis' allegedly stolen wallet at his home, but then Davis said that the men had taken the money from Gianaclis' pocket NOT his wallet. The minor inconsistency in Nick's story didn't seem to bother anyone, and a warrant was issued for Madge's arrest.
Madge surrendered herself to Sheriff's deputies Lt. Pete Sutton and Sgt. M.W. Skelly at the Public Library. The meeting had been arranged by her attorney, Ward Sullivan
When she was questioned, Madge told a tale that was quite different from the statements given by Gianaclis and Davis.
She said that Nick had threatened her many times about ownership of the house, and that he had arranged a meeting in the Hollywood Hills on the day of the kidnapping to discuss the property rights.
Madge told the police that on the way to the meeting, as she was driving up the steep, winding road, she became frightened when she noticed that she was being followed by a car driven by Nick. When she reached the meeting place in Laurel Canyon, Madge said that Nick forced her automobile to the curb. When she attempted to escape, she said that he threatened her with a length of pipe.
Nick filed a formal complaint against Madge and three men for robbery, kidnapping and assault with a deadly weapon.
The men in the kidnapping case had been identified as: Damon William Klinkenberg, 21, a cook; Albert W. Tucker, 29, nurseryman, and James Alfred Hatfield, 33, former Beverly Hills policeman.
Madge was released on $5,000 bail, her co-defendants were held in the County Jail in lieu of $10,000 bail each.
The case against the alleged kidnappers went to trial. Davis and Gianaclis testified that they'd heard one of the men say that the trio were "getting $2,000 from Massow for this job."
Nick sobbed out his testimony saying:
"They beat me with blackjacks and guns even though I told them I would given them money if that was what they were after". They taped my eyes and forced me to lie down in the back of their car and drove away with me."
Madge was called to testify about her dispute with Nick over the house:
"I fell in love with the house, but was $5000 short on the purchase price. I called on several of my friends for aid and finally Nick said he would put up $5000 to complete the transaction. I took out two life insurance policies  to protect Nick's investment."
Madge testified that Nick had duped her. He'd gotten her to sign a deed to the house, not a mortgage, so that he would be part owner. She'd trusted him, she said, and he had betrayed her.
Ward Sullivan and Abbott Bernay, Madge's attorneys, said she was "scared to death" after Nick threatened to "get her" over the lawsuit involving the home at 8444 Magnolia Drive in the Hollywood Hills.
The trial lasted for four weeks and on December 12, 1947, the jury of 11 women and 1 man returned guilty verdicts for each of the defendants.
Madge was found guilty of five felony charges involving the kidnapping of Nick. Two of her co-defendants, Albert Tucker and Damon Klinkenberg, were also convicted. A fourth defendant, James Hatfield, the former Beverly Hills cop, was found guilty only on the possession of a deadly weapon charge.
Madge said she had been framed. She was remanded to County Jail pending a new hearing, but the motion for a new  trial was denied.
Madge was sentenced to from 5 to life in Tehachapi; Albert Tucker was sent to San Quentin; Damon Klinkenberg received three 60 day County Jail sentences to run concurrently, and James Hatfield was confined for just 30 days.
Imposition of Madge's prison sentence was postponed indefinitely pending the outcome of an appeal; however, she was incarcerated in County Jail while she waited.
Finally, in October 1948, Madge was freed on a $15,000 bond; she had served 11 months in jail. Of her time in the County Jail she said:
"At first I was on 'hard time'. That is when you feel you didn't get a fair break. Persecuted. You know–'we wuz robbed' sort of thing."

"Sometimes you couldn't even imagine what it was like to walk down a street or take a drive out by the ocean.

But I like to work and I looked forward to getting to be a trusty so I'd have something to do. I volunteered for any kind of work. Then one day they took me to the sewing room–I, who never could sew–and put me to work. I can sew now all right."

"And pretty soon I was on 'easy time'".
To add to her woes, while she was out pending an appeal, Madge was sued for $65,732 for damages by one of her alleged victims, Verne Davis. The civil suit charged that "under Miss Meredith's direction" three men had pulled him out of a car, beat him repeatedly with their fists and a blackjack over a two hour period, and taped his eyes and mouth shut before releasing him.  Nick testified on Verne's behalf.
Madge and her three co-conspirators were ordered to pay $4,050 in damages to Verne V. Davis.
In March 1949 Madge lost her appeal in the kidnapping case, and on April 25, 1949 Madge surrendered to police to begin her term in Tehachapi Women's Prison.
Madge told reporters:
"I know in my own heart I'm innocent of any crime and some day, someone will believe the truth about what I say."
NEXT TIME:  The truth will out.