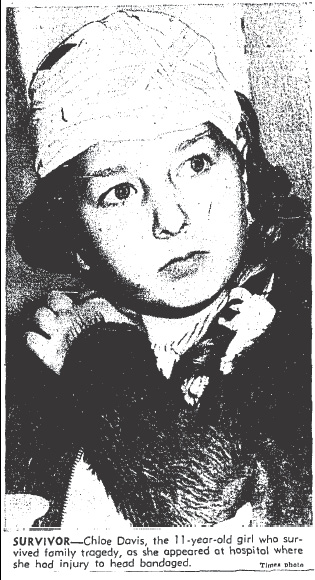 The sole survivor of a natural disaster is considered fortunate, blessed by chance or by God. The sole survivor of a quadruple murder is considered a suspect, no matter how young she is.
For three weeks in April 1940, more than a decade before the fictional grammar school sociopath and budding serial killer, Rhoda Penmark, made her debut in William March's novel THE BAD SEED, an eleven year old Los Angeles girl was held by cops and questioned by psychiatrists in the hammer murders of her mother and three siblings.
When blonde, bandaged and be-ribboned Chloe Davis failed to show any emotion in the wake of the violent deaths of her mother, Mrs. Lolita Davis, 36, and her siblings: Daphne Davis, 10; Deborah Ann Davis, 7; and 3 year old Mark Davis, the cops became suspicious and brought her in for questioning.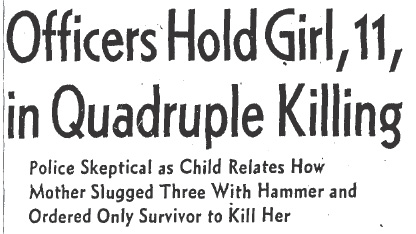 Everyone who knew her said that Chloe was an unusual girl.
She was described by her school teachers as mature beyond her years, bright and studious and a natural leader. And according to her father Barton, not a child often moved to tears. But could she have been moved to commit violent, bloody murder? That's what the law wanted to know.
Chole was questioned by a cadre of cops and examined by a couple of psychiatrists; one of whom was the in-house LAPD shrink, Dr. Paul de River; but her story remained the same no matter who was asking the questions.
On the morning of April 4, 1940, Chloe said that she had been awakened by the terrified screams of her younger siblings. She started out into the hallway to see what was the matter, and there she met her mother; and she had a hammer in her hand.
Chloe continued:
"She hit me on the head, but it didn't hurt much. I finally took the hammer away from her. Then mama tried to set fire to my hair, but it wouldn't burn. So she lit her own hair. That did burn and her nightgown burned off. Then she ordered me to help her drag a mattress from the day bed in her bedroom into the hallway near the bathroom."
Chloe did as she was told, then her mother said:
"I've killed them, now you kill me."
Lolita told Chloe that she was being pursued by demons and the relatives of Pattie Thompson [a relative of the Davis'] because she had killed Pattie with her strange power.
Chloe said that her mother had told her that she had killed her brother and sisters to "save them from demons".  She then told her daughter to hit her "until she stopped talking".
Wielding the hammer Chloe hit her mother on the chest but apparently the blow wasn't hard enough. Lolita said:
"Hit me some more, stop this pain."
As Chloe was raining blows down on her mother's supine form, three year old Mark was on the floor in the kitchen moaning in pain. Lolita gave her daughter permission to go and "put him out of his misery" — which she did by hitting him on the head three times with the hammer.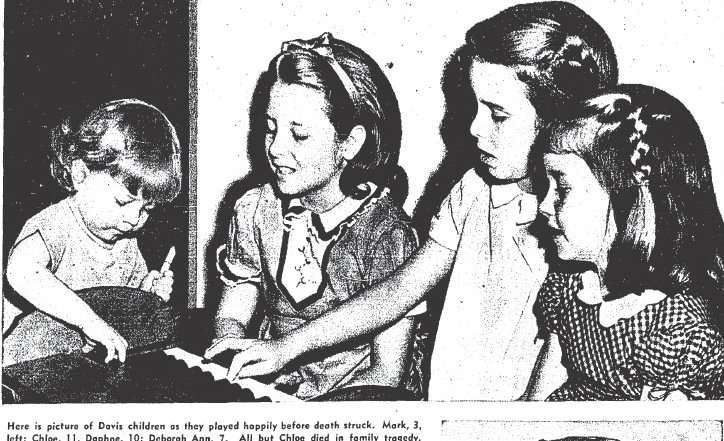 Finally, Lolita persuaded Chloe to bring her a razor blade from a hall closet. Chloe returned with the blade, and then turned her head so she wouldn't have to witness her mother slit her own wrists.
Chloe's icy calm continued to unnerve the adults who peppered her with questions about the murders. She went on to describe the aftermath of the slayings.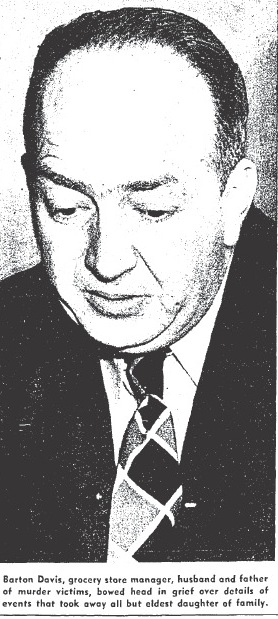 Following the slaughter, Chloe said that she had washed up, changed into some clean clothes and gone out to phone her father. She said that she'd originally intended to go to a phone booth at the nearest drugstore but realized that she didn't have a nickel, so she went to a neighbor's house instead. She telephoned her dad and told him: "You'd better come home right away".
Mrs. Randolph, the neighbor, was alarmed by Chloe's call, but the girl told her:
"I won't say anything 'til daddy gets here."
However she changed her mind and told Randolph:
"It's something so terrible you'll probably read all about it in the newspapers."
When Barton arrived home Chloe told him he'd better go into the house. He did, and his world collapsed. Chloe said she could hear him crying "Oh, God" over and over. She told him to control himself and calm down.
While Chloe was in custody downtown, curious crowds congregated in front of her home at 1211 W. 58th Place. Kids on their way home from school stood in front of the scene of the tragedy and gawked. Attracted by the clusters of school children, ice cream vendors peddled their treats as newsboys ran up and down the street selling papers. The scene became a grotesque parody of suburban life.
It wasn't until the autopsies were concluded that police authorities and psychiatrists stated: "We are being forced to the conclusion that she is telling the truth!"
Forced? Really? Glad to see they were keeping open minds.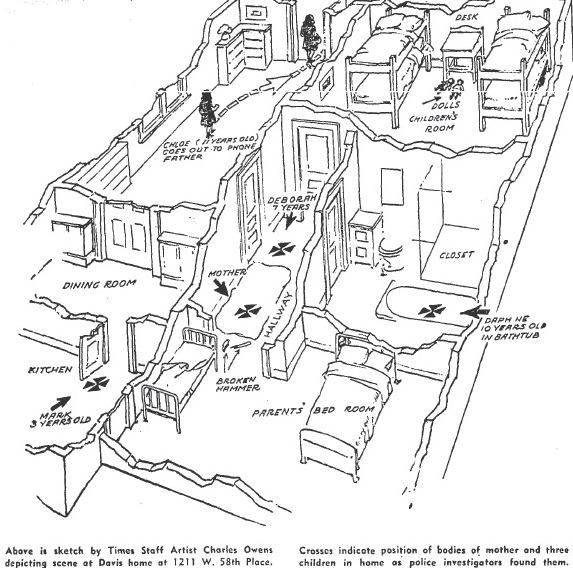 Once the evidence at the crime scene had been processed, it revealed that the story Chloe had been telling for days was incredible but true. News coverage reflected the shift in the official thinking, and instead of columns of sly innuendo implying the girl's guilt her dead mother was vilified as demented and crazed.
The key that opened the lock on Chloe's cell door was the confirmation that Lolita had not died of a skull fracture but had bled to death from the self-inflicted slashes on her wrists. Chloe was exonerated.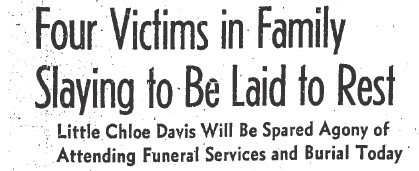 The girl was whisked away to a secret location by relatives, and thus spared the ordeal of attending the funeral services for her mother and siblings.
At Chloe's Juvenile Court hearing, Superior Court Judge W. T. Fox said that because of the "emotional and mental shock from which she has not yet recovered", she should be made a ward of the court — but at least she was released into her father's care.
Rather than a cunning prepubescent sociopath, Chloe had been revealed to be the resilient survivor of a domestic holocaust.
Late last year I was contacted by one of Chloe's distant relations who asked me to help her locate information on the case, which I was pleased to be able to do. She told me that Chloe and Barton eventually relocated to the Midwest  but that was all she knew about what had become of them.
NOTE: Thanks to Bill for suggesting that I cover Chloe's tragic story.