The 1920s are often recalled as the decade of bob-haired flappers, bootleg booze, and giddy stunts (like flag pole sitting); but it was also a decade of less benign pursuits—like an audacious day-time robbery.
On Monday, September 26, 1927, bandits robbed the city's Department of Water and Power of $73,600 in cash (equivalent to $989,437.79 in current U.S. dollars). That was bad, but what was even worse was the proximity of the scene of the crime to LAPD's Central Station–just a block away.
To say that Chief Davis was annoyed by the affront to his authority is an understatement. He told assembled reporters and concerned citizens:
"Our men have been sent out to bring into the station every suspected man on the streets, in rooming-houses, bungalow courts, apartments and hotels who cannot give a good account of himself. We ask all good citizens who carry guns to leave them off because we are going to bring in every man with a gun and try to procure a maximum jail sentence for him. We will bring in and attempt to get a maximum vagrancy sentence for every person who cannot explain his idleness or presence under suspicious circumstances. We are going to search automobiles, persons and rooms and ask good citizens to be patient as we are trying to round up an incarcerate all of the type that has been precipitating these crimes. Policemen have been instructed to be especially courteous and we appeal for public support because the move is for the public good."
Obviously the Chief wasn't a big fan of the Fourth Amendment. In fact a few years later, in 1933, when LAPD was hunting a married couple who had spent their honeymoon on a crime spree Davis would be quoted as saying that constitutional rights were of "no benefit to anybody but crooks and criminals". While I don't agree, I understand his frustration with laws that sometimes do a better job of protecting perpetrators than victims.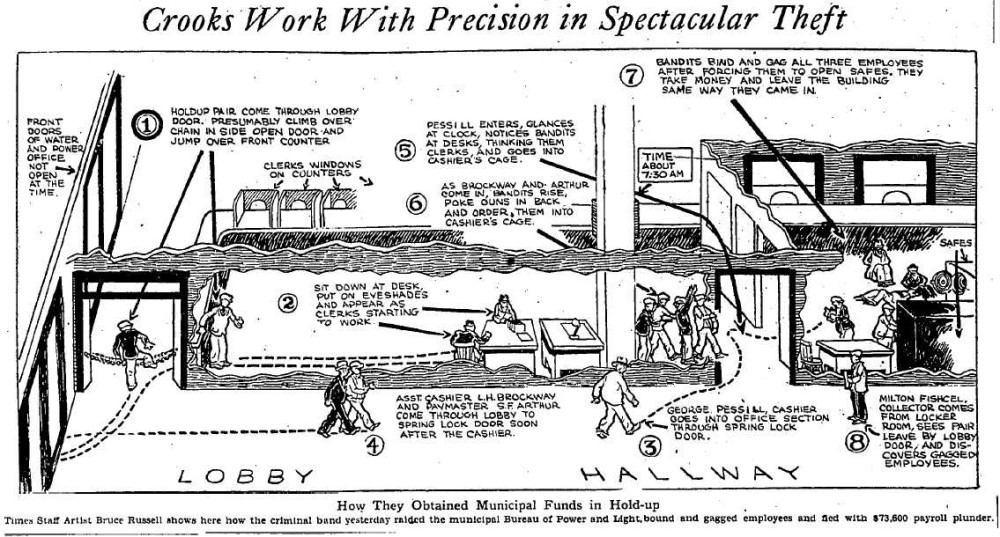 The robbers' plan was as perfectly choreographed as a performance of the Ballet Russe. It began with the kidnapping of Fred C. Kimple, a watchman for the water and power bureau. As was his routine on paydays Fred left the Clovis and Ninety-Eighth Street warehouse branch at about 6:30 a.m. to go down to the main office and stand guard at the cashier's office. He only got as far as Ninety-Sixth Street when a sedan with a man on the running board brandishing a blue-steel revolver crowded him to the curb. It must have been frightening when his kidnappers called him by name:
"Come on Fred, let your gun alone and you won't be hurt."

Fred asked them who they worked for and they replied:

"Well, we're from the Aqueduct. They made bums out of us and we're going to get even."
[NOTE: For those of you unfamiliar with the contentious history of the L.A. Aqueduct, I refer you to the 1975 film "Chinatown"; it is a fictionalized version for sure, but you'll get the idea.]
Fred was pulled out his car, shoved to the floor of the bandit's sedan and covered with a robe. He later said they didn't harm him and that after riding around for quite some time he was ordered out of the car. He found himself in the sparsely populated district near the Midwick Country Club. It took him a while, but he finally found a telephone and raised the alarm.
Meanwhile, Cashier George Pessell arrived at the bureau office at about 7:30 a.m. He entered through a "trick" door into the counter clerk's compartment that led to the cashier's room. George later told police:
"I saw two men seated at the desk with green eyeshades on their heads, and thinking they were clerks, I went on into the cashier's office. Then the assistant, L.H. Brockway, came in and was opening up the smaller safe and Paymaster S.F. Arthur arrived. As Arthur stepped in, the two 'clerks' came up. One shoved a gun against his back and the other covered me through the little window, and they made their way inside the cage."
Once they were inside the robbers worked fast. They forced rubber balls, though which strings had been run, into the mouths of Pessell, Brockway and Arthur and tied gags on them. With a gun pressed into him Pessell was forced to open the large safe, and then the three employees were bound up with cotton web straps and made to lie on the floor. One of the crooks pulled out a sugar sack and started cramming it full with every bit of cash he could see.
Milton Fischel, a bureau employee on his way to work, saw two men leaving the building through the entrance onto Broadway, but there was nothing unusual about them so Milton didn't give them another thought until he found his three bound co-workers. He released them and then contacted the police.
Police investigators arrived quickly, they were, after all, just a block away. They began to question the employees to find out if they had noticed anything strange. Frank Albith, an employee on the second floor, said he had noticed two men outside of the bureau at about the time of the crime. Police believe the men may have been lookouts for the two bandits who got the money.
Every employee who came in contact with the gangsters cooperated fully with Captains Cato and Curtis, Detectives Malino, Williams and O'Connor who were working the case. One of the employees, Louise Dolan, said she had noticed two men acting suspiciously a few days before—it was thought likely that the crooks had been casing the place.
Detectives were positive that the two inside men were part of a larger group of bandits, but how many and who were they? At least the investigators were able to get general descriptions of the robbers who had been inside the bureau. One of them had a scar on his cheek, the other's nose was taped, and both were between the ages of 30 and 35
It wasn't much, but it would have to do until they got a break.
NEXT TIME: The search for the bandits continues.