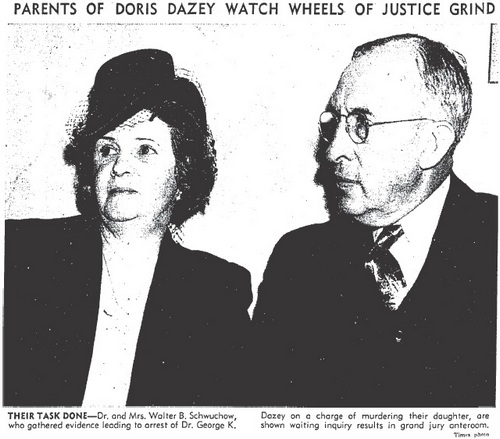 Doris Dazey's parents, Dr. and Mrs. Walter B. Schwuchow, had spent the four years since their daughter's death investigating their former son-in-law, Dr. George K. Dazey.
In 1935 Doris was found in the garage of the Santa Monica home she shared with George. She was wearing a night gown and her face was only inches away from the car exhaust–she expired from carbon monoxide poisoning. The authorities ruled her death a suicide, but there was no note and seemingly no cause for her to have taken her own life.  Her parents never believed that she would kill herself, not with a four month old child depending on her, so they undertook an independent investigation of the circumstances surrounding her demise.
In bits and pieces the Schwuchows began to assemble a picture of their daughter's marriage to Dr. Dazey, and it was very different from the public face the couple presented to the world. After speaking with Doris' friends, and her former neighbors, the Schwuchows learned that her marriage to George was not ideal; in fact Doris had been contemplating divorce even though she'd been married to George for only a year.
As soon as George got wind of the Schwuchow's statements he issued an immediate denial regarding their accusations:
"We were always happy, never quarreled. Sometimes Doris thought I was working too hard, but you couldn't call that a quarrel, even when she protested my professional labors."

"Once in a while she complained that she felt she was not doing her share because of ill-health, but I said we could keep all the servants necessary to aid her."
If George had murdered Doris and then staged the scene in the garage, what was his motive? Doris had been an actress–she played the lead in "Ramona" for several years in the annual Hemet pageant–what if Doris planned to return to her career sans husband? She'd consulted with attorney Russell Parsons about a divorce, but it wasn't clear if she had talked to George about it. If she had spoken with George he may have decided that one expensive alimony payment was enough–he was still paying off his first wife. In fact his ex- had taken him to court for back alimony and they'd had an acrimonious courtroom encounter not long before Doris died. It may have been enough sour George on another divorce and drive him to murder. Even though he made a bundle as a physician supporting two ex-wives, one with a child, would have been a financial burden.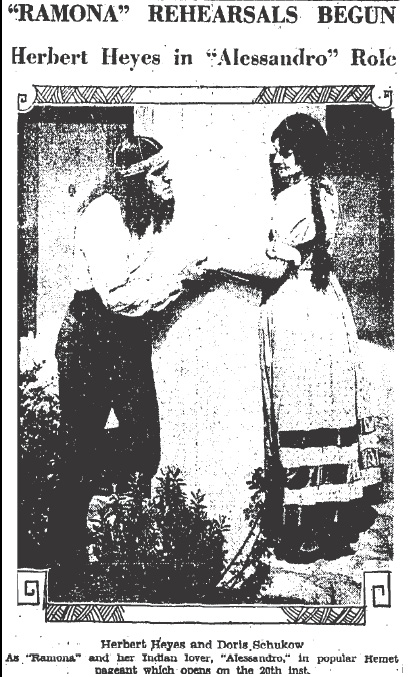 The money motive was a strong one, but then the Schwuchow's revealed a secret that upped the ante even further and provided Dr. Dazey with a very compelling motive for murder. They said that Doris had told them the baby boy she'd had four months before she died may not have been George's child.
George pooh-poohed the notion:
"Our boy was born two months prematurely.  I am a physician and know a premature baby when I see one.  The boy is in splendid health and looks just like me."
Even if the baby was George's as he contended, Miss Frances Hansbury, a nurse and personal friend of his, said that he had bragged to her about having committed "the perfect crime".  Oh, and then there was a former watchman, Roland Seal, who said that on the fatal day he saw Dr. Dazey carrying what he thought was a woman's body into the garage.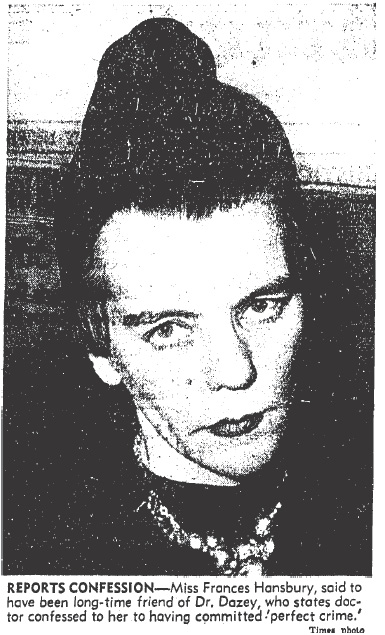 Dr. Dazey continued to deny any responsibility for Doris' death and said that the Schwuchow's were trying to frame him:
"Dr. and Mrs. Schwuchow have been trying to get the boy for themselves and because I won't let them have him they are stirring up all this trouble."
A grand jury was convened to delve into the circumstances of Doris Dazey's death. The D.A. posited that the forty-one year old doctor had killed his wife in a domestic dispute. Seal, the former watchman, said that he had heard screams coming from the Dazey residence on the day Doris died. It was around dusk, he said, that he saw the physician carry the limp form of a woman from the house to the garage.
If we take Frances Hansbury's and Roland Seal's statements at face value they beg the question: why the hell didn't one of them ever go to the police?
District Attorney Buron Fitts was satisfied with the case against Dr. Dazey, in fact he believed it might be strong enough to seek the death penalty. Dazey was indicted for murder.
George had no intention of giving his accusers the last word:
"Doris was the best wife any man could want—why in God's name would I want to kill her?"  Not long before I found her dead, apparently a suicide from monoxide poisoning in our garage, a boy was born to us and we had everything to be happy about."
Dazey continued:
"Why should she take her own life I do not know.  There is a far-fetched possibility that someone else may have done her harm, but the idea is so remote and I can think of no reason for it that I scarcely give credence to the thought."
The doctor dismissed the accusation of his former nurse, and occasional dinner companion, by saying:
"As for Miss Frances Hansbury, who says I boasted to her of the 'perfect crime,' I can say nothing except that she was a friend–or I thought she was–and am at a loss to understand her action."
"I knew Miss Hansbury about four years before my wife died.  I went out with her once or twice socially before marrying Doris and I think that once after I found my wife dead.  She is a nurse and I had employed her.  Our relationship was friendly, but also professional."
As for the watchman, Roland Seal, Dr. Dazey seemed to be completely mystified by his involvement in the case:
"Roland Seal is a man I have never met, nor ever talked to to my knowledge.  Just what his interest in the case is I may never know, but he is not telling the truth when he says he saw me carry the body of my wife–or any woman–from my house to the garage on the day Mrs. Dazey met her tragic death."
Dr. Dazey's trial began in February 1940. The prosecution called its two star witnesses to the stand to lay the foundation for the case against him.
Roland Seal testified that:
"On the day Mrs. Dazey was found dead in the garage of her home I had occasion to pass her house several times.  Once I heard a scream, and just at sunset I saw Dr. Dazey carry a scantily clad woman from the house to the garage.  I paid no attention, thinking she was ill, and he might be taking her to a hospital.  Since then a friend of Dr. Dazey's warned me that the physician would 'take care of me' if I talked."
Interestingly, Seal's memory seemed to improve with each retelling. At first he'd stated that he'd seen Dr. Dazey carrying something that he thought may have been a woman's body into the garage. In court he said that it he definitely saw observed Dr. Dazy carrying a woman's limp body and that she was "scantily clad".
Miss Frances Hansbury was also an interesting witness for the prosecution.  She testified that she'd known Dr. Dazey for nine years and she still thought of him as a friend. She said:
"Dr. Dazey once confided in me he had committed the perfect crime.  Then, apparently fearful I might talk out of turn, he threatened my life and said he would 'frame' me as a dope addict.  I feel very sorry for Dr. Dazey and never would do anything to hurt him.  But I was in fear of my life and was forced to leave here and go to New York City."
Dr. and Mrs. Schwuchow reiterated what they had always believed: "We feel now as always that there was no cause for our daughter to take her own life. Beyond that, we have nothing to say."
And Russell E. Parsons, Doris' attorney (who became Deputy District Attorney in the years following her death) said:
"While a private attorney, Mrs. Dazey consulted with me about marital difficulties she said she was having with her husband.  Naturally, I cannot disclose publicly the nature of our conversation."
Even as he was preparing to face a jury on a murder charge, George Dazey went to court to battle his former in-laws for custody of four-year-old Walter who may, or may not, have been his biological son. Juvenile Judge W. Turney Fox denied the Schwuchow's petition to have the child declared a ward of the court. There was sufficient evidence that Walter was devoted to his stepmother, Hazel Dorcas Dazey, and that it was in his best interests to let him stay where he was–Hazel was awarded custody of the little boy while George sorted out his legal problems. Dr. and Mrs. Schwuchow were given the right to take Walter for a visit every other weekend.
Would George Dazey's murder trial go as well for him as the custody hearing had?  Maybe. If Hansbury and Seal were the D.A.'s best witnesses it would likely be an uphill battle to put the doctor in prison.
NEXT TIME:  Dr. Dazey's murder trial.