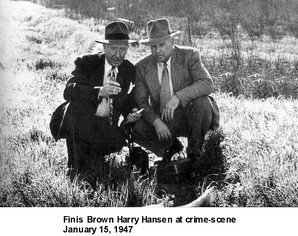 On January 15, 1947 the body of twenty-two year old Elizabeth Short was discovered in a Leimert Park vacant lot.  There were scant clues in the case and LAPD homicide detectives Finis Brown and Harry Hansen were hoping for a break.
Ten days later some of Short's belongings were found in a trash dump at 1819 E. 25th Street. Among the items found were a black patent leather purse, one black shoe, and a brown leather address book which contained more than 75 names. The "little brown book" book had the name Mark M. Hansen (no relation to Harry) stamped on the cover.
Hansen, an attorney and night club owner, was a self-made man. He was a Danish immigrant, who had arrived in the U.S. in 1910 and who, by the 1930 census, was a theater proprietor. By the late 1940s he was part-owner of the Florentine Gardens, a popular Hollywood night spot, and had business interests in several movie theaters.  Detectives grilled Hansen about his relationship with Beth Short, particularly how she came to have the leather address book. Hansen's explanation was that Beth Short must have taken it from his desk sometime during November 1946. Beth had access to his desk because she was one of several young women who had rented rooms in Hansen's home at 6024 Carlos Avenue (located behind the Florentine Gardens).
Among the women who had lived at the Carlos Avenue address was Ann Toth, a bit player in the movies. Toth was an acquaintance of Short's and like everyone else who had known the dead girl she had been questioned by the police. There wasn't much Toth could tell investigators about Beth who, like so many other young women in post-war L.A., had no fixed address.
Detectives dug deep into Hansen's story and determined that he was telling the truth about the last time he's seen Beth. No one, particularly a successful businessman, was looking for the kind of publicity that attends a horrific murder like Beth's. Hansen must have breathed a sigh of relief when he was cleared of any involvement in the crime.
For the next couple of years the club owner, described by the L.A. Times as a "man-about-town", continued to run the Florentine Gardens and bed chorus girls. He was a married man but he and his wife, Ida, had been estranged for about two decades.
For most of 1948 and into 1949, Hansen had been routinely pestered for a job by a blonde dime-a-dance cutie from Oakland, Lola Titus. Lola's real name was Beverly Alice Bennett, and she had been working as a stripper and taxi dancer in Oakland when she got the notion to hop on a bus for L.A. to hook-up with Mark Hansen. Lola's sudden decision to leave Northern California was precipitated by an argument she'd had with her mother. Her mom strenuously objected to her daughter's lifestyle. Lola would later tell investigators: "I made up my mind that he (Hansen) was either going to love me, marry me or take care of me or I was going to kill him."
Lola had another reason for traveling to L.A.–she believed that Hansen was behind rumors that she had killed the Black Dahlia. The rumors were all in Lola's head because her name had never been mentioned in connection with the case.
Lola boarded a bus from San Francisco to Hollywood on Thursday, July 14, 1949. She'd packed the essentials: nude photos of herself and the .25 automatic she'd purchased several months before in an Oakland pawnshop. On Friday morning she turned up on Hansen's doorstep with the gun in her pocket and her nude photos tucked under her arm. She knocked on the door of the bungalow and while she waited she debated whether to shoot him as soon as he opened the door or to wait until she got inside. She opted to wait.
Once Hansen had invited her in,  Lola showed him the nude photos of herself. Hansen decided to compare the photos to the real girl, and he "auditioned" the blonde dancer in the back bedroom.  Following the audition Hansen went into the bathroom and began to shave with his electric razor. Lola figured it was as good a time as any to shoot him. She went into the front room where she'd left her coat, pulled the gun out of the pocket and went to the bathroom where she shot him once. The wound was a through and through. The bullet missed Hansen's heart by 7/10 of an inch and lodged in the bathroom wall. Lola then pulled on her clothes and left.
Although he was severely wounded Hansen managed to get to the telephone. He phoned a business associate who called for a doctor. As he was being rushed to the hospital in an ambulance Hansen said that before Lola pulled the trigger she had called him a "goddam cop lover".
NEXT TIME: Lola calls the cops.