Finding Lola was easy, two hours after the shooting she telephoned LAPD's Hollywood Station from a drugstore at Sunset and Laurel Canyon and asked cops to come and get her. They obliged. Lola was booked at Hollywood Jail on suspicion of assault with a deadly weapon with intent to commit murder.
With Lola safely ensconced in the slammer, investigators poked around into her  background. They found out that her recent trip to Hollywood hadn't been her first. She had lived briefly at 1259 Gower Avenue about 18 months prior to shooting Hansen. There was a photo of Lola, then a brunette, in the police files–she'd submitted the picture to obtain a taxi dancer's license.
Lola had lucked out, Hansen survived the surgery that closed a gaping hole in his chest and appeared to be on the mend, but she was still going to be held to answer.
On July 18, 1949, the morning of her arraignment for attempted murder, Lola was being held in the woman's seventh floor detention center in the Hall of Justice.  When Detective Sergeant C.C. Forbes unlocked the detention room to inform Miss Titus that her arraignment was imminent he found her completely naked, stretched out on her coat on the floor. Forbes took one look, beat feet, and shouted through the closed door for Lola to get dressed.
Moments later Lola emerged from the room fully clothed in a pale blue satin dress–she posed for news photographers and was returned to the detention room until it was time for her arraignment. Detective Sergeant Forbes once again opened the door to find Lola nude. When asked why she had disrobed Lola said: "it's hot in there."
In a photo that was undoubtedly staged by the newspapers, Lola, in her blue satin dress, was snapped standing at the hospital bedside of her victim. You don't see photos like that anymore!
In a move that surprised no one, Lola was ordered to stand trial in Superior Court for the shooting of Mark Hansen. Hansen, described as a 45-year-old night club and theater owner was actually at least a decade older. But hey, it's Hollywood.
LAPD's Chief of Detectives Thad Brown, brother of Finis Brown one of the principal investigators in the Black Dahlia case, questioned Lola about her reasons for going to Hansen's bungalow. She said she had gone there to "have it out with him."  As far as the cops were concerned, Lola was a disgruntled Hollywood hopeful who had failed to get a job as a strip-tease dancer. Hansen told the police that he had never discussed the Black Dahlia murder case with Lola and had told her only that "he couldn't use her act in his night club."
A jury of nine women and three men was chosen to determine Lola's fate in Superior Judge William Byrne's courtroom.  The first witness was a friend of Hansen's, Dr. Louis Benson, who testified that he'd had to break into the house to render first aid.
Hansen's testimony was oddly vague–he claimed that even though Lola was the only other person in the bungalow with him he hadn't seen who shot him. He also testified that his acquaintance with Lola was entirely professional. When it was her turn Lola would tell a different story.
The Deputy District Attorney, John Hopkins, had hoped to use a wire recording of the dancer's purported confession, but Judge Byrne ruled that because some of the jurors couldn't hear it easily it couldn't be used to present the State's case. In lieu of the recording Detective C.C. Forbes, who had taken Lola's statement, testified to what she had told him.
The taxi-dancer/stripper had spent a year, off and on, "knocking around Hollywood" trying to get a break. she'd met Mark Hansen during Thanksgiving in 1948 and, according to her, had moved into his home for about a week. Hansen's testimony had implied that they were merely business acquaintances, but Lola told the judge that they had been intimate on numerous occasions: "I could recall every one of them if you had the time."  At that point Judge Byrne's gavel came down and he ordered the jury out of the courtroom so he could admonish Lola to answer only the questions that were asked.
On September 22nd the jury found Lola guilty of assault with a deadly weapon, not assault with intent to commit murder. Even with the lesser charge Lola could face one to fourteen years behind bars.
To say that Lola took the news of her conviction badly would be an understatement—she went completely bat shit crazy. She launched herself at Mrs. Dorothy Ellis, a female probation officer. Lola wasn't pleased that Ellis had requested a court ordered psychiatric examination. Deputy Sheriff Josephine Uttke attempted to intercede, but she took a couple of nasty blows to her face before she was joined by two male deputies–the three of them were able to subdue the kicking and screaming dancer.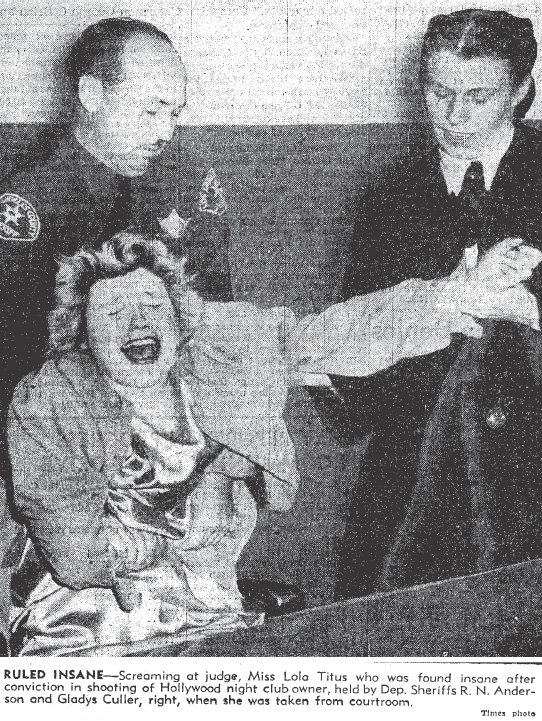 Never a dull moment on Planet Lola. It appeared that she had calmed down, so she was returned to her cell at the Hall of Justice to await sentencing. She called out to Deputy Sheriff Margaret Decker and demanded to be given a pencil and paper because she was going to write her will. "I'm going to commit suicide", Lola told the deputy. Decker invested some time in trying to talk Lola out of her plan. Once again Lola seemed to be calm so Deputy Decker resumed her rounds. On her next  trip  past Lola's 13th floor cell, Decker looked in on her charge. She saw Lola sagging from a noose she'd fashioned out of a cotton stocking and tied to a ventilator. Decker called for assistance and several male deputies from the 10th floor arrived to help cut Lola free. She was taken to a padded cell.
Rather than sentence her to one to fourteen years in prison, Judge Byrne committed Lola to the State Hospital at Patton after the court ordered shrinks pronounced her legally insane. Lola didn't take the news of her commitment to a mental hospital any better than she'd taken her guilty sentence. She immediately began screaming expletives at Judge Byrne and her attorney, Mark Rothman. Sheriff's deputies R.N. Anderson and Gladys Culler dragged Lola from the courtroom.
On November 30, 1949, Beverly Alice Bennett, aka Lola Titus, was escorted by Sheriff's Deputies Ann Anderman, E.H. Keegan, and M.J. Leggee to begin her indefinite stay at Patton. If Lola ever became sane enough to win her release from Patton it didn't make the news.  Like so many other Hollywood hopefuls before her, Lola  vanished into obscurity.