Los Angeles Police investigators had been following three men whom they felt sure were conspiring to kidnap either actress, and "America's Sweetheart", Mary Pickford, or the grandchildren of oil magnate Edward L. Doheny.
Captain Home and Detectives Harry Raymond and George Mayer of the LAPD had learned that at least one of the conspirators had recently purchased a gun. The officers followed C.Z. Stevens, Claude Holcomb and Adrian Woods to the Hayward Hotel  downtown and from an adjoining room they eavesdropped as the plot was discussed. The men had decided to take Mary Pickford, rather than the Doheny grandchildren, in part because they knew that they'd have an easier time grabbing Pickford off the street.
Their plan was ingenious. There was a Shriner convention in town and so the kidnappers were going to don Fezzes, decorate their car with banners and pretend to be fun-loving conventioneers. They would follow Mary when she left the studio and before she reached Pickfair they would force her car into a curb and grab her. They'd be armed, just in case there was any resistance, and Fairbanks would be contacted by letter. The goal was to walk away with $200,000.
There was no way that the cops were going to allow three men, at least one of whom would be armed, to get anywhere near Pickford so they had to act fast.  Stevens and Holcomb were arrested outside of the studio and their co-conspirator,  Woods, was busted at his home in Alhambra.
Woods was the youngest of the gang and he confessed to his part in the plan immediately. Holcomb followed suit, with Stevens being the last domino to fall.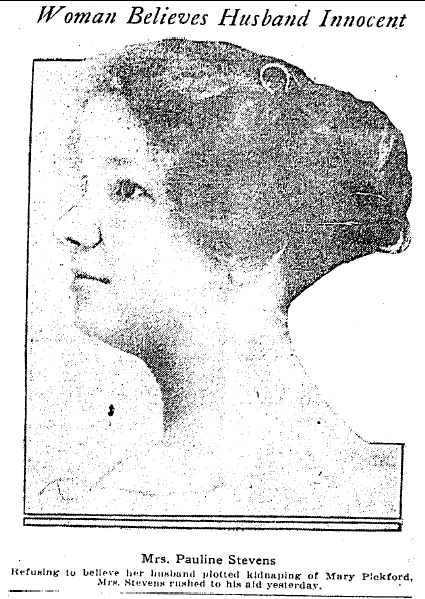 Pauline, Stevens wife of just one year, wouldn't believe that her husband could be party to a kidnap plot, let alone be the "brains" of the operation. She said:
"Oh, it must be wrong; there must be some mistake–he couldn't have done that!  We were pals, he was the best and most honorable of husbands."
Pauline told a reporter from the Los Angeles Times that she and her husband had met on the battlefields of WWI–he was a lieutenant in the aviation corps and she was a Red Cross nurse.  It's nearly impossible to conduct a romance during wartime, and Pauline and C.Z. lost touch. After the war Pauline settled in Los Angeles and eventually C.Z. did too. By a happy coincidence he located her in the city and the couple resumed their courtship, and then married.
Other than being occasionally moody and depressed, as were many veterans of the "Great War", C.Z. was described by Pauline as being a model husband, ambitious and hardworking. Being willing to work doesn't guarantee success and C.Z. had had some business reversals before he and Pauline reconnected. He had worked in a Mexican oil field for a Texas-based company and by the time he returned Dallas in 1921 he had saved $10,000. He used the money to invest in a gas station but the business tanked and C.Z. lost every dime.
When she was shown photographs of the other alleged conspirators she recognized Holcomb as a man C.Z. had employed as a truck driver a couple of years earlier in yet another failed business venture.
A man down on his luck, as C.Z. was, may have easily become desperate enough to commit a crime.
A special session of the grand jury was convened, and with three confessions in hand the district attorney asked for indictments. Mary Pickford, who was working on a new film, was too busy to attend the courtroom proceedings, but Doug was there. Fairbanks testified to having seen two of the three conspirators loitering outside the gates of the studio.
Captain Holmes and Detectives Raymond and Mayer each took the stand and identified the men and testified to the plot they had overheard.
The grand jury handed down three indictments–Stevens, Holcomb and Woods were held on $50,000 bond each.
The case was a complicated one because it appeared that corpus delicti had not been established. Corpus delicti is the principle that a crime must have been proven to have occurred before a person can be convicted of committing that crime.  Additionally, the men no overt act had been committed by the men.  Could they really be tried?
Pauline was taking no chances that her husband might be released on a legal technicality.  She hired a well-known local attorney, S.S. Hahn, to represent him.  The three conspirators, if tried and found guilty, could conceivably spend 50 years in prison. That's hard time by anyone's  measure.
NEXT TIME: The case against the kidnap plotters continues.