During Prohibition people drank whatever they could get their hands on, and it wasn't always quality juice.  Shady characters who distilled booze in basements and warehouses weren't concerned with anything other than profit.  Manufacturing overnight whiskey made from "…refuse, burned grain or hay or any old thing that will sour" posed a serious danger to people's physical and mental health.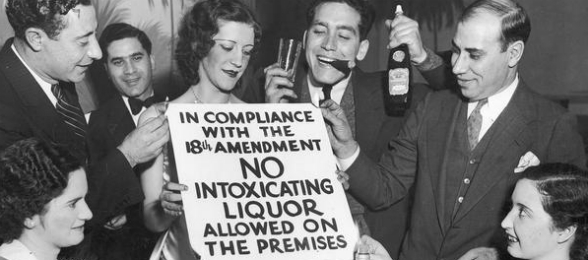 According to a St. Louis newspaper article from August 30, 1933 (just a few months prior to repeal):
"Here are some of the things called for in different formulas that go to make up our modern whisky:

Peppers, all kinds; prune juice, caramel, Acetic ether, tobacco, creosote, sulphuric acid, butyric ether, extract vanilla, sorghum waste, artifical bead, cenanthic ether, amyl alcohol, butyrate of amyl, fusel oil, extract of orris, acetic acid, tannic acid, oil bitter almond, muriatic acid, tartaric acid, oil of cedar, oil of fennel, catechu, alum, cloves, castile soap, and a little pure aged whisky."
The article continued:
"Not too much whisky should be added, as that might be expensive; about 1 gallon to 20.  Blend is what the public is getting drunk and sodden on today, and not whisky, but whisky gets the blame.  The man over stimulated from alcohol makes a quick recovery.   The soft-nerved wreck depressed with blend, mentally and physically mortified and shattered, seldom makes a complete recovery."
After several cocktails containing a noxious blend of chemicals a person might be capable of anything.
***
A native New Yorker, Edward P. Nolan had come to Los Angeles to make his fortune in the budding film industry. He was much luckier than most Hollywood hopefuls because during 1914 and 1915 he appeared in shorts with Charles Chaplin, Mabel Normand, and Marie Dressler.  His most noteworthy appearances were in The Face on the Barroom Floor and Between Showers (both from 1914). He doesn't appear to have worked in film between 1915 (Hogan's Wild Oats) and 1920 when he appeared opposite Leatrice Joy and James O. Barrows in Down Home.
What Nolan did for a living during the five years between acting gigs is anyone's guess, but by 1922 he had joined the LAPD and risen to the rank of Detective Lieutenant.  Maybe policing wasn't such a big stretch for Nolan; after all, he'd played a cop several times in the movies.
On June 16, 1931, Nolan made a dramatic arrest of an extortionist, George Freese.  Freese had sent anonymous death threats to A.H. Wittenberg, president of the Mission Hosiery Mills in an attempt to get $700 out of him. The bust went down like this: Freese instructed Wittenberg to hand the pay-off over to a taxi-cab driver-messenger who would then deliver the cash to him.  Nolan had been living with the Wittenberg family for several days as their protector.
When the phone call from the extortionist came, Nolan took down the details and made a plan. He prepared a dummy package and when the cab driver appeared outside the Wittenberg home Nolan concealed himself in the auto and told the driver to proceed to the rendezvous point. Detective Lieutenants Leslie and McMullen followed in a police car.
Freese was waiting at the corner of First Street and La Brea Avenue to collect the money. As he accepted the dummy package he was grabbed by Nolan and the two other detectives.
Freese confessed immediately–he held a grudge against Wittenberg because six months earlier he had been turned down for a salesman's job at the hosiery company. Freese said that he and his family needed the money because they'd fallen on hard times–a common enough predicament for people during the Great Depression.
The day following the successful conclusion of the Wittenberg case, Nolan and his 36 year old divorced girlfriend, Grace Murphy Duncan, were together at the Lankershim Hotel. The couple spent a lot of time at the hotel while Nolan sought a divorce from his wife, Avasinia. Once the divorce was final Duncan and Nolan planned to marry.
At about 6:30 pm on the evening of June 17 1931, Mrs. Helen Burleson, who was visiting from San Francisco, left her upper floor room and headed for Nolan's room on the second floor. She had wanted to consult with him on a private matter. When she entered the room she saw that Grace was there and noticed that the couple had been drinking heavily. The lovers began to quarrel and Nolan shoved Duncan out of the room and threw her coat into the hallway after her.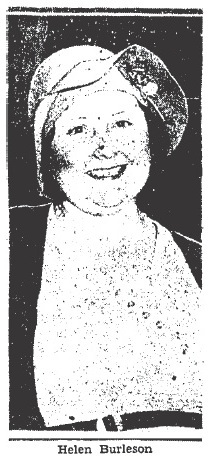 Helen and Grace went up to Helen's room and talked about Nolan's bad behavior. Grace wanted to drop a dime on him to the LAPD brass, but Helen talked her out of it.
While Grace and Helen were talking a trio of traveling salesmen, Robert V. Williams, Dan Smith, and Jimmy Balfe went up to Robert's room to catch a ball game on the radio. Robert said:
"After a while the lights went on in a room across the light well and we saw two women enter the room.  Smith said he recognized Mrs. Burleson and he telephoned to her room and asked her if she wanted to come over and listen to the radio. Mrs. Duncan with her, and I don't believe the two were in the room five minutes before Nolan burst in.  The ball game had ended and I had dialed some music.  It was about 10:30 o'clock.  Mrs. Duncan and I were dancing.  Nolan walked right up to her and said: 'What do you mean by making up to this fellow?'  He pushed her over on the bed.  Then he turned to me and said, 'I saw you kissing her."  Then he hit me.  I staggered back into the bathroom."
 The violence was about to escalate.
NEXT TIME:  Murder in room 815.