The Cooley's marriage was unraveling; Spade had filed for a divorce from Ella Mae. Spade then phoned his violinist, Anita Aros, and proposed to her. She thought for sure he was joking so she accepted. Several days later Spade called her again and this time he forced his daughter Melody to tell Anita that she wanted her for a mother.
In the few weeks since Spade had filed for divorce he had continued to torment and abuse his wife both physically and emotionally. He forced her to telephone people in their circle of friends and confess that she was having an affair. Spade even forced her to confess her infidelity to Melody. The fear and degradation Ella Mae endured was horrendous, not to mention the damage Spade was doing to their son and daughter by referring to their mother as a 'whore' and 'slut'. Ella Mae wanted desperately to escape her husband's abuse but no one could, or would, help her.
On April 3, 1961 Spade visited a business partner, Jarrold Enfield. He said he had written proof of his wife's philandering and waived a supposed confession around. Enfield thought that he recognized Ella Mae's handwriting, but he knew that if she had written it the purported confession had been coerced. He said to Spade: 'Yes, it's Ella Mae's handwriting, Spade, but I know how you got it.' Unconcerned Spade replied, 'what difference does it make as long as it is true.'
At 4 p.m. Melody phoned her parent's ranch and asked if she and her brother Donnell could spend the night with a neighbor, Mrs. McWhorter. Spade gave his permission. Melody was relieved–she was terrified of her father and didn't want to go home.
At 6 p.m. Ella Mae phoned Melody at the McWhorter's and asked her to come home so she could explain to her 'what this was all about.' Presumably she meant the constant violence in the Cooley home. Melody was reluctant to go home at first, but she agreed to do so as long as McWhorter would drop her off and return for her after 20 minutes.
Spade was on the phone to a friend when Melody arrived. She overheard him say, '…don't call the police.' Melody asked if the police were coming and Spade said they would be there soon. Then he said, 'Come here, I want you to see your mother.'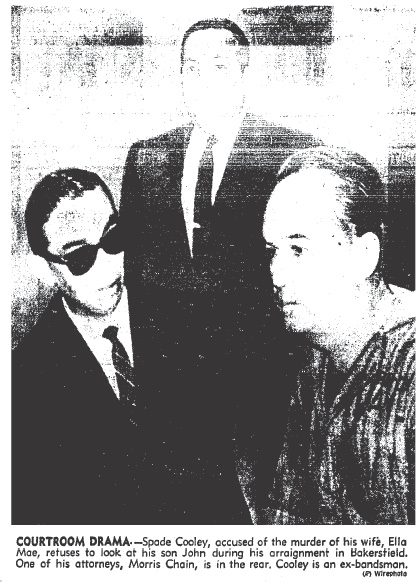 They went into the master bedroom but Ella Mae was not there.
Melody noticed bloodstained sheets on the bed and blood spatter on the walls. Spade went into the bathroom and said, 'Get up, Ella Mae, Melody is here.' When Ella Mae didn't move or make a sound, Spade dragged her nude, bloody, body out of the shower by the hair. He banged her head twice on the floor.
He then gave Melody three minutes to get her mother up and moving or he would kill them both. He started the countdown but Melody couldn't do it. Clutching a rifle her father came back into the room and forced the girl to sit in a chair. He said, 'All right, Melody, you are going to watch me kill her.'
As the horrified 14-year-old looked on, her father stomped her mother in the abdomen with his boot. He knelt down next to the victim and said, 'We'll just see if you're dead.' He called her a slut, then touched the nipples of both her breasts with his cigarette. Ella Mae was dead within 20 minutes.
Melody tried to run, but her father grabbed her. He took her into the living room, made her sit on his lap, kissed her passionately and touched her breast. He told her he was going to turn all his love over to her and Donnell, Jr., as their mother had 'crushed him.'
The phone rang and Spade got up to answer it. While was distracted, Melody saw Mrs. McWhorter approaching the house. She was able to escape.
The Sheriff's arrived to assess the violent and bloody scene. The body of the deceased told a tale of torture and abuse. Court documents later described the scene in detail: 'The victim's body was covered with multiple bruises and abrasions; her left eye was blackened, her nose bruised, her lips bruised and split, there were cracks on the chin, injuries to her neck, shoulder, chest, hip, arms, wrist, legs; there was an abrasion on the right side of the right breast; the nipple was blackened and discolored and partially separated from the breast. Deep bruising of the muscles of the neck, a break in the hyoid bone and a break in the thyroid cartilage in front of the victim's windpipe indicated that she was strangled. A clump of hair forcibly removed from her head was found near the foot of the bed. There was bloody material in the victim's vaginal and rectal orifices and splits in both the vaginal and anal-rectal mucous membrane. A broom was found in the bedroom which contained a uniform deposit of mucus substance with some blood extending 5 or 6 inches down the handle. Four fragments of blond bloody hair were embedded in the fibers of the broom handle, and this hair resembled the victims.'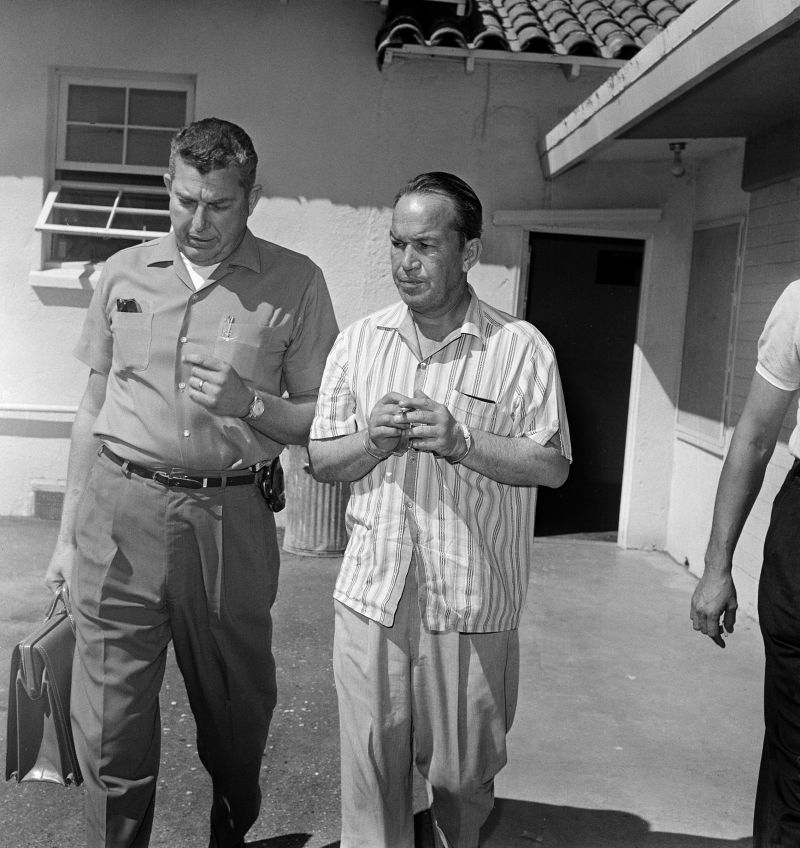 Spade was arrested for Ella Mae's murder but the inquest was delayed when he suffered a heart attack. He was transferred from from the jail to a hospital. During his hospitalization his attorney attempted to minimize his client's role in Ella Mae's death with statements like, 'He says he didn't realize she was hurt so bad. That's why her stayed with her rubbing her hands in hope that she would respond.' It beggars belief to think that anyone would buy the story that Spade didn't realize the severity of his wife's injuries.
His attorney scrambled to come up with a credible defense–insanity. But the plea went down in flames when four psychiatrists pronounced him sane.The stress brought on another heart attack, which he survived.
Spade continued to insist that Ella Mae hand been unfaithful. And if she was? How could cheating justify the brutality of the attack that took her life–or any of the many previous beatings she had suffered?
Melody's testimony at her father's trial brought on another heart attack. The trial was recessed while Spade recovered. When the trial resumed the defense asserted that Ella Mae had died as the result fall, not a beating. It was ludicrous. Even more ridiculous was Spade's testimony that he didn't beat his wife, 'I did not beat my wife to death, believe me, I did not beat my wife. Without her I am nothing…I worshiped my wife…'
For someone who worshiped his wife, Spade showed no qualms about trashing her memory at every opportunity. He testified that Ella Mae had confessed to an affair with two men in a motel room. According to Spade 'She said she was going to join them in the 100 member free love cult they were forming.' Not content to to sully the memory of his dead wife, Spade accused Melody of lying.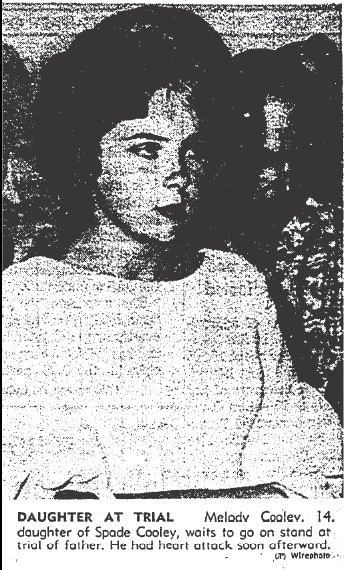 The jury evidently found Melody to be a more credible witness than Spade. He was found guilty of first degree murder. The judge seemed to believe that Spade was capable of rehabilitation and sentenced him to life in prison. Personally, I think he got way luckier than he deserved.
EPILOGUE
Spade was on a temporary 72-hour parole in November 1969–looking forward to a full parole in February 1970–when he was invited to perform at a benefit for the Alameda County Deputy Sheriffs Association. He had just brought down the house with one of his violin performances and the audience of 2800 gave him a standing ovation. Life was looking good. He thanked the deputies for 'the chance to be free for a while.' He was only 59, maybe he could reignite his career, after all he had a star on Hollywood's Walk of Fame. Who knows, he might even marry again. But in a twist of fate he never got the chance. He went backstage to talk to friends and collapsed. He was pronounced dead at Highland Hospital.