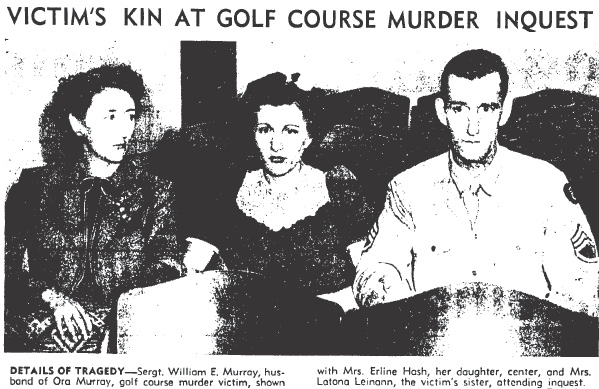 The hunt for Ora Murray's suspected killer continued without success.
While Sheriff's deputies hunted for the mystery man Paul (later ID'd as Terry by a jilted girlfriend), Ora's bereaved family was attending her inquest. The Coroner's jury found that Ora Murray came to her death as the "result of a homicide, from strangulation and concussion, by person or persons unknown".
Ora's husband Sgt. William Murray, stationed at a Mississippi Army camp, had been granted leave so that he could come to L.A. and claim his wife's body. Sgt. Murray's only comment was, "I hope they catch the rat who did it–soon".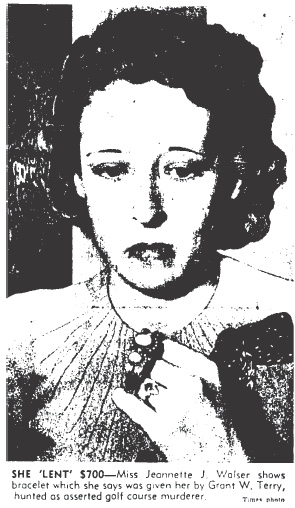 Finally in March 1944 the man known as Paul, with whom Ora had gone on her last car ride, was seized in New York by the FBI. His name wasn't Paul, and his name wasn't Terry (as he had told Jeanette, his heartbroken fiancee), his real name was Roger Lewis Gardner.
The FBI wanted him on the charge of impersonating a Federal officer and called him "the most badly wanted fugitive in the United States".  FBI agent E.E. Conroy described Gardner as a man of many aliases, an impersonator, swindler and philanderer.  Gardner had allegedly married more than nine women without divorcing any of them.
With Gardner's resume it's no wonder that it was a dame who dropped a dime on him to the law. Gardner was returned to Los Angeles to face a charge of murder for the slaying of Ora Murray.
Ora's sister, Latona Leinann wore a white gardenia "in memory of my sister" to Gardner's trial. A white gardenia wrapped in tinsel had been found crushed beneath Ora's dead body.
Latona told the jury of her premonition that Ora was in danger when she left to go for a drive with the man they knew as Paul.  In fact Latona was so concerned that she wanted to take down the license plate number of his car, or at least make him produce an ID. Gardner must have sweated for a few moments before saying: "What's the matter? Why don't you trust me?" Latona told him that she was skeptical of strangers, but her fears made no impression on Ora and she drove off with Gardner anyway.
Gardner's defense strategy was simple, he said it was a case of mistaken identity and that he wasn't Paul.
The jury listened attentively to the testimony in the case, and then it came time for them to decide Gardner's fate.  Before beginning their deliberations several members of the jury got down on their knees and prayed for divine guidance.
The jury was out for two days — the prayers for guidance went unanswered.  They could not reach a verdict. The last count stood at 7 to 5 for conviction.  The jury foreman Carl Sell informed Judge Landreth that they were hopelessly deadlocked.
One woman juror commented: "I think he's [Gardner] is a slicker, but that he wasn't a murderer."
Roger Lewis Gardner walked out of the courtroom into the waiting arms of the Feds. He still had a three year sentence to serve in Leavenworth for impersonating a Federal officer.
The Gardenia Murder case remains one of several unsolved murders of women in Los Angeles during the 1940s.
NEXT TIME: More unsolved murders of women in Los Angeles.