Helen Wills was born in Kentucky in 1905 to Claudia and George Wills.  George and Claudia divorced around 1920. Claudia reclaimed her maiden name of Durst; and she and her teenage children, sixteen-year-old Richard and fifteen-year-old Helen, lived together in Vanceburg, Kentucky.  All three held jobs to keep the family afloat. Claudia taught music at home.  Richard worked in a button factory as a cutter and Helen worked in a cigar factory.
Factory work can be soul crushing. I know because I worked in a swim suit factory as a teenager. I began each day punching a time clock. There was a large, empty, bin next to my sewing machine and my job was to fill it by the end of my shift. The noise of the industrial sewing machines was broken occasionally by the screams of a worker who had accidently sewed a finger to the bathing suit she was working on. Based on my experiences,  I wasn't surprised to find that by the 1930 census Helen and her mother had left Kentucky behind and were living in Los Angeles at 74 South Mariposa Avenue. Helen claimed to be an actress, but it is unclear what she actually did to earn a living.
Being an actress must have sounded glamorous  to a small town girl like Helen, but there were hundreds of girls in Los Angeles whose big dreams had led only to aching feet as they trudged from one cattle call to another, never getting the break that would make them a star. I haven't found any documentation to suggest that Helen ever appeared in a film or on stage.
Helen didn't leave her mark on Hollywood, but as it turned out she would eventually take the lead role in a real life and death drama and she would make headlines from L.A. to New York.
Helen met Harry Love in 1929 or 1930 and dated seriously for a year prior to their secret marriage in Ensenada, Mexico on May 3, 1936.
Harry was a successful older man, about fifteen years Helen's senior, described as tall, medium build with dark hair and brown eyes. He was born in Trinidad, Colorado in 1890, and as a young man he had worked as a shift boss for Montezuma Copper Company in Narcozari de Garcia, Sonora, Mexico and as a car salesman in Morenci, Arizona. He wasn't a millionaire but he had done well enough to retire in his early 40s — the newspapers referred to him as a retired capitalist.
Helen realized early in their relationship that Harry was a mamma's boy. At 46 he had never been married and he still lived at home with his mother, Cora. In Helen's shoes I like to think I would have taken one look at that situation and run for the hills, but that's me looking at the 1930s through my 21st Century lens. It is easy to make that call from a distance of 80 years.
Harry and Cora were so close that they'd taken at least two cruises together. One was in the 1920s, years before Harry met Helen. But in March 1936 Harry and Cora took a second cruise to Hawaii, aboard the S.S. Chiriqui. What man takes a cruise with his mother just a few months prior to his marriage?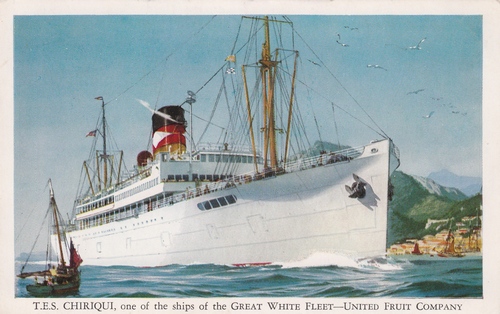 The truth is that Harry probably never intended to marry Helen. The hasty Mexican nuptials may have been necessitated by Helen's announcement that she was pregnant. Harry must have had nightmares about how he was going to explain the marriage and child to Cora.  She was barely aware that he was dating, let alone making babies.
After the newlyweds returned home Helen expected, not unreasonably, that Harry would break the news to Cora, but he flatly refused.
Harry kept his new wife in an apartment at 3620 West Fourth Street, less than a half mile from his mother's house at 457 South Harvard Boulevard. Helen may as well have been on another planet.  Harry didn't even stay with her every night.
According to Helen, while they were dating Harry threatened to kill her if she ever became pregnant. In the 1930s the most common method of birth control was douching because other less caustic forms were nearly impossible to find.
In 1873 the Comstock Act passed in the United States prohibiting advertisements, information, and distribution of birth control and allowing the postal service to confiscate birth control sold through the mail.  It wasn't until 1965 that the Supreme Court (in Griswold v. Connecticut) gave married couples the right to use birth control, ruling that it was protected in the Constitution as a right to privacy. However, millions of unmarried women in 26 states were still denied birth control.
Not only was douching extremely unreliable, it was dangerous. The most widely advertised douche was Lysol. That's right, as early as the 1910s the same stuff used to clean toilets was advertised as a way for women to stay fresh and feminine. Although, frankly, I fail to see the allure of the regular scented Lysol or, worse yet, the pine scented version that eventually hit the market. The notion that my man would be excited by a pine tree is too horrible to contemplate. The subtext in many of the ads was a nod and a wink toward avoiding unwanted pregnancies.
When Helen gave Harry the news of his impending fatherhood, he reacted predictably and pressured her into having an "illegal operation" (i.e. an abortion). Helen nearly died as a result. In September he sent her to New York for a couple of months to regain her health.
Helen arrived home in time for the holidays and one of the first things that she noticed about the apartment was that Harry had removed their framed marriage license from the wall and put it in a safe deposit box.  At least that's what he told her.
In spite of their problems Helen was optimistic about her relationship with Harry and she believed that the two of them would spend Christmas alone together. Harry had other plans. He thought it would be swell if he and Helen spent Christmas with his mother – who still had no idea that Harry and Helen were married. Helen was introduced as a friend.
Helen wasn't thrilled with the plan, but she went along hoping that Harry would finally reveal the truth of their relationship to Cora. It was not to be. Following dinner Harry and Cora bid adieu to Helen and went off together to church to listen to Christmas carols and then go for a drive.
On New Year's Eve, Helen and Harry had lunch in Chinatown and he promised to take her to the fabulous Norconian Resort Supreme in Riverside that night to usher in 1937.
As he had many times before, Harry failed to keep his promise. He told Helen that he planned to spend New Year's Eve with Cora at the Del Mar Club in Santa Monica and that she, Helen, was not invited. Harry did, however, pick Helen up that evening and left her in his car in the parking lot of a building Cora owned at 3020 South Main Street. He gave explicit instructions to the parking attendants that no one but him was to take the car out.
Helen sat in the auto for hours, brooding. Finally an attendant told her she might be more comfortable if she waited inside the building. She agreed, but before she left the car she took the pistol that Harry kept in the glove compartment and stashed it in her handbag.
Frustrated, hurt, and angry Helen took a cab back to the apartment where she stewed for a while longer before she made an important decision. She was tired of living in the shadows and fed up with Harry's glib promises that inevitably came to naught. She grabbed her bag with the pistol still concealed inside, called a cab, and went to the Del Mar Club for a confrontation with the Loves.
NEXT TIME: The Death of Love, Part 2
References: 
Ancestry
Google Maps
Los Angeles Public Library
Los Angeles Times
Los Angeles Evening Herald & Express
Our Bodies Ourselves
Mother Jones
Smithsonian
WGBH Boston
Wikipedia