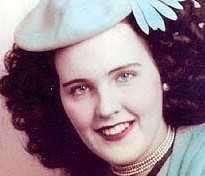 Seventy-one years ago on January 8, 1947, Robert "Red" Manley drove to the home of Elvera and Dorothy French in Pacific Beach, in the San Diego area, to pick up a young woman he'd met about a month earlier. Her name was Elizabeth Short.
Red was a twenty-five year old salesman with a wife and baby at home. The Manley's had been married for fifteen months and lived in a bungalow court in one of L.A.'s many suburbs. Red and his wife had had "some misunderstandings" as they adjusted to marriage and parenthood. Perhaps restless and feeling unsure about his decision to marry, Red decided to "make a little test to see if I were still in love with my wife."  The woman Red used to test his love for his wife was twenty-two year old Elizabeth Short.
Elizabeth (who called herself Betty or Beth) had worn out her welcome in the French home. Elvera and Dorothy were tired of Beth couch surfing and contributing nothing to the household. Beth spent much of her time compulsively writing letters, many of which she never sent.
One of the unsent letters was to a former lover, Gordon Fickling. In the letter dated December 13, 1946, Beth wrote:
"I do hope you find a nice girl to kiss at midnight on new years eve. It would have been wonderful if we belonged to each other now. I'll never regret coming West to see you. You didn't take me in your arms and keep me there. However it was nice as long as it lasted."
Another complaint that Elvera and Dorothy had was that, despite her claims, there was no evidence that Beth ever looked for work. Beth wrote to her mother, Phoebe, that she was working for the Red Cross, or in a VA Hospital, but it was just one of the many lies that Beth told about her circumstances.  Beth had an opportunity to work, if she was willing to pursue it. Red had arranged with a friend of his to get her a job interview — but she didn't follow-up.
When Red heard that Beth hadn't made it to the job interview, he became worried and wrote to her to find out if she was okay. She said she was fine but didn't like San Diego, she wanted a ride back to Los Angeles.  She asked Red if he'd help her out, and he agreed. It was the worst mistake of his life.
The drive from San Diego to Los Angeles was going to be Red's love test. If nothing happened with Beth then he would know that he and his wife were meant to be together. But if he and Beth clicked, he'd have a tough decision to make.
Beth and Red weren't on the road for too long before they stopped at a roadside motel for the night. They went out for dinner and drinks before returning to their room to go to bed. Red's night with Beth was strictly platonic. He took the bed and she slept in a chair. He had passed his self-imposed love test.
The pair left the motel at about 12:20 p.m. on January 9, 1947 for Los Angeles.
Beth had about one week to live.
Next time: The Black Dahlia — Last Seen