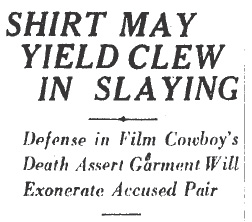 According to the attorneys for Tom Bay and Ed "Red" Carmichael, the red shirt that James "Yakima Jim" Anson died in was going to clear their clients of murder.  The shirt would supposedly show that there had been a terrific battle prior to the shooting, thus clearing Tom and Red of a cold-blooded slaying. Unfortunately,  the shirt had disappeared.
On August 26, 1925 a telegram originating from Shosone, Idaho cleared up the mystery of the red shirt. It wasn't lost and the cops hadn't concealed it, it had accompanied Yakima's body to Idaho where it was burned.
Tom and Red's preliminary hearing lasted for several weeks. At the end of it only Tom was held to answer for Yakima's murder. Justice Russell released Red, apparently believing the man's story that he'd been out of the room when the fatal shot was fired. Even though Red had left Yakima's room for a short time he seemed to know that Tom had produced a revolver, faced Yakima, and said: "Now I've got you just where I want you." He said he heard a scuffle and then a shot. He ran back into the room in time to see Tom escape out the hotel window.

As a Hollywood cowboy Tom spent much less time on a horse than he did with a cocktail glass in his hand. His wife Pearl testified that whenever he came home drunk, which was often, he would attempt to crawl under a chiffonier that was only six inches from the floor.  On the day that Yakima was shot Tom came home and again tried to hide under the furniture. Pearl intervened, and then she listened as he told her a garbled tale of Yakima's shooting. Pearl said: "He told me there had been a shooting and that Anson was badly hurt, but I got the impression he had shot himself. Tom didn't say anything about having shot him and didn't seem to know who had."
When Tom took the stand in Judge Kectch's court he offered his version of Yakima's death. He readily admitted that he'd been drinking, but he claimed there were several other men in the  hotel room–which didn't square with Red's account. Tom said that Yakima had drawn the gun and started waving it around. It was during a struggle for possession of the weapon that it discharged. Yakima staggered back against the wall and slowly slid into a sitting position on the floor. According to Tom, Red came back into the room (he'd been in the bathroom) and told the wounded man to "snap out of it" and "the cops might come because that gun went off." Rather than wait for the cops, or check to see if Yakima was okay,  Tom crawled through an open window and dropped to the sidewalk–leaving Red to face the music. Red picked up the revolver, realized it was his, and headed for the door. He didn't even get out of the hotel before the cops took him into custody. Tom was picked up later.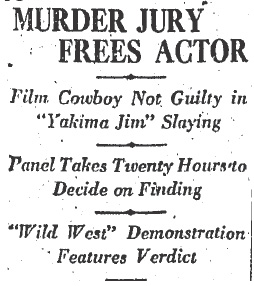 Throughout the trial Tom maintained that he didn't know that Yakima had been shot when he fled from the room. For me that stretches the bounds of credibility, but evidently the jury bought the story because following twenty hours of deliberation they acquitted him. Dozens of men in high-heeled boots, holding ten-gallon hats, and grinning swarmed Tom and slapped him on the back in congratulations.
There are several unanswered questions in this case. Who brought Red's gun to the room, and why? It seems likely that Tom had somehow managed to get his hands on the weapon and, in his inebriated condition, thought he'd scare an apology out of Yakima for making rude comments about Pearl. Did the gun go off accidentally as Tom insisted or was he drunk enough to pull the trigger in anger?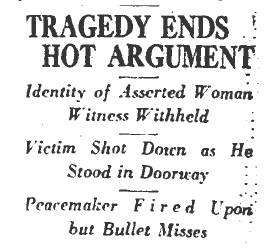 We'll never know for sure and all that matters is the jury's decision. However if you believe, as I do, that Tom was at the least guilty of involuntary manslaughter then you'll be interested to know how he fared following his acquittal.
In May 1931, Pearl sued Tom for divorce. She said that she had sold her piano and car to pay for his attorneys; however, he was not only ungrateful, he treated her badly. He was physically and emotionally abusive and he cheated on her over and over. Pearl had discovered love letters and overheard Tom talking to another woman on the phone in a tone of voice that went beyond friendly. To buttress her case Pearl produced a handful of letters written by a woman living in Deadwood, South Dakota. They were torrid enough to have courtroom spectators on the edge of their seats. Pearl won her divorce. Tom continued his film career. He appeared, mostly uncredited,  either as a stunt double or as a heavy in popular horse operas into the early 1930s.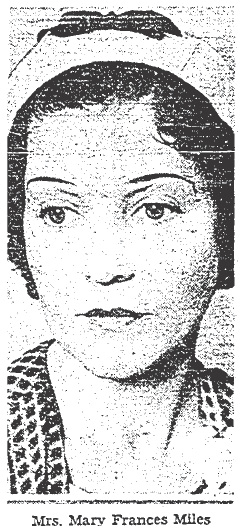 On October 11, 1933, actress Mary Frances Miles received a telephone call from her friend Alta Lessert. Alta said she and her live-in lover, cowboy actor Tom Bay, had been fighting. Alta may have been looking for moral support or a referee–in any case Mary went to help. She arrived at Alta and Tom's house at 602 North Lincoln Boulevard, Burbank and tried to keep the peace. She thought she had succeeded in getting the combative couple to calm down–she saw them embrace and kiss–but moments later she heard a gunshot.
Alta ran from the living room to the bedroom.  Alta was standing with a gun in her hand  Tom's back was to her and he had his hands raised above his head. Alta fired another shot and Tom fell to the floor.
Mary ran from the house to phone the police. On her way to get help she passed the bedroom window. She looked in and saw Alta hold the muzzle of the gun against her breast and fired twice. She collapsed on the floor beside the dead cowboy.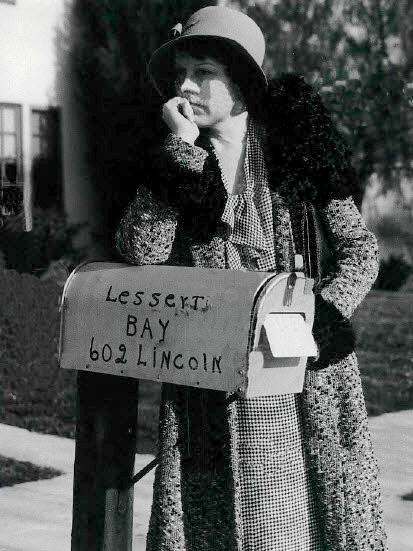 Tom died at the scene, a bullet through his heart. Alta's ribs deflected the bullets and she survived to stand trial for his murder. She claimed self-defense. Tom had been violent with her before and the day he died he had been drinking heavily and threatened to kill her. She had grabbed the gun before he could reach it and fired. Several character witnesses testified on Alta's behalf–most of them were cowboy actors: Buck Bucko, Roy Bucko, Jack Castle, and Jack Padjan. The men said Tom was a known troublemaker.
The jury deadlocked 6 to 6. The D.A. wanted to re-try Alta, but Judge Fricke dismissed the murder charge saying that he didn't believe a conviction was possible.
Just as Tom had done nine years earlier, Alta walked out of court a free woman.