Helen was arrested at the Del Mar Club for Harry's murder. She was overheard saying, "His mother is to blame for all this." Cora may well have been a mean spirited, selfish, bitch and Harry may have been a weak, wuss of a man, but nowhere in the California State Penal Code does it mandate a death sentence for wussiness. And if it did, it wouldn't have been up to Helen to mete out justice.
Helen was booked at the Santa Monica Jail and then transferred to the County Jail where she was held without bail. She was so distraught that she attempted to hang herself in her cell with a polka dot scarf she'd been wearing. Fortunately for her a sharp-eyed matron saw what was happening and intervened.
Following her failed attempt at self-destruction, Helen spent the next few days wailing to anyone who would listen that she wanted to see Harry one more time. Because it was 1937 and not 2017, Helen was unbelievably granted permission to view Harry's body at the funeral home. A request made by a killer her view her victim's remains would never fly today.
When Helen arrived at the funeral home her first question for the undertaker was whether or not Cora Love had been by to view Harry. According the undertaker, Cora had come in earlier and and she was in deep shock.  Helen stiffened for a moment and then she nearly shouted, "Harry knows whose fault it was.  He knows and I know…" Helen walked over to Harry's coffin and lifted the drape that covered it. She kissed him and said, "Darling, you are happier than me. You don't blame me, do you , darling? I love you my dear, I love you. Your hands don't feel cold to me. You won't be lonely darling. My heart will always be with you." Helen turned to the undertaker and made him promise to bury a tiny heart-shaped wreath of roses of Harry, "Do this for me. Please say you'll do this for me," she pleaded. Harry was buried at the Hollywood Cemetery (now called Hollywood Forever Cemetery).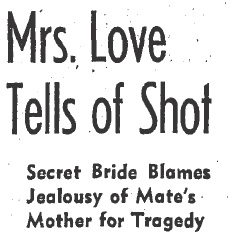 Helen's one way chat with Harry was creepy, but things were about to get stranger.
At the inquest Howard H. Spencer, brother-in-law of Mrs. Love, testified that Harry Love was a single man. Helen whispered, "He lies." Among the other witness who appeared were Neil Johnson and L.B. Nelson, employees at the Del mar club; Max Daniels, in whose taxicab Helen rode to the scene of the shooting; George Hahn, wine steward at the club, who testified that the distraught woman asked to be allowed to touch her husband while he way dying in the clubhouse; Chester L. Dewey, who witnessed the shooting from a parking lot across the street; Capt. Elmer Lingo of the Santa Monica Police Department, and Officers Thomas Garrett and Charles Horn, who arrested Helen.
While the Coroner's jury was deliberating, Helen sobbed out the story of her brief marriage to one reporter in particular, Aggie Underwood. "We were beautiful in love. But Harry was so afraid of his mother. His affection for his mother and hers for him were strange and frightening. Ten months ago Harry and I drove down into Mexico and at a little town below Ensenada we were married. It was a mysterious trip because harry wouldn't tell me where we were going and when we started I didn't know he planned to be married."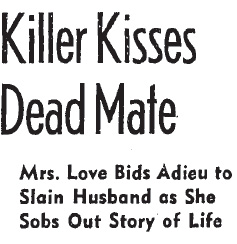 Because of Cora, Harry refused to announce the marriage, and that stung. "It was agonizing to be so in love with a man and not have him with me," Helen said. "Three months after our wedding, I told Harry I was going to show his mother our marriage certificate. He took it from me and said he had placed it in a safety deposit box and that I would never see it again until we had a home of own."
Helen pleaded not guilty by reason of insanity. Her defense was that she'd brought the gun to the club fearing that Harry would threaten her. What? She wasn't invited to the Del Mar Club and it was her idea to take Harry's pistol, get into a cab, and go to Santa Monica. At any point along the way she could have changed her mind and returned home. The fact that she didn't speaks to her state of mind and her intention. Helen insisted that the pistol fired accidentally when she tried to pull it out of her pocket.
If you've ever handled a weapon you know that it takes about five to eight pounds of pressure to pull the trigger of the average hand gun. Then there was the fact that Helen shot multiple times. Even if one was willing to give her the benefit of the doubt on the alleged accidental discharge, it wouldn't explain the multiple shots she fired at Harry while chasing him out of the club and down the street. Helen's account was also at odds with eye witness testimony and her original statement to the cops in which she confessed to the crime.
While she awaited trial, Helen sat in her County Jail cell and wrote poetry to her dead husband.
"Strange sea, strange air,
Ah, but let us not forget
All our happy days together.

Then let them sound one high call,
For I shall be waiting
On some plain
In gold field or satin rain.

Waiting for all that our love could ever bring,
Deathless in our remembering."
Helen was no Elizabeth Barrett Browning, but her effort was heart felt.
The trial lasted several days, and finally the jury of seven women and five men were instructed by Judge Frank M. Smith:
"You may find this defendant guilty of murder in the first degree and fix the penalty at death.  You may return a first degree murder verdict, but set life imprisonment as the penalty.  You may return a second degree murder verdict, or a manslaughter verdict, or you may, after a careful study of the evidence before you determine that the defendant is not guilty."
During deliberations one of the jurors, Mary Plettner, a 45 year old house wife, was found in contempt of court after the jury foreman, Harry Joannes, reported her for being drunk. Evidently Mary had hidden a bottle of booze in the women's bathroom.  Joannes said that Plettner was in no fit condition to continue. Despite the problem with Mrs. Plettner, Judge Smith expressed his faith in the American jury system; however, he said he believed a juror in a case involving a homicide should remain sane and normal during deliberations.
An alternate took Plettner's place, and one hour later, Helen was found guilty of second degree murder. Helen stunned the courtroom by asking to waive her not guilty by reason of insanity plea. She said she wasn't crazy when she shot Harry.
Due to her request, her sentencing was delayed.
Back in county lock-up Helen told fellow inmates "I can make myself die whenever I want to" and she told a jail matron "I can sit in this chair, or lie down on this bed and kill myself by strength of will power".
Three days later, Helen lapsed in to a coma that appeared to have been self-induced.
NEXT TIME:  Is Helen faking a coma? What do the doctors think? Will she live to face sentencing for Harry's murder?