Mary Skeele's abductors had lured her out of her home using the tried and true method of many kidnappers — a faked family emergency. Mary had been told that her husband, Walter, had been in an accident and was in the emergency room of a local hospital. Of course upon receiving the news she didn't hesitate to act, and when the stranger came to her door to escort her to the hospital she grabbed a wrap and went with him. Fortunately she'd called her son Franklin before she left the house, otherwise it may have taken longer for her family to realize that she'd been taken.
The strange man accompanied Mary to a car parked in front of her home. There was a woman in the auto waiting for them. Mary was seated between the two strangers and they drove away. When the car took a turn that Mary knew was in the opposite direction of the hospital, she demanded answers. When none were forthcoming she began to scream and fight.
The kidnappers couldn't risk having Mary's screams overheard, so the man took a blanket from the rear of the car and wrapped the small woman up in it. She struggled, but eventually she quieted down.
While Mary was being driven around Los Angeles, her husband Walter and her son Franklin had arrived home to find a ransom note pinned to the front door. The note was lengthy, rambling and, curiously, it had clearly been recycled  Wherever the word "daughter" appeared in the correspondence the word "wife", clipped from a magazine, was pasted over it.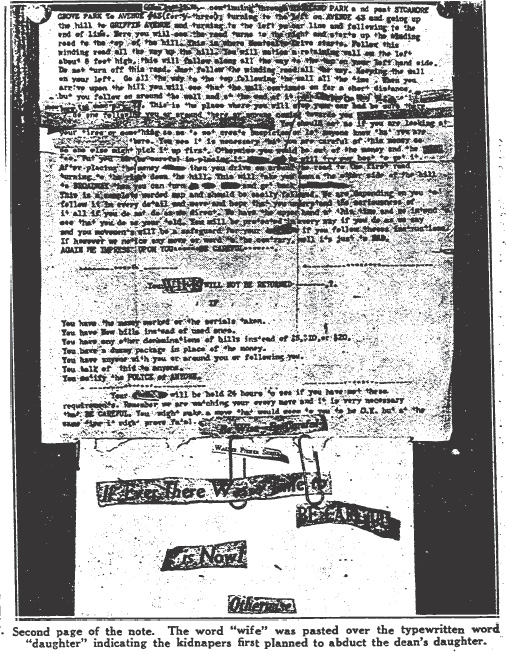 The strange recycled ransom note led cops to uncover the failed attempt to snatch Miss Isabel Smith. When Isabel related the tale of the man and his false mustache to detectives they realized that they weren't dealing with professional gangsters or crooks, it was the worst of all possible scenarios — the kidnappers were bumbling amateurs!
The ransom note directed Dr. Skeele (Dean of the School of Music at USC), to deliver $10,000 in unmarked bills to a spot on Montecito Drive where he would find a cracker tin. Dr. Skeele was to deposit the cash in the the tin and place it in an adjacent hole.
The kidnapper's note said that Mary would be held for twenty-four hours as a guarantee that Dr. Skeele had followed directions:
"Your wife will be held twenty-four hours to see if you have met these requirements. Remember, we are watching your every move and it is necessary that BE CAREFUL. You might make a move that would seem to you to be O.K., but at the same time it might prove fatal. Be wise, be careful."
Mary's kidnapping was highly publicized, which may have caused the kidnappers to panic and release her. At least they didn't hurt her, she was dropped off within walking distance of her home after being held for twenty-four hours.
Investigators descended on the Skeele home with dozens of questions for Mary about her time in captivity. Even though her eyes has been covered, and cotton stuffed into her ears, Mary had noticed some important details about her captors and the place in which she'd been held. She had been able to peek underneath her blindfold and had seen a throw rug on the floor in the room in which she'd been confined, and she had also heard the ticking of a clock that chimed every hour and half-hour. The chime was distinctive and she felt sure that she'd be able to recognize it. Another detail that Mary reported was the sound of a train. She told detectives she thought the train was a mile or two distant from where she was kept.
Shortly after Mary Skeele was returned home a postman and his wife who lived near the ransom drop alerted police to some suspicious goings on in their neighborhood. The tip led to the arrest of a couple, Luella Pearl Hammer and W.D. Howard, for questioning in the Skeele kidnapping case. Hammer and Howard were transported to the Highland Park police station. (Note: the current home of the L.A. Police Museum where I'm an archivist!)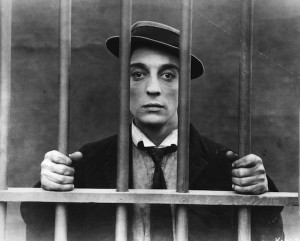 Luella had two homes, one near the money drop location and another which fit the description of the home in which Mary had been held. A police search uncovered a Royal typewriter (later identified as the machine responsible for the ransom note), and a clock that chimed the hour and half-hour. About two miles away there was a Santa Fe railway spur, which could account for the train sounds Mary had heard.
Among the items seized in the search was a an envelope in Luella's desk upon which she had scrawled the names and addresses of several Hollywood stars — among them: Jackie Coogan, Mary Pickford, Constance Talmadge, Harold Lloyd, Buster Keaton, Adolphe Menjou and several others.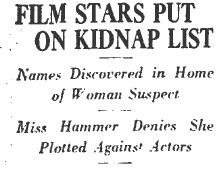 When she was asked about the names on the envelope Luella first said she didn't know anything about a list — then she suddenly blurted out:
"If there was such a list, it didn't mean anything at all to anyone but me."
Both Hammer and Howard confessed — although Howard seemed to want to assume most of the blame for the crime. He said:
"Well, I'm just in the middle again. And over a woman, too. A woman put me on the spot before. But I felt sorry for her because she was out of dough. I know I'm due for a 'rap', so I'll plead guilty."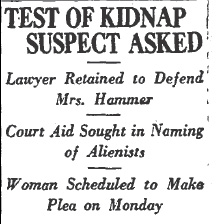 Luella began to vehemently deny that she'd confessed to the police. She agreed that she may have made some damaging admissions, but stated that she couldn't recall what she'd said because the incessant questioning by police had unnerved her.
"I'm going to plead not guilty to this charge. I don't know where anyone got the idea that I'm going to plead not guilty by reason of insanity, because I never said that and I haven't any lawyer yet, so not one else was authorized to say so for me."
One of Luella's brothers-in-law retained an attorney for her — none other than Nathan O. Freedman, the same man who had defended Daisy De Voe. You may recall Miss De Voe —  she was tried for grand theft for taking items belonging to her employer, Clara Bow.
What defense would Freedman offer on Luella Pearl Hammer's behalf?
NEXT TIME: The trial and case wrap-up.