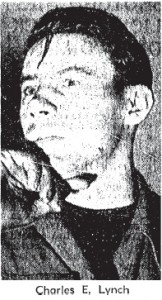 A couple of weeks following the one year anniversary of the slaying of Elizabeth Short, LAPD detectives thought they'd finally caught a break in the case when twenty-three-year-old Charles E. Lynch telephoned the homicide squad and asked to be arrested for the murder.
Lynch was arrested and brought to the Central Jail for interrogation. The young transient was questioned at length by Detective Lieutenants Harry Hansen and Finis A. Brown who had been assigned to the case since the beginning.  Dr. J. Paul DeRiver, police psychiatrist, accompanied Hansen and Brown to Lynch's interview.
It didn't take long for the seasoned detectives and the shrink to conclude that Lynch was lying to them; and when he was challenged on the details of his confession Lynch promptly repudiated it.
Of course the detectives wanted to know what had motivated Lynch to confess to the gruesome murder in the first place, and that's when he told them that the idea came to him after he read a newspaper "one ye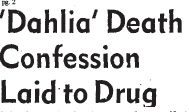 ar anniversary" account of the crime.
The newspaper account of the Black Dahlia case may have initially motivated Lynch to confess, but his real inspiration came from a Benzedrine inhaler.  He told Hansen, Brown and DeRiver that he bought an inhaler, tore off the wrapper, ate the contents and washed them down with a glass of water–it was then, Lynch said, that he decided to confess.
NEXT TIME: Conclusion of the Black Dahlia case.
For an interesting article on the influence of Benzedrine (aka Bennies) on American culture go to this article in  THE ATLANTIC.
More on Benzedrine here.