The gangsters suspected in the shotgun murder of Gaetano Binetti and the serious wounding of his wife barely spent a moment in lock-up before there was a confession. No, none of the gangsters confessed–it was Gaetano's cousin Marie Binetti.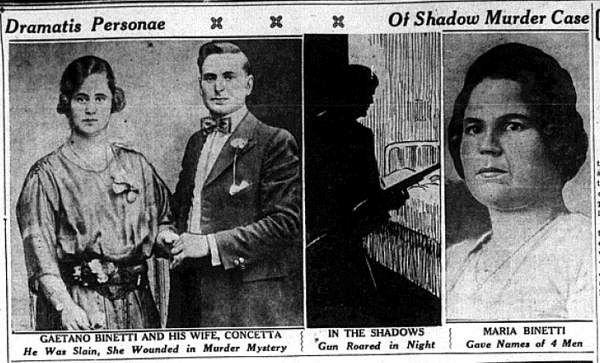 Marie, a 37-year-old widow with two children, wanted a husband and she had set her sights on Gaetano's brother, Cinette a Santa Monica farmer. Gaetano may have been a local "godfather" for a collection of families or he may have been the Benetti family patriarch, but either way Marie needed his permission to pursue her heart's desire. She asked Gaetano's permission but he denied her. She brooded for a while before deciding to exact revenge. She had taken Gaetano's shotgun, then she went into the bedroom where he and his wife were sleeping and fired. She hadn't intended to harm Gaetano's wife, Conchetta. She thought she could blame the murder on Gaetano's rivals and tried to buttress her story by spending the night at a neighbor's house telling the police that she feared that an attempt would be made on her life.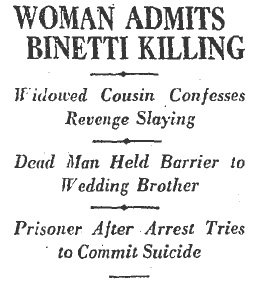 The afternoon following the slaying Detective Lieutenants Hickey and Corsini drove out to New Depot Street to bring Marie in for questioning. She excused herself and went into the bathroom. When she didn't return within a few minutes the detectives became alarmed. They went to look for her and found her sprawled out on the bathroom floor–she had slashed her throat with a straight razor. There was a lot of blood and Marie's condition was critical. An ambulance was called and took her to the Pasadena Avenue Receiving Hospital. As soon as she arrived she gasped out her confession to Detective Corsini.
While Marie was rushed to the hospital, police scientists compared her fingerprints to those found on the stock of the murder weapon and they were a match.

Deputy District Attorneys Thomas and Menzies, accompanied by a stenographer, went to the hospital to record Marie's death bed confession but was unable to speak. An inquest was held and the jury formally accused Marie of the crime. Immediately after the inquest District Attorney Burton Keyes filed on Marie for murder.
On August 12, 1928, Marie Binetti succumbed to her wounds.