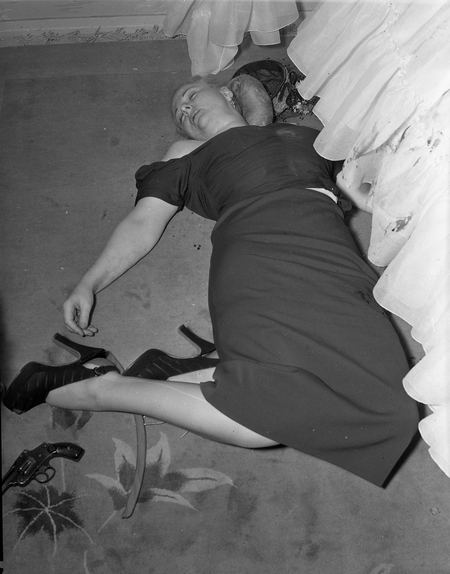 Incorporated in 1913, San Marino is a quiet, residential only, enclave catering to people with money; lots of money.  It is unthinkable, not to mention in poor taste, for a resident to die of unnatural causes.  But on December 31, 1949 the body of 39 year-old socialite, and well-known party girl, Joy McLaughlin was found in the lush bedroom of her San Marino rental home—with a gunshot wound to her chest. The Los Angeles County Sheriff's Department sent detectives Herman Leaf and Garner Brown to investigate.
When Brown and Leaf arrived at McLaughlin's Spanish-style bungalow at 2002 Oakdale Street they found the attractive blonde artfully sprawled on a blood spattered Oriental rug in her bedroom next to her lace canopied bed.  If they hadn't known better the detectives may have thought that they were looking at a scene from a film noir.  The deceased was wearing a maroon off-the-shoulder blouse, blue skirt and black peep-toed pumps. Her jewelry consisted of a simple gold bracelet and gold earrings. A .38 revolver lay near her right hand.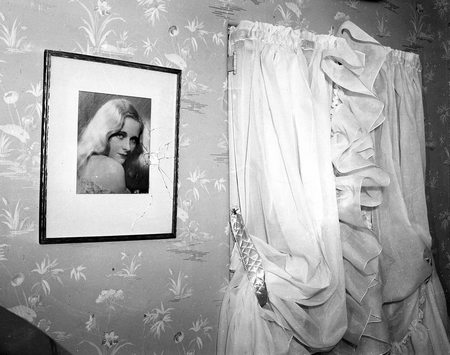 As the detectives scanned the frilly bedroom for clues they noticed a framed pastel portrait of McLaughlin. The portrait appeared to be from the 1930s. In the portrait McLaughlin had long blonde hair, kohl rimmed eyes and vaguely resembled actress Mary Astor, if she had been a blonde. The glass in the portrait had been broken by a bullet.  The shattered glass was another film noir touch in the real-life death scene.
What had Joy's life been like in the years since the portrait was completed? And why had she died? In order to better understand Joy's death, detectives would have to answer that question by examining her past.

According to some records, Joy was born Denver Joy McLaughlin on September 22, 1910 or 1911 in Memphis, Texas. By the 1930 census, Joy was living with her widowed mother, Daisy, and her sisters May, Dorothy, Novella, Ysleta and Thelma in a home on Larrabee Street in Hollywood.  Joy was 19 at the time of the census and was in a relationship with automobile (Cadillac and LaSalle) and radio (KHJ) magnate, Don Lee. The older man, who had been married and divorced twice, had been seeing Joy since she was sixteen.
Joy believed she and Don would eventually marry, but he met another age inappropriate woman, twenty-four year-old Geraldine May Jeffers Timmons, and dropped Joy like a burning coal.  Don and Geraldine dated for only a few months before being married in Agua Caliente, Mexico.
Disappointed and angry, Joy filed a breach of promise lawsuit, aka a "heart balm" suit  in 1933 against her former lover in the amount of $500,000. To put it in perspective, $500,000 then is equivalent to $9 million dollars today. That kind of money would go a long way to soothe a broken heart.  Following a brief court battle Joy walked away with $11,500. Not exactly what she hoped for, but not chump change – it had the same buying power as $210k has today.  That amount of money could go a long way during the Great Depression.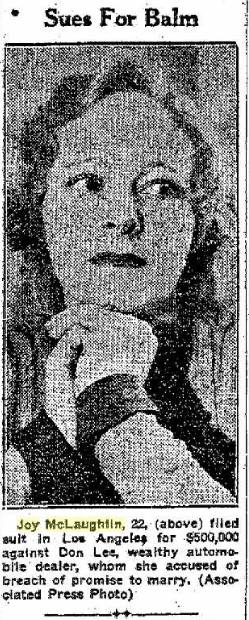 For the next several years, Joy traveled.  She sailed through the Panama Canal, she visited Hawaii, and she spent time at the resort in Agua Caliente, Baja California, Mexico.  She even found time to marry a man named Robert Stark; but the marriage ended in divorce.
At some point during years before her death, Joy met an oil millionaire, John A. Smith. John was married but when asked about it he said: "I'm not working at it." During their investigation of Joy's death Sheriff's Department detectives discovered that John had been with Joy in the hours prior to her death.
Had John killed her?  Not according to his testimony at the Coroner's inquest.  John described an evening of drinking (Joy's blood alcohol registered .021 at her autopsy) and dancing.  The couple, accompanied by Fern Graves, a friend of Joy's, partied at the Jonathan Club and the Zebra Room of the Town House.
John said: "Joy wanted to dance.  She called the orchestra leader over and arranged for some music.  I bought the orchestra a drink. We danced and drank until the bar closed."  At 2 a.m. Joy, Fern and John accepted the invitation of bar acquaintance named George to have a nightcap in his room at the Biltmore Hotel.  The party continued until 8 a.m. Joy was incensed when John
suggested they call it a night. She bolted from George's hotel room, and John had to retrieve her.
Joy and John finally made it back to her home.  Between sobs, John testified that Joy tended to become melancholy, and occasionally belligerent, when she drank.  He followed Joy into her bedroom where she began to undress.  He said that she turned to him and said: "You can get out."  John said that he knew better than to cross Joy when she was in a mood so he left the house. As he got to his car he thought he heard a gunshot. "I ran back into the house.  Joy was sitting on the floor…"
John started to fall apart on the stand and it took him several moments to regain control and continue his testimony. "She (Joy) was sitting at the foot of the bed, sort of half sprawled and leaning against the bed.  I saw the whole scene in an instant.  Her hand was out and a gun was lying not over three feet from her body. I grabbed it."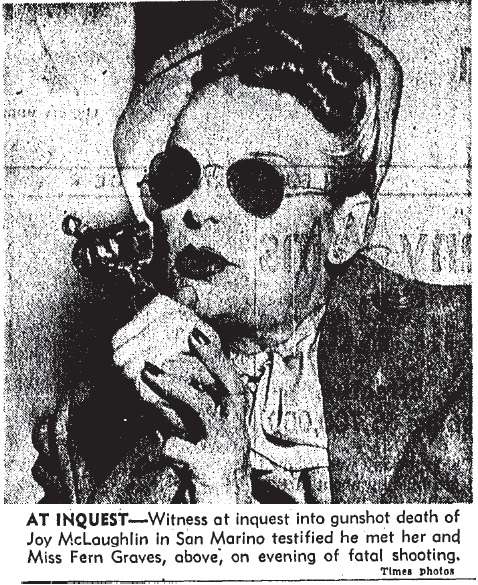 "I said, 'My God, what have you done!"  Joy was beyond answering.  John picked up the weapon and it went off. It scared him half to death. Joy didn't make a sound. When John tried to lift her he felt blood ooze through his left hand.  "I listened for life.  In my judgment, she was dead."
John panicked. He left without calling a doctor because he believed Joy was dead. He then drove through a thick fog to the Wilmington home of two of Joy's sisters, Thelma and Ysleta.  When they opened the door, they found John wringing his hands and crying.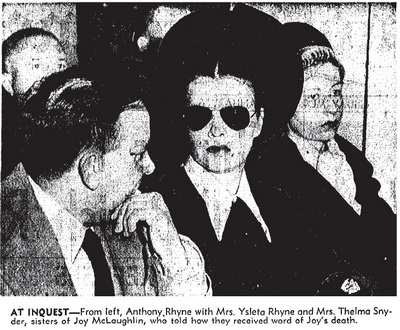 When Joy's sister Ysleta was called to testify at the inquest she revealed that it was she who had given Joy the weapon that killed her. Joy was described as a person who felt things keenly; sensitive and sympathetic to other people's problems.
After hearing from all the witnesses the Coroner's Jury determined that it was Joy who had fired the .38 into her chest, one inch from her breast.
There appeared to be no single event that had caused Joy to take her own life. Perhaps her suicide was the culmination of a life that had never gone quite how Joy dreamed it would.
NOTE: Many thanks to Mike Fratantoni — one of my favorite historians.