If you were a resident of Los Angeles during the 1910s or 1920s it would have been simple for you to locate a beauty doctor. Beauty doctors were rarely, if ever, actual physicians, they were practitioners of dubious skill, training, and ethics, and they advertised relentlessly in the personal columns of the local newspapers.
One of the many beauty doctors advertising her skills to Angelenos seeking to improve their looks was Gertrude Steele. Steele called herself a doctor but she was not a medical doctor, nor was she a doctor of philosophy, she was a registered naturopath.
Steele's registration as a naturopath meant very little at that time because there were few regulations to which such a practitioner had to adhere. The lack of oversight many times resulted in disfigurement or death for the patients unlucky enough to be worked over by a scalpel wielding faux doctor.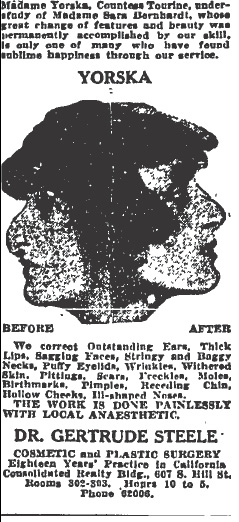 Steele had caused the death of her son-in-law, George Blaha, who had only wanted his freckles removed — what he got instead was a premature death. Steele had administered an overdose of chloroform to ease the excruciating pain she'd caused him with the freckle removal procedure.
As a result of the botched operation on George, Gertrude's naturopath license was revoked. There were a few months when it looked as though Gertrude would be held accountable for her son-in-law's death, but her attorney successfully argued before the California State Supreme Court that Steele had the right to perform the procedure on George because the Legislature had not defined what her license permitted her to do! Steele's license was restored and she was swiftly back in business!
But the LAPD, the State Board of Medical Examiners, and the District Attorney weren't satisfied with the outcome in George's case, and when another of Steele's patients died it prompted a more thorough investigation.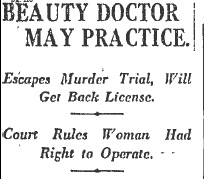 Mrs. Christina Leslie was 67 years old and was seeking to restore the "youthful bloom" to her face as promised in Gertrude Steele's ads. Instead of having her youth restored, Mrs. Leslie died of blood poisoning.
For many weeks the cause of Mrs. Leslie's death was known only to a few of her closest friends — no autopsy had been performed. Finally the circumstances surrounding her demise reached the ears of Chief of Detectives George Home who ordered an immediate investigation.
Detectives discovered scores of Gertrude Steele's patients, male and female, who had reported to the State Board of Medical Examiners that they had been mutilated and disfigured for life by Dr. Steele's facial lotions and by her scalpel.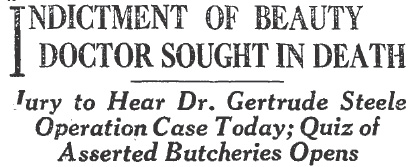 Gertrude Steele had never had a single day of instruction in surgery and her incompetence had lead to countless deformations and several deaths. Steele's daughter, Mrs. Solomon, had acted as her mother's assistant in all of her operations — it appears that Mr. Steele was no longer part of the practice — although it isn't clear what happened to him. Solomon didn't have any medical training either, although she appeared to have some compassion for the victims of her mother's ineptness. She described the post-surgery horror that Mrs. Leslie endured:
"A few days after the operation, Mrs. Leslie came back. Infection had begun in the incisions. She remained at my mother's house for ten days and all that time I begged my mother to call in a physician. But she would not. She would take the top of my head off for butting in and all the time she was trying to treat Mrs. Leslie who appealed more to the divine powers to help her rather that her own common sense."
Mrs. Emma Graham, a close friend of Christina's, arrived at Steele's clinic and once she saw the condition her friend was in she promptly had her removed. But instead of taking her to a hospital, Christina was transferred to Emma's home — where at least
she was under the care of a certified physician. Mrs. Graham told cops:
"I learned that Mrs. Leslie was in a bad condition and that she was being kept at Mrs. Steele's house. I went to see her, I found her reclining on a window seat. Her face was in a terrible condition and her clothing was all bloody. I had her removed to my home."

"At my home Mrs. Leslie grew worse each day. She told me Dr. Steele had performed the operation. Terrible abscesses were appearing all over her and she complained of pains in her swollen hands."
Dr. James Reeve Dean, the physician who attended Mrs. Leslie for the last few weeks of her life told investigators:
"I found two incisions had been made upon Mrs. Leslie's head. These incisions began at the hairline on the forehead and each extended downward and along the side of the face, in front of the ears and then curved back behind the ears. Upon Mrs. Leslie's neck I found an ugly abscess, filled with infected matter with a drain at the top of the abscess instead of at the bottom where it should have been. The incisions on the forehead had left ugly wounds. Pyemia had set in and had centered on one of the patients hips and upon one of her hands, which was swollen to twice its normal size."
After three long weeks of unbearable pain, Mrs. Leslie succumbed to blood poisoning. In Dr. Dean's opinion the cause of Mrs. Leslie's death had been infection due to the dirty conditions in the  surgery in which the facelift had been performed.
Investigators turned up the names of other people who had suffered at Mrs. Steele's hands:
Michael Goane, 19, who died in Dr. Steele's office while undergoing treatment for the removal of a scar from his cheek.
Martin J. Colbert, from San Francisco, who came to his death from shock caused by a carbolic acid application and anesthetic treatment.
Miss Pauline Hall, motion picture actress, won a judgement of $2500 against Dr. Steele for the mutilation of her face. Miss Hall testified in court that her lower lip had been "frozen" and that while Dr. Steele performed the operation the doctor communed with the Universe and prayed for the success of the operation.
Arthur Carew, had an operation for a hump nose. Dr. Steele cut a piece from his nose, cut strips of flesh from each temple and severed an artery which she first attempted to close with her fingers, later attempting to stop the flow of blood by prayer. Fortunately for Carew he was taken to a hospital and survived his ordeal.
Miss I. Vogel, formerly employed at the Ambassador Beauty Parlors reported that her face had been mutilated in an unsatisfactory nose operation.
The list of people maimed or killed by Steele seemed to be endless. One of Steele's patients said that the doctor requested all of her patients sign a form absolving her from any after-effects of her operations:
"I hereby certify that the operation and subsequent treatment to be performed upon me is at my own request and I hereby absolve Dr. G.D. Steele and Company from all responsibility from any results therefrom."
For her part, Dr. Steele advertised:
"The work is done conscientiously, with perfect technical skill in feature correcting under Divine Guidance. God does the healing."
Finally in October 1924, Gertrude Steele was indicted for manslaughter in the death of Mrs. Christina Leslie. When cops went to pick Steele up all they found was a "For Rent" sign on her property and her daughter, Mrs. Solomon, whom she had apparently left behind without a thought. Solomon said:
"She left me penniless and ill and with all of her own troubles to contend with — bill collectors, complaints from her patients and such. I am glad the investigation was made. It has taken a great burden of worry and sorrow from my mind. I feel so much better now."
Solomon continued:
"She is my mother, but I believe, as the authorities believe, that she should be stopped from continuing with this work of which she has no scientific knowledge."
Gertrude Steele's license to practice naturopathy was revoked, but it didn't matter — she was nowhere to be found. At last, in January 1925 she was discovered living in Oberhausen, Germany. California requested Gertrude Steele's extradition, but I have not yet been able to find out if she was ever returned to the U.S. to face justice.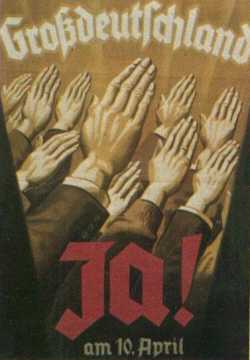 Chilling, isn't it, that a person could butcher people with impunity. I suspect that Gertrude Steele found herself quite at home in Germany during the mid-1920s, because by 1925 Adolf Hitler had begun his ascendancy to power.