So, what's in store for Deranged L.A. Crimes in 2016?  I'm glad you asked.
It's nearly time to wrap up The First with the Latest!: Aggie Underwood, the Los Angeles Herald, and the Sordid Crimes of a City — the photo exhibit I'm curating at Central Library downtown. It opened in August and the official closing date is January 10th (I have been told it may be up until the 17th, but don't count on it).  If you haven't visited the History and Genealogy Department where the exhibit is on display I urge you to do so.  If you can't make it in person you can purchase the companion book (same title as the exhibit) in the Library's bookstore or via Amazon.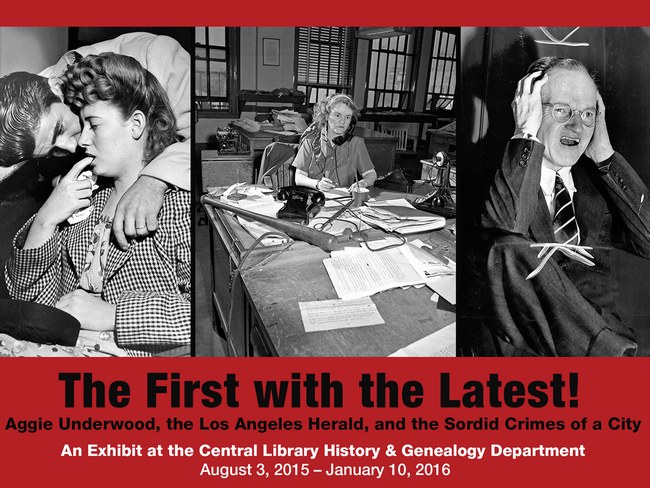 Of course it pleases me no end that the exhibit received some very good press. It was the subject of an article by Tanja M. Laden for Atlas Obscura, and another by Christina Rice for the Huffington Post. I was interviewed about the exhibit by Steve Chiotakis for Which Way, LA? on KCRW, a local NPR station. It is gratifying for me to play a part in renewing interest in Aggie's life and introducing her to a new audience. Her 1949 autobiography Newspaperwoman is in such demand that it is wait-listed at Los Angeles Public Library. Not bad for for a book published over 60 years ago.
There is one accomplishment that has been attributed to Aggie which needs to be addressed; and that is the claim that she was the first woman to become city editor of a major U.S. newspaper.  It simply isn't true. Journalist and historian Larry Harnisch discovered two women who preceded Aggie and he wrote about them in his Daily Mirror blog. It's important to note that Aggie never made the claim about herself.  While she didn't refute it (who would?) she said that she had neither the time nor the inclination to verify it.  I still consider Aggie to be a ground breaking journalist–you don't have to be the first to be the best.
Over the next year I plan to include tales featuring some of the outstanding detectives who have served with the Sheriff's Department and with the Los Angeles Police Department in the past.  I was inspired to pursue the topic after attending the Los Angeles County Sheriff's Homicide Bureau's holiday party a few weeks ago. Detectives in law enforcement today have one of the most difficult and gut-wrenching jobs on the planet.  I will devote some of this coming year to honoring them by delving into the history of some of their predecessors.
Since the blog debuted on December 17, 2012 I have written over 400 posts, and I've barely scratched the surface of historic crime in L.A. One thing is for certain, I'll never run out of material. In addition to being fascinated with detectives, I've run across several defense attorneys who were every bit as colorful as the men and women they represented and I am looking forward to telling some of their stories over the next year too.
A surprising consequence of the blog, surprising to me anyway, has been the correspondence I've received from family members of the victims and perpetrators I've written about. If there anyone who believes that a murder committed decades ago doesn't continue to affect family members, even if they were too young to recall the crime, or weren't born when it was committed, I've got news for you–there is no end to the pain. I've learned that the best thing I can do is to provide an open ear. The people who contact me just need someone to listen. Some of what they tell me is so difficult to deal with that I have to fight the urge to run away. The reason I don't run is because I believe that the person who contacted me needed someone with whom to share the burden. It's a small thing that I can do and it is my hope that each of the people who has reached out to me has found some measure of peace.
My personal plans for 2016 mirror my professional plans. Because I love what I do there's virtually no separation between work and play for me. I spend a lot of time on this blog, but I also spend time volunteering at the Los Angeles Police Museum in Highland Park. Last year I was involved in creating the Museum's first book LAPD '53 by James Ellroy and Glynn Martin. To be a part of the book team (working alongside James Ellroy–are you kidding?!) was an amazing experience and I'm proud that the book spent 4 weeks on the L.A. Times Bestseller list!  I've learned a lot working with the museum's Executive Director, Glynn Martin. He is the ideal steward for the place. I've been there for over six years and hope to be there for many more.
In addition to working with the L.A. Police Museum, I volunteer with the Sheriff's Museum too.  Lately I've been shadowing the estimable Mike Fratantoni, learning all I can about the rich history of the Los Angeles Sheriff's Department. Mike is the department's historian and is a walking encyclopedia of Deranged L.A. Crimes. There are major changes in the works for the Sheriff's Museum. I'll keep you posted.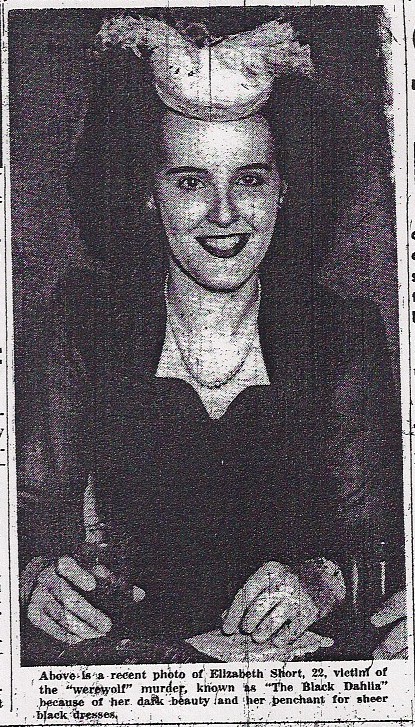 The 69th anniversary of L.A.'s most notorious unsolved murder, the slaying of Elizabeth Short, the Black Dahlia, is coming up. As I have for the past few years I'll begin a series of posts on January 9th–the day she vanished.
I hope you're looking forward to another year of Deranged L.A. Crimes as much as I am.
Best wishes for the new year.
Joan