Early in the morning of December 9, 1935,  38 year-old Mabel Willys ran from her home at 2737 Clearwater Street and accosted milkman Earl Hopper as he was making his deliveries.  "I've just killed my old man." she said.  Indeed she had.  And he'd been dead for about 12 hours.
Mabel had delivered multiple hammer blows to the head and body of Dr. Walter Hammond, her 61 year-old common-law husband, thus ending his 10 day drinking spree and 8 years of abuse at his hands.
Mabel and Walter's relationship had never been a happy one. Walter had a drinking problem of gargantuan proportions and would often go on binges that lasted for days. He wasn't a maudlin, teary-eyed drunk, nor was he a lovable one. When Walter had consumed too much booze he became violent, and the object of his rage was Mabel.
Everyone has a limit, and 8 years of continuous abuse was it for Mabel.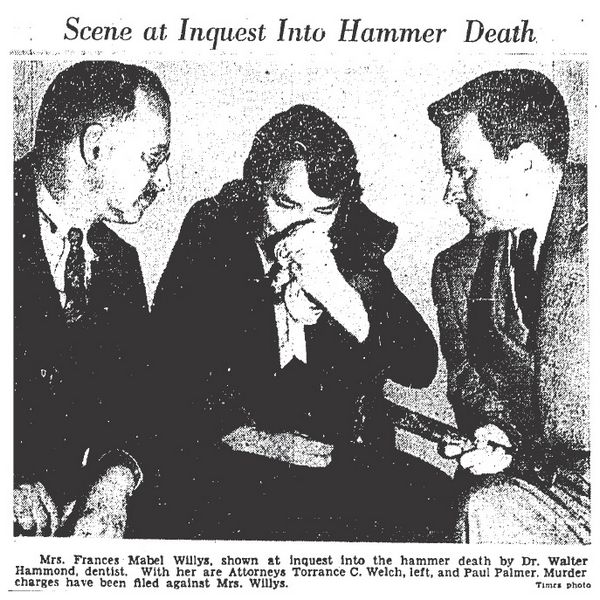 When Detective D.R. Patton arrived at the scene he found Hammond dead on the floor with the hammer still embedded in his head.  Mabel immediately admitted the slaying. She said that "…he had it coming." She went on to tell detectives: "Sure I did it, he beat me and I decided a long time ago to kill him."  Apparently she had taken her inspiration from the 1922 Clara Phillips case. Clara had taken a hammer to Alberta Meadows, the woman she thought was stealing her husband. The attack was so vicious that Phillips was dubbed "Tiger Girl".
Mabel grinned at the detectives and announced: "I'm Tiger Woman No. 2."
She went on to say that she wasn't sorry for what she had done: "He has never treated any woman right–he never treated me right.  He treated me awful.  I took it as long as I could."  In a matter-of-fact tone she told Detective Lieutenants Patton and Hurst that she was neither intoxicated nor insane at the time of the murder. She told them that Hammond had accused her of having hidden $5,000 in the back yard. When she denied it, Hammond began to beat her.  Mabel said:  "…I'm black and blue all over.  He has hit me a lot lately–we've been drinking steadily since Thanksgiving.  You saw those empty bottles at the house."
Calmly Mabel described the murder in detail:  "After I hit him the first time with the hammer and knocked him down he began to howl.  I went over and put the window down so nobody would see it."
"He crawled back and forth in the hall–I don't know how many times I hit him then, four or five.  He is the hardiest person.  It did not seem he'd have that much energy. He crawled to the end of the hall and then back by the bed."
"He was talking all of the time until the last time.  When he got back by the bed he died. Just before he died, he said 'What is the matter, have you gone nuts?' and I told him I couldn't live with him and I couldn't live without him."
Mabel continued her recounting of the killing:
"When I first struck him he fell on the bed and then he came back at me. He was a big powerful man.  He took the hammer away from me and began kicking me and we fought back and forth. He was up and down several times, then he began crawling on his hands and knees and I kept hitting him."
Detectives asked Mabel why she'd continued to hammer Walter when he was on the floor, and she replied:  "Because he was so hard to knock out."
Given everything that had transpired during their relationship it should come as no shock that Walter and Mabel had met in 1927 at the Jack Dempsey vs. Gene Tunney boxing match. Walter had recently separated from his wife and according to Mabel: "…he fell for me and I fell for him."  They had separated once about six years before the murder, but got together again. She had begun as his housekeeper, but fairly quickly they began living as man and wife.
After Mabel  ambushed Earl Hopper, the milkman, she asked him to walk her to the house. Along the way she told him that she had pulled a "..second Clara Phillips hammer murder." Once they'd arrived at the house Mabel asked Hopper to phone the police, which he did from a cafe at Fletcher and Riverside Drives. Mabel had stayed in the house with Walter's corpse for about twelve hours before she had stopped Hopper's milk wagon. Why had she waited so long? "I wanted to get the house cleaned up before anybody came," she said. She told detectives that after Walter died she had collapsed in a faint over his body. When she came to and realized what she'd done she decided to clean the house, take a bath, and change her clothes.
Radio officers responded to Hopper's call and arrived at the house. When Mabel opened the door they were surprised to see that she appeared to be freshly bathed.  She explained her tidy appearance to them by saying: "Yes, I knew you would be coming and I wanted to look nice."
On December 12, 1934 Mabel was formally charged with Walter's murder.  The Coroner's jury found that Walter's death was the result of a compound skull fracture caused by hammer blows, and  brought in a verdict recommending that Mabel be held for trial.
Despite her confession, Mabel entered a plea of not guilty. At her trial several witnesses came forward to corroborate her assertions that Walter had frequently beaten her and threatened her life. Strange that at least 4 witnesses testified to having been present when Mabel was given a thrashing, yet none of them intervened to stop the violence.
The jury was given a lot to ponder. They weren't quick to arrive at a verdict and spent one night sequestered before returning to Judge Fox's courtroom on March 12, 1936. They had found Mabel guilty of manslaughter.
Mabel was all smiles as the foreman read the verdict and she later said: "Of course I knew all the time they'd never hang me.  My conscience is clear.  I didn't murder that man.  I merely retaliated against him."
For beating Walter to death Mabel believed she ought to be given probation, but instead she received a sentence of from 1 to 10 years in the women's prison at Tehachapi.
Mabel didn't seem to mind, she smiled again at the camera when she was led away to begin her term. Maybe she thought prison life couldn't be worse than living with Walter had been.
I haven't been able to confirm Mabel's release date from Tehachapi, but my best guess is that, provided she behaved herself, she was out in 5 or fewer years.