Prior to being benched by her city editor, Aggie had made headway in her coverage of Elizabeth Short's murder. She interviewed Robert "Red" Manley, the first suspect in the case, and concluded he was innocent. Her interview earned her a by-line. As far as I know she was the only Los Angeles reporter to get a by-line in the case.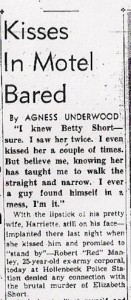 Several people have taken credit for uncovering the Black Dahlia moniker; Aggie among them. In her 1949 autobiography, Newspaperwoman, Aggie said that she came across Elizabeth's nickname when she was checking in with Ray Giese, a LAPD homicide detective-lieutenant. According to Aggie, Giese said: "This is something you might like, Agness. I've found out they called her the 'Black Dahlia' around that drug store where she hung out down in Long Beach."
Like it? Aggie loved it. Los Angeles, in particular the Hearst newspapers, seemed to have a penchant for naming homicide cases after flowers. Over the years orchids, roses, and gardenias would feature in many grim headlines.
Aggie longed to be back in the field chasing leads and sniffing out suspects, but she was officially off the case for the second time.  About her newsroom embroidery project Aggie said: "Although I got damn tired of it, I kept my needle going until the quitting hour.  Early the next morning the assistant city editor announced that the city editor had made an overnight assignment for me to go back to homicide and continue on the 'Black Dahlia' case."
Once again Aggie was pulled off the case, but this time she learned that her new assignment was the city desk.  She said she was: "Completely unwarned. I was the most surprised person in Los Angeles." She had just become one of the first women in the United States to hold a city editorship on a major metropolitan daily!
Why had Aggie been removed from the Black Dahlia case in the first place? People are drawn to conspiracies, no matter how unlikely, and there are those who believe there was a cover-up and Aggie was getting too close to a solution to Short's murder.  Theorists have suggested someone with enough juice got Aggie promoted to keep her out of the way. That doesn't make sense to me, as city editor she directed the activities of all the reporters working the case, and she wasn't the sort of person who would take a pay-off. Nevertheless, the timing of Aggie's promotion remains an intriguing part Dahlia lore.
With Aggie back in the thick of things, the Herald continued to follow every lead. Sadly, the victim of a homicide is often re-victimized by the press and the public. Murder victims lose their right to privacy; all of their secrets are revealed, and in an effort to fill column space while multiple leads were being tracked, the Herald looked to psychiatrists, Elizabeth's acquaintances, and even mystery writers, to speculate on the case, which they did with creative abandon.
The psychiatrist whose expert opinion was sought by the Herald was Dr. Paul De River, LAPD's very own shrink. He wrote a series of articles for the paper in which he attempted to analyze the mind of the killer. De River wrote that the killer was a sadist and suggested that: "during the killing episode, he had an opportunity to pump up affect from two sources — from his own sense of power and in overcoming the resistance of another. He was the master and the victim was the slave".
In one of his most chilling statements, De River hinted at necrophilia—he said: "It must also be remembered that sadists of this type have a super-abundance of curiosity and are liable to spend much time with their victims after the spark of life has flickered and died".
People who had only a fleeting acquaintance with Elizabeth (who frequently called herself Betty, Bette or Beth) were interviewed by reporters and they weighed in on everything from her hopes and dreams to her love life. Beth was, by turns, described as "a man-crazy delinquent", and a girl with "childlike charm and beauty". The interviews yielded nothing of value in the hunt for Beth's killer.
The cops weren't having any better luck.
NEXT TIME: The Black Dahlia case goes cold.