The early 20th century was a tumultuous time — it was a collision of old and new technologies and it was also a period of great civil unrest. The role of women in the new millennium had yet to be defined and in 1919, when this story takes place, women in the U.S. were one year away from celebrating the Nineteenth Amendment which gave them the right to vote. Legally women were becoming the equal of men, socially they were still considered by many to be chattel.
During a time when a woman was unlikely to make her own living, let alone a fortune of her own, it is no wonder that the wife and the mistress of a wealthy man would square off in court to battle over money and property.
On March 2, 1919 the Los Angeles Times reported that Mrs. Grace Munro, wife of wealthy zinc manufacturer Charles W.S. Munro filed a "love suit" (alienation of affection) in the amount of $50,000 (equivalent to $673K in current dollars) against Miss Clara Eunice Barker, Charles' mistress of five years.
Mrs. Munro's suit alleged that her twenty-three year marriage to Charles had been a happy one until Clara entered their lives. Grace was so angry with Charles that she had even accused him of a statutory offense against Clara — a charge that would subsequently be dismissed at Grace's request.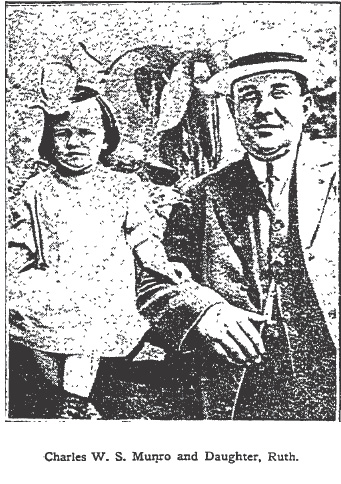 Cops showed up on the doorstep of the home that Charles and Clara shared in Glendale and arrested him. Glendale society was shocked to discover that Clara and Charles were not actually cousins, which was how they'd introduced themselves. No one in Glendale had even aware that Charles had a wife and three daughters in Trenton, NJ.
Police wanted to speak with Clara too, but she couldn't be found and Charles was silent as to her whereabouts — in fact he wasn't talking at all except to flatly deny his wife's charges.
Clara had fled to Salt Lake City, Utah as soon as she'd gotten word that Grace had filed a suit against her, but Grace had tracked her down and confronted her in a hotel lobby. Clara said that Grace had walked up to her and exclaimed: "So you are the vampire".
Grace wasn't accusing Clara of being a blood sucking member of the undead — she was using the term to imply that Clara was a seductress, a femme fatale, a vamp(ire) of the type made famous by actress Theda Bara in the 1915 film A FOOL THERE WAS.
The Glendale home in which Clara and Charles had been living was in Clara's name, and she wanted to keep it, along with the furnishings, an automobile, and any other trinkets that the zinc man had bestowed upon her. She decided to file her own suit.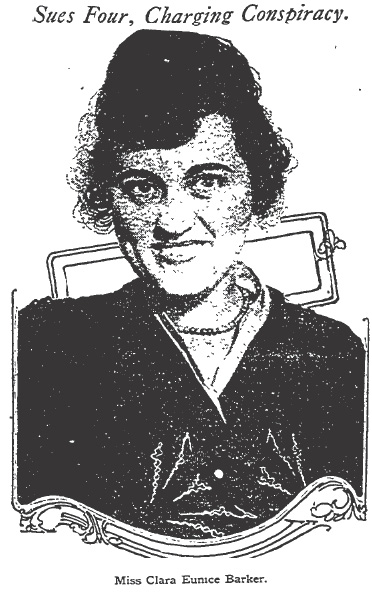 Clara told reporters:
"I am fighting for my honor as well as my legal rights. I have been cruelly mistreated and imposed upon by the man in whom I had implicit faith, and I intend to test the justice of the courts."
Barker had alleged that there was a conspiracy against her in which the suddenly reconciled Munros, and a few of their friends, had sought to deprive her of her property. In all, Clara demanded damages of $51,500 (equivalent to $693K in current dollars), of which $17,500 was for the Glendale property, $6000 for the furniture, $3000 for the car, and $25,000 for damage suffered by reason of the conspiracy and threats that she asserted where made against her.
According to Clara while she was staying in Salt Lake City she had not only been called a vampire, but she had been plagued by mysterious telephone calls, loud knocks on her bedroom door after midnight, and attempts by strangers to "force their acquaintance on her." All of these incidents, Clara said, were part of a plan to harass and frighten her.
Grace Munro intended to fight the conspiracy charge and to vigorously pursue her $50K alienation suit against Clara. Grace said:
"I said she (Clara) is a vampire, and she is."
Grace had claimed that she and Charles had been happily married for years before Clara entered their lives, but Grace had lied. Prior to his affair with Clara, Charles had been involved with his stenographer, Miss May Pierson, with whom he'd taken an auto trip. Apparently Grace had been aware of the liaison because she'd known the location of May's apartment and had turned up on the doorstep with questions for the landlady. It seemed that Charles Munro had long possessed a wandering eye.
If Angelenos had been anticipating a lurid trial they were not going to be disappointed. Wife vs. Mistress was going to be a battle royal.
NEXT TIME: A vampire's love letters and the wages of sin in Part 2 of Clara Eunice Barker, Vampire.