I confess, the litany of sweetheart slayings that I have been researching for the Valentine's Day holiday started getting me down. I was casting a jaundiced eye at my blameless husband wondering if I'd feel a hammer come down on my head and feeling generally off-kilter. So, what better antidote for the blahs than some good old mayhem. I believe this case will lift me out of the doldrums.
***********************************************
Cops at LAPD's 77th Street station were fed up with the wave of assaults on women in their district; there had been nearly 40 in the few months between April 2nd and late July 1952. The scumbag responsible for the attacks had been targeting lone women as they left street cars late at night.
If they were going to nab the guy the cops figured they would need to bait and set a trap that he couldn't resist. They couldn't have found more attractive bait than policewoman Florence Coberly.
Coberly, in her mid-twenties and recently married, had been on the job for fewer than six months when she was tapped for the assignment. Florence and another policewoman, Marie Little, were assigned to act as decoys (cop euphemism for perv bait) while patrol officers and detectives cast a net that extended from Broadway to San Pedro Street and from Manchester Avenue to 67th Street. Officers would be deployed on foot and in squad cars while the two policewomen attempted to lure the reptile out from under his rock.
The massive stake-out began on the evening of July 31st. Coberly, who had dressed in a pencil skirt with a kick-pleat in the front, a short-sleeved white blouse and some sweet little pumps was undeniably an appealing target for a degenerate. She was walking along swinging her white handbag in time with her gait when a man leaped from a dark doorway in front of 8209 South San Pedro Street and snatched the bag from her hand. Florence did exactly as she'd been instructed to do, she reached into her pocket and got out her police whistle, then she put it to her lips and blew as hard as she could. The whistle blast was a signal to Detectives concealed nearby that she was in trouble.
The man who had grabbed her demanded to know what in the the hell she thought she was doing–and without waiting for her answer he slugged her on the jaw; Coberly went down and the man continued to beat her. Coberly said later that she wasn't worried because she knew that someone would be coming to her aid.
Coberly's trust was rewarded when two detectives, Frank Marz and Walter Clago heard the whistle and screeched up in a squad car just in time to see Florence's attacker fleeing the scene. The guy wasn't moving very fast because Florence had managed to reach her weapon and got off a shot which struck the man in one of his lungs. Note the nifty little bandoleer dangling from her skirt with six bullets in it–policewomen knew how to accessorize!
Detective Clago helped Florence to her feet while Detective Marz set off in pursuit of the would-be molester yelling at him to "Stop in the name of the law!". The man surely heard the cop's admonition, but he continued to evade capture. He wasn't moving very fast–it's tough to sprint with a punctured lung. Marz fired his service revolver five times at the suspect and missed each time.
Detective Marz saw the man head toward a car parked on 82nd Street. It was dark but a man was barely visible in the driver's seat behind the wheel. The man didn't wait for his passenger, as soon as he saw Parra staggering toward the sedan and heard the crack of gunfire he sped off into the night.
Detective Marz watched as the suspect whirled and dashed, or rather tried to dash, behind a house at 253 East 82nd Street. With a single round left in his revolver Marz fired and the man collapsed to the ground.
The dead man was ID'd as Joe L. Parra who had been residing at 8465 South San Pedro Street. Parra was an ex-con who had recently been paroled out of San Quentin where he had done time for multiple counts of robbery, burglary and morals violations. Parra's arrest record was extensive, he had been busted on at least 40 occasions. His most recent arrest had been for robbery just one month prior to his death, but he'd been kicked loose for insufficient evidence.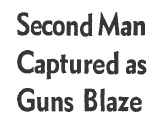 About an hour after Joe had expired in the dirt near a couple of discarded metal signs cops located the wheel man, the person who had left Joe in the lurch on 82nd Street. It turned out that the getaway driver was seventeen year old Henry P. Parra, Joe's nephew. Henry 'fessed up pretty quickly and admitted that he had gone with his uncle several times on late night purse snatching raids. I wonder if the kid knew what else Uncle Joe had been up to on their midnight forays. I think it's pathetic that Uncle Joe had to be driven from crime to crime by his young nephew, what a low life. The dumb-ass could have taken a street car and left the kid out of his crime spree.
Policewoman Florence Coberly was feted for her role in putting an end to Parra's reign of terror in LAPD's 77th Street Divison. The newspapers credited Marz with firing the fatal round but I have it on good authority that the autopsy revealed that Florence had delivered the kill shot. Evidently Joe would have died from the wound she inflicted to his lung even if Detective Marz hadn't finally managed to hit him. But let's not quibble–Parra needed to be stopped and it was a cop's bullet that did the trick.
Not only did Florence pose for several newspaper photos (she appears to have been a natural in front of the camera), she was a guest on a local TV show hosted by Johnny Dugan.
In February 1953, Florence was named "Policewoman of the Year" by the Exchange Club, sponsors of that month's Crime Prevention Week. Florence continued to bask in the limelight and, in June 1954, she was an honored guest at the installation and dinner-dance held by the Los Angeles Policewomen's Association. Also on the guest list were Sgts. Joe Friday and Frank Smith (Jack Webb and Ben Alexander) of the Dragnet series. The two fictional LAPD cops would share the spotlight with Chief of Police William H. Parker and his wife.
Florence may have been anticipating more star-studded evenings in her future as an L.A. cop. Who knows, with such as auspicious beginning maybe she would end up with an enviable spot in the LAPD hierarchy. With just over 100 women on the force, there wasn't much female competition in the ranks in those days.
But wait a minute, you know that this is Deranged L.A. Crimes and nobody's good luck lasts forever. Right?
NEXT TIME: Policewoman of the Year takes a fall.