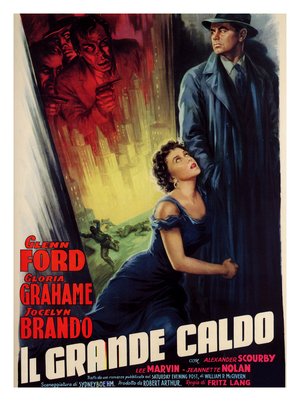 Welcome! The lobby of the Deranged L.A. Crimes theater is open! Grab a bucket of popcorn, some Milk Duds and a Coke and find a seat. Tonight's feature is THE BIG HEAT, directed by Fritz Lang and starring Gloria Grahame and Glenn Ford. Enjoy the film!
TCM says:
After the suicide of detective Sgt. Tom Duncan, his wife Bertha takes his detailed notes on racketeer Mike Lagana's organization, then demands money and protection from the mob boss to keep the notes secret. Lagana places the Duncan situation with his right-hand man, Vince Stone. Homicide detective Sgt. Dave Bannion is assigned to investigate Duncan's death and upon questioning a bereft Bertha, finds her explanation that Duncan suffered a mysterious malady suspicious. Later at home with his wife Katie and young daughter Joyce, Dave reads that the police department has accepted Bertha's assertions without question.

That evening Lucy Chapman, a fading B-girl, contacts Dave and they meet at The Retreat bar where Lucy debunks Bertha's story, claiming that she and Duncan dated and that Bertha had just agreed to give her husband a divorce. When Dave cautions Lucy not to attempt to blackmail Bertha, Lucy angrily threatens to take her information to the newspapers. Dave then visits Bertha, who dismisses the divorce story, despite her knowledge of Duncan's relationship with Lucy. The next day at headquarters, Dave learns of the discovery of an unidentified woman who had been thrown from a car after being beaten and tortured.
http://youtu.be/7mbCPbc2vNk