In 1674, the naturalist John Ray complied a glossary of infrequently used words. He included "loneliness" in his list, defining it as a term used to describe places and people "far from neighbours."
In 2018, loneliness is considered a major health issue. A study conducted by the insurance company CIGNA, using the UCLA Loneliness Scale, found that of 20,000 respondents, 46% reported sometimes or always feeling alone. Generation Z (ages 18-22) are apparently the hardest hit by the loneliness epidemic.
Turned inward, loneliness can lead to thoughts of suicide. Turned outward, loneliness can lead to thoughts of murder.

In January 1980, Bob Greene, a Chicago-based syndicated newspaper columnist, received a letter from a man who described himself as being depressed, frustrated and lonely.
The lonely man felt like he had run out of options, and that a happy and fulfilling life would forever remain beyond his reach. Filled with the despair, the man said "I've been a disappointment to everybody my entire life — so they must die."
Because the threatening letter originated in Los Angeles, Bob contacted LAPD. The department asked Bob to fly out from Chicago to help stop the man from making good on his threat.
Bob received a second letter, and it was even more disturbing than the first. In it the man outlined his plan, such as it was. "I was originally going to do the killings on November 15, but decided against that date. I"m sure it was a disappointment to you when I didn't do them them. I didn't want to disappoint you police. I have been a disappointment to everybody my entire life. But I certainly won't disappoint you this time. We are going to find out how good of (sic) detectives you are. If you are detectives (or if you are lucky) you may catch me after the first murder or two. If you do you will thereby save the rest of the people marked for death. If you are defectives (sic) you will not catch me till I've gone through the whole list of people to die."
Both letters were signed "Moulded to Murder."
Police set up a direct telephone line for the writer to use to contact Bob, and they also consulted three psychiatric experts. The three concurred that the letters weren't a hoax.
The police tried to convey to the letter writer that they were listening to him. They may have been the first group of people ever to do so. "We want him to know that we care about him. Everyone is very concerned that he get help. We don't want him to be afraid of us; he hasn't committed any crime, and we just want to make sure that he doesn't start committing them. We have some of the best psychiatric minds in the state willing to listen to him and try to help him find a solution to his problems," said Detective Rick Jacques.
In a ten page letter, written on lined paper, the anonymous man related details of his life to Bob.
"In my early years it was not so painful but it builds up as time goes by until it becomes unbearable. I always tried to make friends all my life–but I failed. I had several factors against me. One is that I am ugly. Second thing is that I have a defect which has made me appear even uglier. Another thing, of course, is that I had bad parents. They really didn't love or encourage me or show me hardly any affection."
The man continued to describe his inability to form close personal relationships.
"I have kept trying to have friends–meaningful relationships–all my life and I have failed. I tried to find a young woman–somebody to be a partner and share my life–someone who was a good person, too. I failed there, too. I dated just two girls in all my life. I think they gave me a date because they didn't want to hurt my feelings. . .I have never had sex with either a girl or a woman. Can you imagine that a man in this society almost 40 who is yet a virgin–that must really be a rarity."
Police detectives Rick Jacques and Mike Stallcup, were making every attempt to locate the man.  The clock was ticking, not in small part because the experts agreed that the letters were unlikely to have been authored by a crank. The good news, if there was any, was that the man was reaching out. He was trying in his own way to get help. It remained to be seen if help would arrive in time, or if the threatened murders would begin.
The telephone installed in Bob's hotel suite was silent. A couple of calls came in but after being screened for authenticity, they were found not to have come from the man.

Bob had promised the man that he wouldn't have the telephone calls traced, but by Saturday, January 5th, Bob and the police agreed that for the greater good it would be necessary for Bob to break his promise.
At 3:30 a.m. on Saturday, Jauary 5th, Bob received multiple calls from different telephone booths in the same geographical area. Detectives Jacques and Stallcup, aided by the telephone company, were frantic to locate the caller.
Meanwhile, Bob negotiated a meeting with the man. They met in a secluded park where the man was was taken into custody.

The man, whom Bob and the police refused to identify, surrendered himself peacefully. "I'm glad you caught me," he said. "I was going to do it…none of it seemed real until they gave me a bulletproof vest."
From the description the man gave of himself in his letters, police expected to find someone much different than the man they found. Detective Jacques said that the man had no visible defect. "He has a physical condition that is common to much of the populace and he considers it a defect." Jacques would not elaborate.
In his column, Bob described the man as "a six-foot, 225-pound, weak-eyed man" and said that his thick glasses distored his eyes a bit, but that he wasn't unattractive — "just shy and suffering from low self-esteem. He's like a lot of people in the world–you just don't notice them."
Fortunately, Bob made the trip to L.A. because the letter writer said he was prepared to begin his killing spree until he heard that Bob was coming to town.
The man told Bob, "I was ready to start killing on January 3, like I said in the letter. I thought no one was listening to me at all. Then on January 2, I was listening to KFWB radio, and the announcer said that you (Greene) had flown to Los Angeles. What I first thought was that I'd listen to what you had to say. My thought still was that I would start killing people and kill them until I got caught. But I read your columns, and I thought that people might care about me after all. I knew that if I called you I would probably be trapped–but I had to call."
The man was held for observation. His treatment, whatever form it took, must have been successful because "Moulded to Murder" never resurfaced as a threat.
In October, 1980, a press release for an exploitation film called "Schizoid" crossed
Bob's desk.. Produced by Menahem Golan and Yoram Globus, the film was hyped as "…based on a true story of a schizophrenic murderer in Los Angeles who, at the time of his dastardly deeds, was known as 'Moulded to Murder'. He wrote cut-and-paste letters to a newspaper column…seeking help. 'Please don't let me kill again,' he pleaded…'Schizoid' is probably the most terrifying true story ever to be shown on film."
True story? Hardly.
To their credit Bob Green and Detectives Jacques and Stllcup were revolted by the gross distortion of the unnamed man's story.  None of them ever agreed to participate in any project that exploited 'Moulded to Murder's' pain.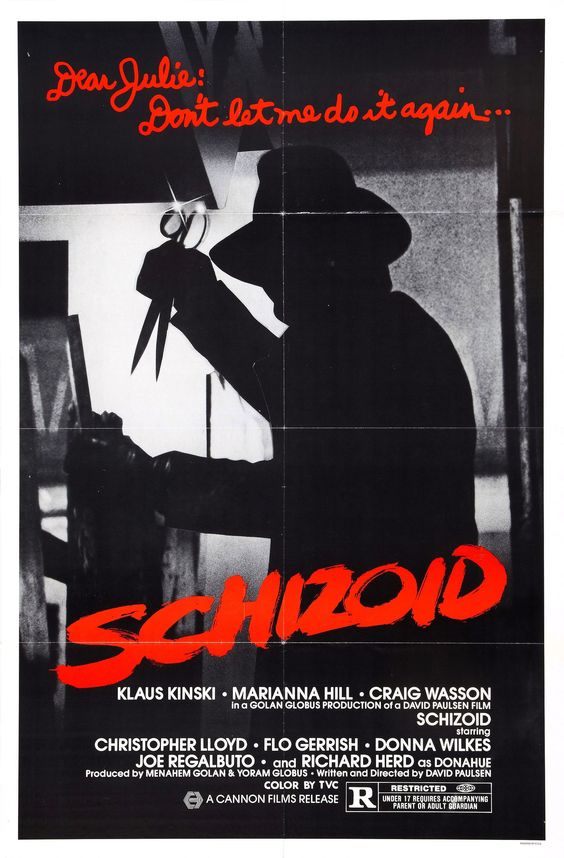 Bob said, "We had said that we were involved in the story only because we wanted to help the man called 'Moulded to Murder.' If that was true, what purpose would I be serving by selling the story to the movies while he was still trying to get his life straightened out?"
Bob planned to contact the man and try to explain Hollywood's venality to him.  "I have to make the hardest telephone call of all. I have to call the man who was known as 'Moulded to Murder' and try to explain what has happened. I have no idea how I can make him understand that no one intended to use him or hurt him. I'm supposed to be pretty good with words, but right now I can't find any."
NOTE: If you, or a loved one, are in crisis, there is 24/7 help available at the NATIONAL SUICIDE PREVENTION HOTLINE