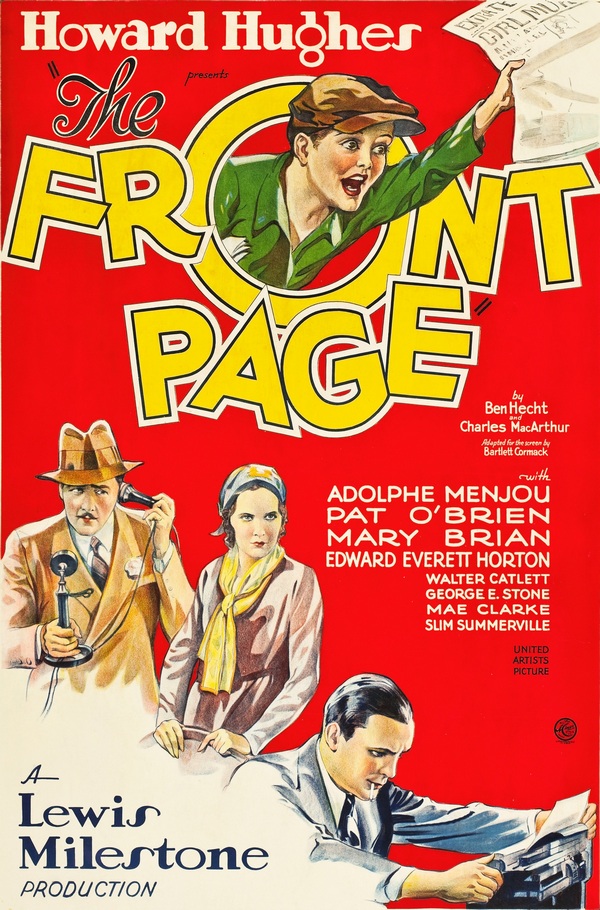 Deranged L.A. Crimes celebrates reporter Agness "Aggie" Underwood this month in honor of the 121st anniversary of her birth on the 17th.
Aggie liked His Girl Friday (1940), in which Rosalind Russell portrayed a female newspaper reporter. I would love to show the film, but it is not in the public domain. Instead, listen to the 1941 Screen Guild radio version with Rosalind Russell, Cary Grant, and Ralph Bellamy reprising their movie roles.
Even though I can't show the film version of His Girl Friday, I will show the 1931 version, The Front Page, based on the 1928 stage play.
I love the 1940 film for casting Russell as Hildy Johnson–a role originally written for a man–but the 1931 film is also excellent. Billy Wilder remade it in 1974, casting Walter Matthau and Jack Lemmon in the starring roles.
Here is what TCM says about The Front Page (1931).
Chicago's ace reporter Hildy Johnson wants to quit newspaper work and get married, but his editor, Walter Burns, is determined to keep him on the job. Hildy refuses to talk to Walter, knowing his persuasive powers, so Walter sets off a fire alarm outside the apartment of Hildy's fiancée, Peggy Grant. Unable to resist, Hildy runs to the street, after which Walter corners him and takes him out for drinks. While the two men drink, Walter reminisces about the great stories that Hildy covered and paints a boring picture of married life. Hildy manages to escape, and drops in on the press room at the courthouse, where the reporters are waiting for the hanging of Earl Williams.