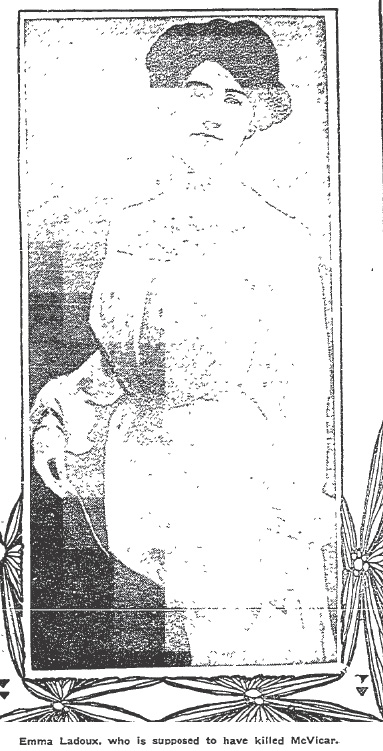 Two of the women mentioned by Herald-Express reporter Aggie Underwood in her series on the lives of women doing time in Tehachapi were Mrs. Emma Le Doux and Miss Anna De Ritas.
Who were Le Doux and De Ritas, and what had they done to end up in the City of Forgotten Women?
Let's look first at Mrs. Emma Le Doux. She had been in prison off and on for nearly three decades by the time Aggie saw her at Tehachapi in the spring of 1935. Emma had been convicted of murdering her husband, A.N. McVicar, by poison in Stockton, California in March 1906.
The case against Emma was very simple, the prosecution contended that she had poisoned McVicar to keep from being exposed as a bigamist. Apparently Emma had married McVicar a few years earlier in Arizona, then she moved to California where she fell in love with and married Le Doux.
According to the prosecution Emma had persuaded McVicar to come to Stockton from Tuolumne county where he had been working in a mine. It doesn't seem to have taken much effort for Emma to convince McVicar to stay with her for two days at a lodging house. McVicar and Emma were still husband and wife, maybe she told the doomed man that it was time to reconcile. It is more difficult to imagine what she told him she planned to do with the trunk that was delivered to her at the lodging house. Of course she may have simply told him she was packing it so she could travel with him and resume their marriage.
As it turned out McVicar didn't have much time to ponder the reason for the trunk — he was dead within hours of its delivery.
Emma had the trunk taken to the Southern Pacific Railroad station and then attempted to have it sent to her home village in Amador county; however, the attempt failed and the trunk was put off the east bound train and returned to the baggage room in Stockton. The contents had ripened and soon caught the attention of a baggage man who became suspicious of its contents. Death has a distinctive aroma.
When the trunk was opened the doubled-up body of McVicar was discovered and Mrs. Le Doux became the sole suspect in his murder.
Emma had been married a few times, she seemed never to have obtained a divorce from any of her previous spouses, and at least one of her husbands had died under peculiar circumstances.
Multiple husbands, no divorces, and a reputation as a red-light girl would weigh heavily against Emma. She tried to shift the blame for McVicar's death onto a man named Joe Miller. Emma claimed that Miller had dosed McVicar with carbolic acid, but Miller was likely an invention of Emma's to escape the noose. Emma also tried to convince the authorities that McVicar had committed suicide, but they didn't believe her.
Emma was tried for murder in Stockton in June 1906. The L.A. Times reported that "a remarkable feature of the case was the morbid curiosity of many women who thronged the courtroom…" The reporter clearly didn't understand women. I would say that we women enjoy a lurid murder trial as much, maybe even more, than any man.  And speaking of women, a female newspaper reporter tried to score an exclusive interview with Emma by masquerading as her sister. It was a nice try, but the cops caught on to the ruse and she was sent packing.
The trial lasted for fifteen days, during which time the defense tried to show that Emma was so much smaller than McVicar that she would have found it impossible to stuff the corpse into a trunk. The prosecution countered with their theory that McVicar had died on the bed and it would have been easy for Le Doux to roll him into the trunk.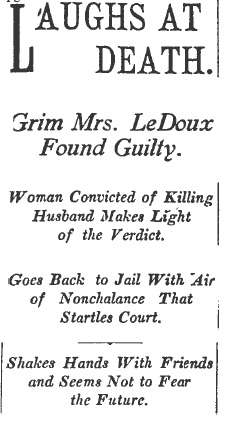 Emma did not take the stand on her own behalf, but later she stated that McVicar had died as the result of a debauch and not poison as the prosecution had insisted.
On October 19, 1906, Emma Le Doux was sentenced to be hanged for the murder of Albert McVicar. She showed no emotion when her sentence was pronounced, which confounded trial observers who must have been used to hysterical women. Emma was described as a puzzle, a woman who had never broken down, not even under the strain of a murder trial.
Emma's death sentence was commuted to life in 1908. If others were surprised by it, Emma was not. She had always maintained that she would never be executed.  She was paroled a couple of times, but she couldn't stay out of trouble. Emma was returned to prison for various parole violations, which is how she happened to be at Tehachapi in 1935 when Aggie arrived to write her articles. 
It appears that Emma tried a couple of more times to win her freedom. In January 1937 it was reported that Emma was seeking parole once again, but I couldn't find out whether or not she was successful.
—-
NEXT TIME: Love, Death — Prison concludes with the story of Anna De Ritas.