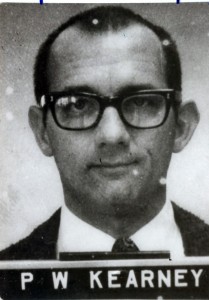 At the end of July 1977, Patrick Kearney was indicted in Riverside county and pleaded innocent to the murders of Albert Rivera, 21, Los Angeles; Arturo Marques, 24, Oxnard, and John O. LaMay, 17, El Segundo. Kearney's attorney, Jay Grossman, requested that the transcript of the Riverside County indictment proceedings be sealed. His co-counsel, Steven Harmon, requested a gag order.
A few months went by and in November Kearney's request to plead guilty and become his own attorney was turned town in Riverside Superior Court pending a psychological evaluation. It took only a couple of weeks for the results of Patrick's psych evaluation to be completed. The multiple murder suspect was allowed to represent himself. He began by waiving a probation report and requesting immediate sentencing.
Superior Judge John Hews obliged by handing down a life sentence, with the possibility of parole in seven years, for the three Riverside victims.
Suspected of nearly 20 other slayings in Los Angles, Orange, and San Diego Counties, Patrick's legal problems were far from over. Any one, or all, of the other counties could file murder charges against him.
Reporters interviewed the confessed killer in the courtroom following his sentencing, but Patrick declined to comment saying, "I can't allow myself to think about it much. It's too painful."
The gag order was lifted once Patrick was sentenced, and for the first time many of the details of the slayings were revealed. He told prosecutors and investigators that he had killed "coolly". He also said that he got ideas from reading the coverage of the serial rape/torture murders of at least 28 boys in Houston in the early 1970s. The crimes, committed by Dean Corll, Elmer Henley and David Brooks were known at the Houston Mass Murders. At the time, the Houston murders were consider the worst serial murders in American history. Patrick said that when he realized that the authorities were getting close to arresting him he removed all of the literature about the Houston murders from his home.
In January 1978, Patrick gave Los Angeles authorities the names of four more victims: David Rogers, 27, a Camp Pendleton Marine; Michael McGhee, 13, who vanished from Redondo Beach on June 11, 1976; Merle Chance, 8, whose decomposed body was found on May 26, 1977 in the Angeles National Forest; and finally Ronald Dean Smith, 5, whose body was found in Riverside County on October 12, 1974.

Already serving a life term in Chino for the "trash bag murders" of three young men in Riverside County, in February 1978 Patrick was changed with 17 additional counts of murder. The complaint against Patrick was the largest ever filed in Los Angeles County. Two Sheriff's homicide detectives, Al Sett and Roger Wilson, gathered the evidence on the cases using information provided by Patrick himself.
Just when they thought that they had finished filing murder charges against Patrick, one more victim was added to the death count. Detectives Sett and Wilson had placed an advertisement in the South Bay Daily Breeze. The ad referred to a teenager Patrick said he had shot to death in the fall of 1976. A woman answered the ad and gave the detectives enough information to convince them that the previously unnamed victim was 17-year-old Robert William Benniefiel of Redondo Beach.
As he had done in the three Riverside cases, Patrick Kearney pleaded guilty to 18 more counts of homicide on February 21, 1978. At least Ronnie Smith's mom knew the name of the monster who had killed her son. But neither she, nor any of the other relatives of the dead, would learn why Patrick had committed the murders.
Judge D. Tevrizian addressed Patrick, "I feel I have some obligation to the 18 people whom you have silenced. the families of those victimes want to know why. Can you tell us why?"
Patrick replied, "I prefer not to."
The likely reason Patrick declined to discuss his murders is that he was a necrophiliac. He's not the only serial killer who preferred not to discuss his necrophilia–Ted Bundy similarly didn't want to talk about his personal preference for sex with the dead.
After he entered his pleas in municipal court on the 5th floor of the criminal courts building, Patrick was taken to the courtroom of Superior Court Judge Paul G. Breckenridge for sentencing. The judge imposed a concurrent life sentence and then he said, "This defendant has certainly perpetrated a series of ghastly and grisly crimes. . . I can only hope the community release board will never release Mr. Kearney. He appears to be an insult to humanity."
So far Judge Breckenridge's wish has been granted–Patrick Kearney remains incarcerated.