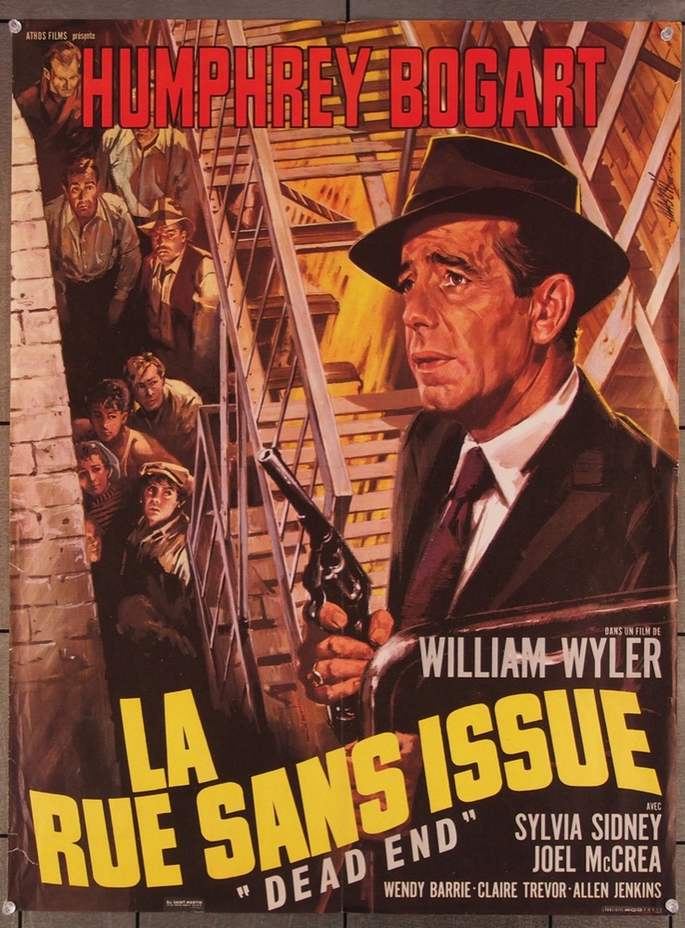 Welcome. The lobby of the Deranged L.A. Crimes theater is open. Grab a bucket of popcorn, some Milk Duds and a Coke and find a seat.
Tonight's feature is DEAD END (1937), starring Humphrey Bogart. The supporting cast is stellar, Joel McCrea, Sylvia Sidney, Wendy Barrie, and Claire Trevor. Among the faces you will recognize from the era, Allen Jenkins and Marjorie Main.
Interesting note–Lillian Hellman wrote the screenplay. If you are not familiar with Hellman, she was the longtime partner of the great noir novelist, Dashiell Hammett, who wrote The Thin Man, and Red Harvest.
IMDB says:

The Dead End Kids are introduced in their intricate East Side slum, overlooked by the apartments of the rich. Their antics, some funny, some vicious, alternate with subplots: unemployed architect Dave is torn between Drina, sweet but equally poor, and Kay, a rich man's mistress; gangster Baby Face Martin returns to his old neighborhood and finds that nobody is glad to see him. Then violent crime, both juvenile and adult, impacts the neighborhood and its people.
Enjoy the movie!