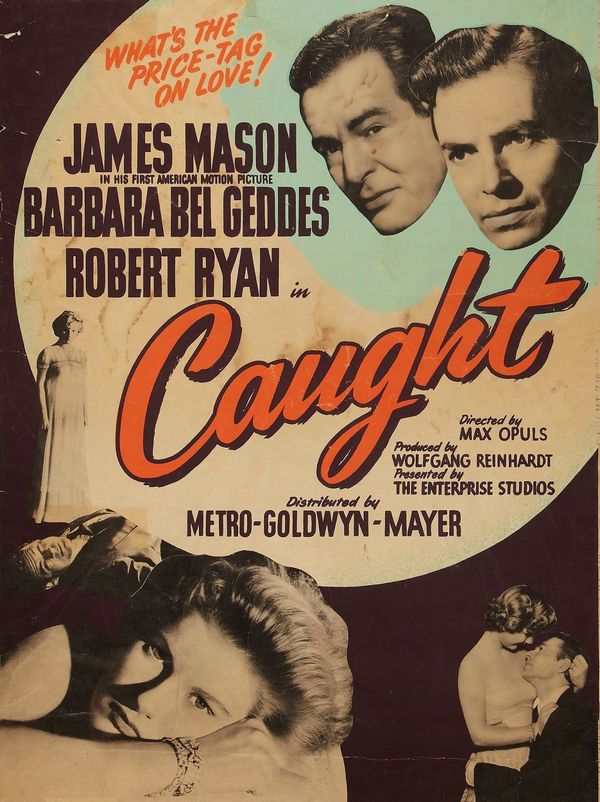 Welcome! The lobby of the Deranged L.A. Crimes theater is open. Grab a bucket of popcorn, some Milk Duds and a Coke and find a seat.
Tonight's feature is CAUGHT [1949] starring James Mason (in his first American motion picture), Barbara Bel Geddes, and Robert Ryan.
Enjoy the film!
 TCM says:
Leonora Eames, a young woman from Denver, and her roommate Maxine, a gold-digging model, share a modest Los Angeles apartment and the determination to move up in the world. To that end, Leonora, who works as a carhop, has enrolled in Dorothy Dale's charm school. After graduating from the school, Leonora gets a well-paying job modeling fur coats at a department store. One day, while modeling a coat, a man named Franzi Kartos introduces himself to Leonora and invites her to a party aboard millionaire Smith Ohlrig's yacht. Leonora rejects the invitation because she does not approve of rich men sending scouts to find pretty young women to attend their parties. Maxine, however, convinces Leonora to attend the party, calling it an "investment" in her future.
https://youtu.be/XWYuEf2loOs