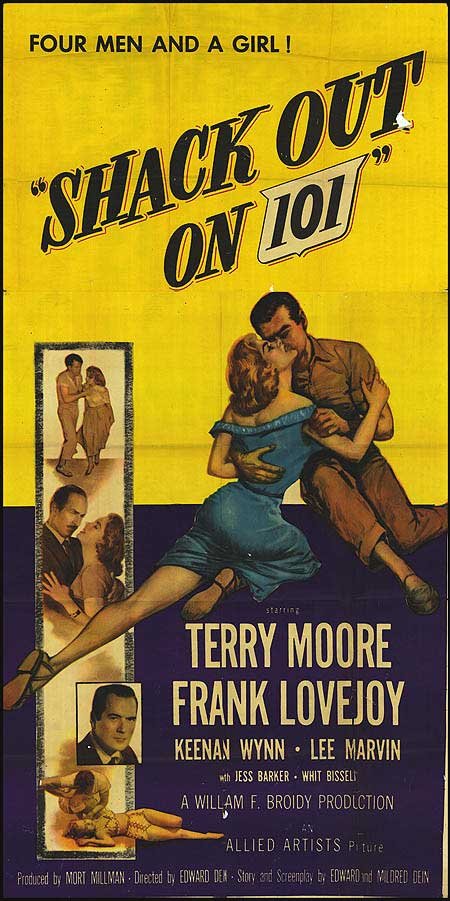 Welcome! The lobby of the Deranged L.A. Crimes theater is open. Grab a bucket of popcorn, some Milk Duds and a Coke and find a seat.
It's time for a Saturday Matinee.  Today's feature is SHACK OUT ON 101 starring Terry Moore, Frank Lovejoy, Keenan Wynn and Lee Marvin. I'll watch pretty much anything with Lee Marvin in it.
Enjoy the film!.
TCM says:
George Bater owns a diner located near the 101 highway in California, and although he enjoys his somewhat isolated existence, he tires of the bickering between his staff, waitress Kotty and cook Slob. Kotty, who is dating Professor Sam Bastion, a nuclear physicist at a nearby laboratory, is irritated by Slob's constant harassment. George, who secretly loves Kotty, reprimands Slob, a slovenly man who resents George for never calling him by his real name, Leo. Their latest quarrel is interrupted by the arrival of Sam, after which Kotty announces that she has been studying for the civil service exam. Kotty hopes to better herself in order to make Sam proud, although he tells her that he loves her as she is. Meanwhile, in the kitchen, Slob receives a shipment from commercial fisherman Perch, who sells him a small film canister, which Slob hides. George is cheered by the arrival of his pal, Eddie Miller, with whom he fought in World War II. Eddie, who has never recovered from the bloodshed he and George experienced during D-Day, is a traveling salesman. Although Sam presses Eddie to seek psychiatric help for his aversion to violence, Eddie protests that he has recovered from a minor nervous breakdown and is anticipating his upcoming vacation to Acapulco with George.
https://youtu.be/4p13ozSx1e0