Welcome! The lobby of the Deranged L.A. Crimes theater is open! Grab a bucket of popcorn, some Milk Duds and a Coke and find a seat. Tonight's feature is THE KISS OF DEATH starring Richard Widmark, Victor Mature, and Coleen Gray. This was Richard Widmark's film debut, and he is unforgettable as Tommy Udo.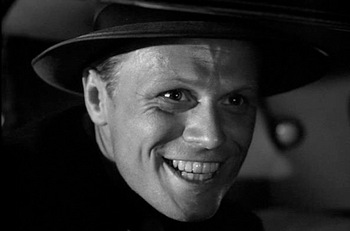 One of the reasons I selected this film is that it opened in 1947–the same year as one of the most notorious unsolved murders in Los Angeles' history–the slaying of Elizabeth Short, the Black Dahlia. I'm covering the Dahlia case over the next couple of weeks. Enjoy the film.
TCM says:
On Christmas Eve, down-on-his-luck Nick Bianco, an ex-convict, and his three cohorts rob a jewelry store located on the top floor of a New York skyscraper. Before they can exit the building, however, the proprietor sets off his alarm, and Nick is apprehended by the police. Later, Assistant District Attorney Louis D'Angelo tries to persuade Nick, who has two young daughters and a wife, to name his accomplices in exchange for a light sentence. Sure that his lawyer, Earl Howser, and cohorts will look after his family while he is incarcerated, Nick refuses and is given a twenty-year sentence. Three years later, at Sing Sing Prison, Nick learns that his wife has committed suicide, and his daughters have been sent to an orphanage.