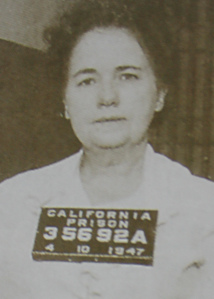 When I wrote part two of Louise Peete's story I thought for sure I'd be able to wrap it up in part three — I was wrong. Louise's criminal career demands at least one more post after this one!  So, let's get started with part three of her tale.
Louise Peete was sent to San Quentin in 1921 to begin serving a life sentence for the murder of Jacob C. Denton. According to prison authorities Louise was a model prisoner, and model prisoners don't make news.
However, in August 1924 Peete made news in spite of herself when her ex-husband, Richard, committed suicide. Apparently Richard had preferred death to poverty and illness. He traveled to Tucson, Arizona where he purchased a small bore rifle, he then put a bullet in his brain. He died instantly. Louise had no comment.
In July 1926 Louise made news again when she came forward with yet another version of Jacob Denton's murder. Louise had outdone herself, the new version was a doozy! Louise claimed that William Desmond Taylor was killed by Denton's slayers!
Louise obviously had one hell of an imagination.
Deputy D.A. Davis, head of the homicide bureau, said:
"It is ridiculous and just another product of an imagination working overtime in an effort to escape just punishment. There never has been a shred of evidence connecting the two crimes."
Municipal Judge Turney, who had been a Deputy D.A. and part of the team that prosecuted Peete, weighed in:
"William Desmond Taylor was never mentioned in the case. So far as we knew he never knew Jacob Denton, and Mrs. Peete never mentioned him in any of the twenty or more conflicting statements and inconsistent stories she has issued. She was convicted on overwhelming evidence."
Louise had never let reason or truth stand in her way before, and she wasn't about to start. When asked why she had kept the names of the real murderers concealed, she said it was because emissaries of the killers had threatened the kidnapping or murder of her little daughter Betty.
She went on to say:
"William Desmond Taylor knew Jacob Denton intimately. He was a frequent visitor at the Denton home. After Denton was murdered and I was sent to prison for life, Taylor knew I was taking the medicine for others. Why? Because they would kill Betty if I talked. Taylor knew the truth, too. He stood it as long as he could. Then, when he could no longer bear the burden of seeing me in prison for a crime that I did not commit, he threatened to tell everything. He paid for that threat with his life."
Proof of the maxim that there is "a sucker born every minute" was made manifest when a number of club women and other sympathizers, convinced of Louise's innocence, began a campaign to have her released from prison!
Louise's attempts to win parole were unsuccessful until 1939 when she was granted her freedom. There was a problem though — Louise needed a job and, not surprisingly, there weren't any offers forthcoming.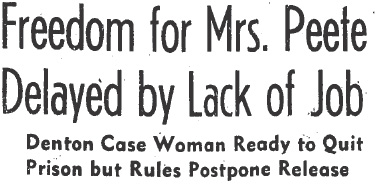 The soon-to-be ex-con wanted to work as a housekeeper but given the fate of her last employer, Jacob Denton, no one was willing to give her a chance. Really though, can you blame them?
Finally a good Samaritan named Margaret Logan offered Louise employment as a housekeeper and companion. Of course upon her release Louise couldn't resist talking to the press. She said:
"I still insist I am innocent. I don't believe it was Jake Denton's body at all that was found buried in the cellar of his home. If it was his, I don't know how it got there or who was responsible. I believe some day Denton will let the world know he is still alive."
Louise kept a low profile from her release in 1939 until December 1944 when the body of her benefactor, Margaret Logan, was discovered buried in the back yard of her Pacific Palisades home.
Had the sword wielding Spanish looking woman reappeared?  Perhaps the slayers of William Desmond Taylor were trying to mess with Louise by tangling her up in another murder. Or maybe, just maybe, harmless looking Louise Peete was a multiple murderer and a sociopath.
NEXT TIME: Louise's second murder trial in twenty-five years.