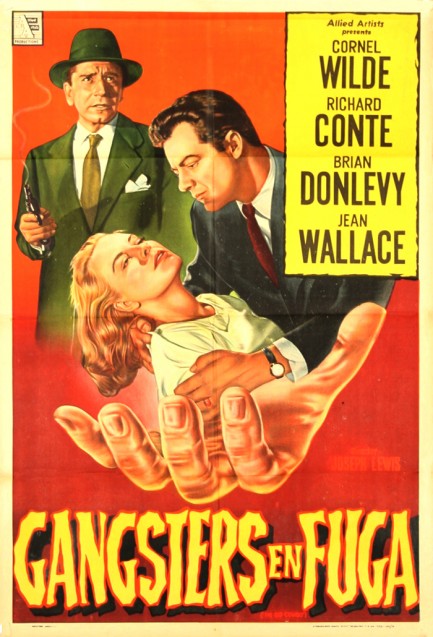 The lobby of the Deranged L.A. Crimes theater is open. Visit our snack bar for a fizzy beverage and a big bag of popcorn. Tonight's feature is THE BIG COMBO, starring Cornel Wilde, Richard Conte, Richard Donlevy, and Jean Wallace.
TCM says:
The Big Combo is a rather unique entry for its genre due to its frank sexuality, extreme sadism and John Alton's stunning black and white cinematography that places the story in a world of shadows, spotlights and claustrophobic lighting schemes.

At the center of the story is Lt. Diamond (Cornel Wilde), a cynical cop who has become obsessed with arresting Mr. Brown (Richard Conte), the head of a powerful crime syndicate who has cleverly eluded the authorities for years. Diamond's motivation, however, is clearly driven by his attraction to Brown's blonde mistress, Susan (Jean Wallace, the wife of Cornel Wilde), a former socialite and once promising pianist whose relationship with Brown is a mixture of sexual dependency and masochism. Aiding Brown in his operation is Joe McClure (Brian Donlevy), a defeated rival who now serves as his second-in-command, and a pair of hit men, Fante (Lee Van Cleef) and Mingo (Earl Holliman), who are inseparable, bound together by their blood lust.