By August 1958, twenty-nine year old Harvey Glatman had found a beautiful young blonde to whom he would lose his virginity — she would also, very likely, be his first murder victim.
JUDY DULL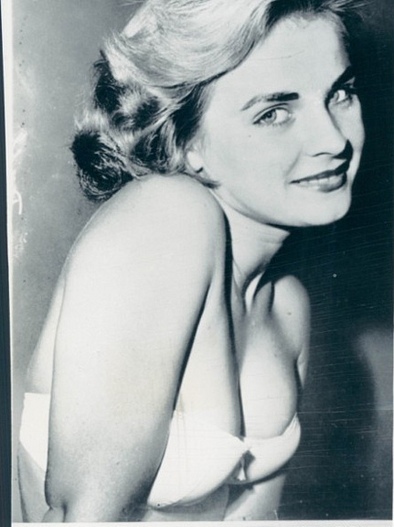 Nineteen year old Judy Ann Dull was just the sort of woman who wouldn't have bothered with Harvey Glatman under any other circumstances except those in which she found herself on August 1, 1958. She was estranged from her husband and they had locked horns in a custody battle over their fourteen month old daughter. When Judy, a pin-up model, got a call from a guy named Johnny Glinn who was willing to pay her $50 to pose for him she took the gig.
Judy shared a West Hollywood apartment with two other pin-up models, Betty Carver (18), and Lynn Lykles (22) and when the unremarkable looking bespectacled man arrived to pick-up Judy for the photo shoot none of the women felt threatened by him — he even left his telephone number with Betty. Although Johnny didn't seem scary, he did seem peculiar. Betty said:
"I knew there was something odd about the man. He said he wanted to shoot pin-up pictures. Yet he told her (Judy) to bring a selection of street outfits, which she did."
Judy Dull's roommates never saw her again.
When Judy failed to return from the photo session, Betty called the phone number Johnny had left with her, but it wasn't a photo studio as he'd said, it was a machine shop and nobody there had ever heard of a Johnny Glinn. Betty and Lynn called the cops.
The L.A. County Sheriff issued an all-points bulletin for Glinn, who was described as being about 29, 5 feet 9 inches, 150 pounds, brown hair, olive complexion, wearing horn-rimmed glasses.
Just days after Judy's disappearance her estranged husband, twenty-four year old Robert L. Dull, was awarded custody of their daughter, Susan. Robert testified that before she had vanished Judy had kept the baby's home and person "in a filthy state". Nobody in the courtroom knew that it no longer mattered what kind of a mother Judy had been, or could have become, she would never hold her little girl again.
Judy Ann Dull's dead body was about 160 feet off of a highway, four and one-half miles west of Indio. The rope that had been used to bind and kill her had been taken away by her slayer; he would use it again. The grave wasn't deep enough to deter the desert animals from tearing off bits of Judy's flesh. Her skeletal remains would be discovered in December, but she wouldn't be identified until months later.
SHIRLEY BRIDGEFORD
A Sun Valley divorcee and mother of two, Shirley Ann Bridgeford (24), was reported missing in mid-March 1958. Shirley was trying to get back into dating and had joined a lonely hearts club. She had gone to a dance with a man who gave his name as George Willams. Police said that a man of that name registered with the club but had listed a nonexistent Pasadena address. Mysteriously, the description of Williams on record with the club didn't tally with that of the man who picked Shirley up for a date.
Shirley's friends and relatives combed through stacks of police photos in an effort to identify George Williams. Detectives admitted that they had little to go on in the case. Williams may have had a date with a Hollywood secretary two days before he registered with the lonely hearts agency, but the cops couldn't say with certainty that the man even existed.
The man who had taken Shirley wasn't going to be found in the mug books. While her loved ones held out hope, Shirley's dead body, like that of Judy Dull, was being ravaged by the hot sun and desert creatures.
RUTH MERCADO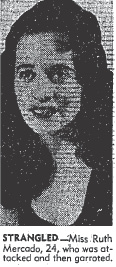 Ruth Mercado was reported missing from her W. Pico Avenue rooming house on July 27, 1958 by her landlord, four days after she'd left for a photo shoot with an unknown man. Her landlord had opened the door to her room when he began to worry about her. He found a small dog and two parakeets near death from starvation and lack of water.
Ruth hadn't been in Los Angeles very long. She'd moved west, as Glatman had, from New York. Since arriving on the west coast Ruth had worked as a pin-up model and she'd also worked as a stripper under the name of Angela Rojas. Any dreams she'd had were stillborn. Her body had been covered with brush and debris by her killer and had been left to decay in a remote spot on the way to Escondido.
Harvey Glatman had gotten away with the murders of three L.A. glamour girls, but in October 1958 he was going to tangle with the wrong woman.
LORRAINE VIGIL
Twenty-eight year old Lorraine Vigil had registered with a Hollywood modeling studio and was about to go out on her first job. The agency phoned to tell her that they had a client who would pick her up at her 6th Street home and take her to the studio for the shoot.
Lorraine would later say:
"I thought it odd when he came to the house that he did not come in, but I was not alarmed. He said his name was Frank Johnson. He was a thin man. When I drove off with him, I noticed that he did not turn toward Hollywood and asked him why. He said we were going to his studio.
She continued:
"I did not become alarmed, however, until we entered the Santa Ana Freeway and he began driving at a tremendous speed. He wouldn't answer my questions or even look at me. We eventually reached a lonely section and he turned off into a little tiny side road and stopped just off the highway. He said he though he had a flat tire. Suddenly he pulled out a gun and point it at me."
Driven by sheer ball-busting moxie, Lorraine grabbed the muzzle of the gun! Glatman was enraged, he said:
"I'm an ex-con and I'll kill you. I don't give a darn if I go to the gas chamber."
Lorraine was still holding the gun and screaming as Glatman picked up a piece of rope from the seat and tried to force the hand that wasn't holding the gun behind her back!
"Just do as I tell you and you won't get hurt," he said.
Luckily for Lorraine she knew bullshit when she heard it.
"I knew, however, that he would kill me and I wouldn't let go of the gun. Somehow with the other hand, I opened the door on my side and we both fell out onto the street. We rolled over and over on the shoulder of the road. Cars, millions of cars, passed, but none would stop. Once the gun went off. The bullet went through my skirt and burned terribly on my thigh. I will never forget the hideous sound of the bullet as it whined off into the night."
Harvey was just beginning to get a taste of what Lorraine was capable of:
"I bit his wrist and he cried out, then suddenly I found I had the gun in my hand. I turned it around and pointed it at him. If I had known how to fire it, I believe I could have killed him. But he just stood there and watched me and after a while the police came."
In my book Lorraine should have been given a parade and a key to the city, any city, — not only did she save her own life but she cut short Glatman's murderous career. Unfortunately for Lorraine her employers, Mr. & Mrs. Harry Ellis with whom she resided, didn't appreciate her notoriety.
Mrs. Ellis told reporters that she was going to ask Lorraine to move!
"I don't like this publicity." Mrs. Ellis said. "I warned Lorraine about the hazards of being a model but she would not listen to me."
Lorraine responded:
"It was my first and only job, " Lorraine added. "I think I applied for it because I was lonely."
NEXT TIME: Glatman testifies and the harrowing stories of his victims last moments are revealed.