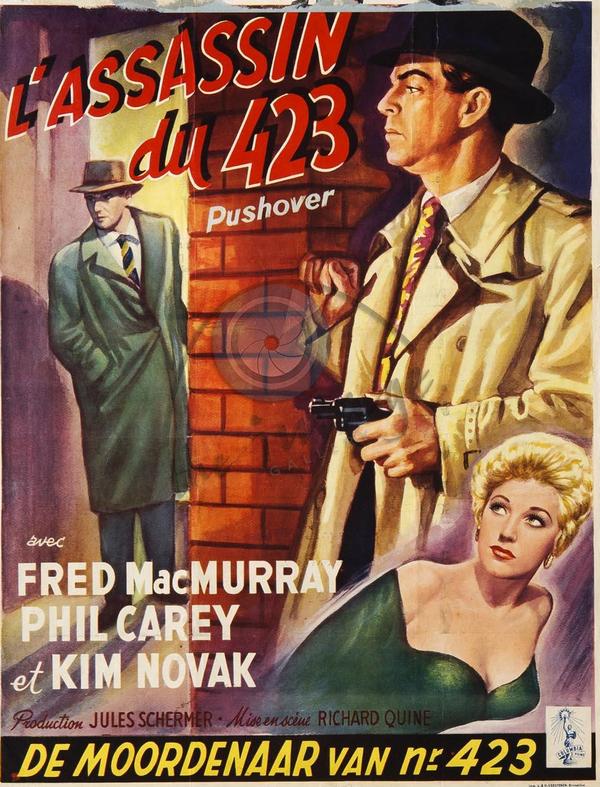 Welcome! The lobby of the Deranged L.A. Crimes theater is open. Grab a bucket of popcorn, some Milk Duds and a Coke and find a seat.
Tonight's feature is PUSHOVER [1954], starring Fred MacMurray, Phil Carey, and Kim Novak.
Enjoy the movie!
TCM says:
A carefully planned bank heist by hoodlum Harry Wheeler and his partner leaves a policeman dead and $200,000 stolen. After the police investigation, headed by Lt. Carl Ekstrom, identifies Wheeler as the culprit, Eckstrom assigns detective Paul Sheridan to befriend Wheeler's girl friend, Lona McLane, who has moved into an apartment in town. Paul stages a meeting with Lona and a powerful attraction develops between the two. Paul takes Lona to his apartment for the night, then spends the next several days with her. Later, Eckstrom, Paul and his partner, Rick McAllister, devise a stakeout across from Lona's apartment, and wait for Wheeler to contact her. On Paul and Rick's first shift, Lona leaves the apartment and Paul follows her, only to be startled when she drives to his apartment. He meets her there and she accuses him of having staged their meeting and asks if he is a cop. Paul admits to being a detective, but insists that he has been seeing her for personal reasons.