The stock market crash in October 1929 sent the U.S. economy into a tailspin. Between 1929 and 1932 average annual incomes fell by 40% to a median of $1,500. In Los Angeles during 1930 you could buy an admission ticket to the club house at Hollywood Park for $2.20 and hope to win enough on some nag to buy dinner. Or, you could use the same money as a down payment on a contract killing.
***
In the few months since her interlocutory divorce decree, 22-year-old Merle Ells had been trying to piece together a new life. She and her infant son were living with her sister and brother-in-law, Mr. and Mrs. Henry Cannon, in a bungalow at 323 E. 99th Street in Los Angeles. She had even started to date again. On the evening of November 1, 1930, she spent the evening with Clyde Shockley. Shockley operated the gas station a few doors down from where she was staying.
Merle had filed for divorce from Emery because she couldn't take his abuse any longer. She had even found the courage to warn him that if he didn't leave her alone she would turn him in to the police for his part in a hold-up. Emery wasn't the type to go quietly, especially when he was in the wrong. He continued to press her for custody of their son, but there was no way she was going to allow that to happen. Emery was likely less interested in caring for a toddler than he was in trying to make Merle's life miserable. If he couldn't exert power over her as her husband, he could threaten her with a nasty child custody dispute.
At about 11 p.m., following her date with Clyde, Merle and her son went to bed on the sleeping porch at the front of the house. A nighttime hush fell over the house until early morning when Merle's little boy ran into his aunt and uncle's bedroom screaming, crying, and calling for his mother. He was covered in blood.

Merle was dead—a full charge of buckshot had entered her neck. The Los Angeles Times reported that a "rusty double-barreled weapon of obsolete design" was found near the foot of her bed where it must have been dropped by her killer. Remarkably none of the buckshot had harmed her son who had been sleeping in the bed next to her.
After they heard that Merle had charged Emery with cruelty to obtain a divorce, the police figured he was the first person they should talk to. They found the 26-year-old at the home of his brother, Alfred, at 8153 Elizabeth Street. Alfred, Emery, and two others, Ralph Molton and Oscar Powell (owner of the café where Emery was employed), were taken in for questioning by LAPD Detective Lieutenant  Savage.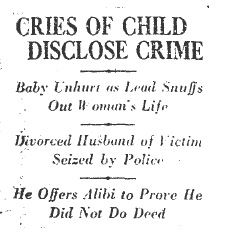 Emery offered his interrogators an alibi–he'd worked all night in Powell's Cafe at Slauson and Santa Fe Avenues. Oscar Powell offered corroboration. He said that Emery was only alone for about 30 minutes during his entire shift (6 p.m. – 12 a.m.). Even so, the police held Emery in the City Jail on suspicion of murder.
Within a few days of the crime the police had a confession.
NEXT TIME: A killer confesses.