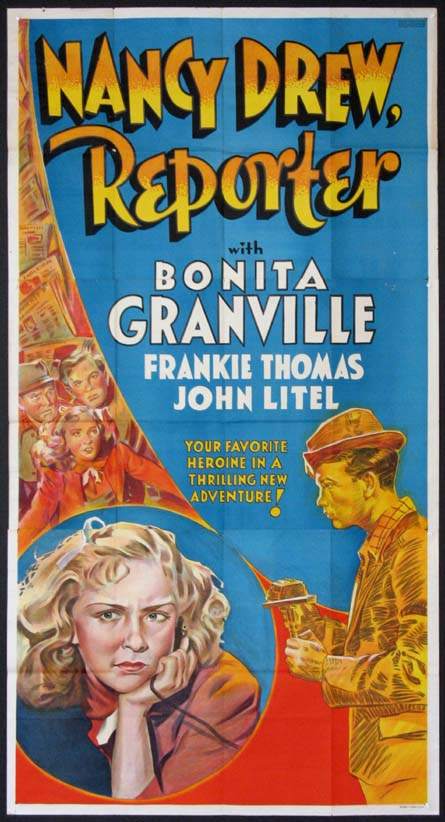 Welcome! The lobby of the Deranged L.A. Crimes theater is open. Grab a bucket of popcorn, some Milk Duds and a Coke and find a seat.
Tonight's feature, NANCY DREW–REPORTER, may not be film noir, but I've got female reporters on the brain today. I was interviewed this afternoon by KCRW (89.9 FM) in Los Angeles about the photo exhibit I'm curating at Central Library. The exhibit: THE FIRST WITH THE LATEST!: AGGIE UNDERWOOD, THE HERALD, AND THE SORDID CRIMES OF A CITY runs until January 10, 2016.
Here is a LINK to the radio interview.
TCM says this about NANCY DREW:
When the newspaper runs a promotional contest awarding fifty dollars for the best story written by a high school journalist, Bostwick, the city editor, decides to wash his hands of the kids by assigning them to cover trivial topics. Undaunted, student reporter Nancy Drew, the daughter of District Attorney Carson Drew, overhears the staff discussing the Lambert murder hearing and decides to cover the trial herself. At the courthouse, Nancy sits next to a man with a cauliflower ear and listens intently as Eula Denning, the murder victim's ward, is accused of poisoning Kate Lambert for the inheritance money.
Enjoy the movie and the radio interview!