Arizona Patrolman, Robert Dapser, pulled over a 1980 Datsun ZX when he saw the car, apparently driven by Mr. Toad, weaving along Interstate 40. The car's driver was a man in his late 20s, Dean Phillip Carter. Dapser arrested him for driving under the influence and held him when a check on the Datsun's registration revealed it was missing and possibly connected to a homicide in Southern California.
Detectives from Los Angeles and Culver City wanted to talk to Carter about the death of Jillette Mills, in whose car he was driving when he was arrested in Arizona. And they also wanted to question him about the slayings of Susan Knoll (Mills' roommate), Bonnie Guthrie (a friend of Knolls'), and Janette Cullins. Carter was extradited to California and returned to Ventura County where there was an outstanding warrant on a sexual assault case. Cops in Oakland, CA thought Carter fit the description of the man seen with Tok Kim whose body was found in her apartment on April 13, 1984, and they were anxious to grill him about that crime.
As if Carter wasn't already in enough trouble, Seattle's Green River Task Force was interested in him. The task force was attempting to solve the slayings of 25 young women that had started two years earlier.  Seattle detectives were able to clear Carter of any involvement in the serial killings in their city.
He may have been off the hook for the Seattle slayings, but he was suspect number one in the California murders when property belonging to all five of the dead women was found in his possession.  Police were still seeking a blue 1977 Honda Accord that belonged to one of his alleged rape victims. In mid-May 1984 he was charged with the murders of Susan Knoll, Bonnie Guthrie, and Janette Cullins.
L.A. County District Attorney Robert H. Philibosian held a press conference at which he stated that he intended to seek the death penalty for Carter who was still being held in Ventura County. Philibosian said, "We have now indications he committed at least five murders during a rampage that began in March and continued through part of last month."
Al Albergate, a spokesman for the D.A., dialed back Philibosian's initial statement saying that the D.A. hadn't meant to imply that Carter's guilt was a foregone conclusion. Albergate said, "The remark was based on the fact that we have charged him with killing three people."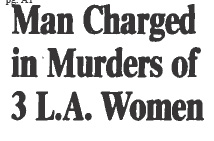 With Carter the prime suspect in the murders reporters and detectives started digging into his background.  He hailed from Nome, Alaska where he spent a troubled childhood. He never knew his birthfather but was was adopted by his stepfather (deceased at the time of the slayings) who was Nome's Chief of Police. Police. If his stepfather tried to be a good influence on the boy, he failed.  When he was 12 Carter was declared to be a delinquent child and sent to a youth camp, from which he attempted to escape at least three times. He was ultimately placed in a foster home. As an adult he spent time in an Oregon prison for grand theft auto and possession of cocaine, and in Alaska for burglary.
Kicked loose from prison in 1980, Carter was employed by a non-profit where he became a television production assistant and cameraman.  He didn't just learn job skills at the non-profit video center–it was there he met and subsequently married the receptionist.  The couple had twin boys, but the marriage didn't last. His ex retained custody of the twins and that seems to have made Carter angry.  Did he harbor a grudge against his ex-wife that was deep enough to set him off on a killing spree?
NEXT TIME:  Carter's story plays out.