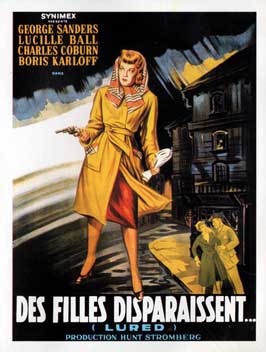 The lobby of the Deranged L.A. Crimes theater is open. Visit our snack bar for a fizzy beverage, a big bag of popcorn and a candy bar. Tonight's feature is LURED, starring Lucille Ball, George Sanders, and Boris Karloff.
Wikipedia says: "Sandra Carpenter (Lucille Ball) is an American who came to London to perform in a show, but now is working as a taxi dancer. She is upset to find out that friend and fellow dancer Lucy Barnard (Tanis Chandler) is missing and believed to be the latest victim of the notorious "Poet Killer," who lures victims with ads in the newspaper's personal columns and sends poems to taunt the police."
Since Lucille Ball is the star of the LURED, let's begin the evening with a Tex Avery cartoon featuring another stunning red head, SWING SHIFT CINDERELLA.
Now, enjoy the feature!