Only 17 days after theater usher Lorenzo Castro shot a movie patron for attempting to snatch a handbag belonging to his boss's wife, the teenager was back in the news for kidnapping and murder.
How did Castro go from hero to villian in less than three weeks?
On February 23, 1958, at approximately 11:10 p.m. Loren Gross, manager of the Jewel Theater in East Los Angeles, placed a call to the Sheriff's Department when Castro failed to return to work following his dinner break. Gross feared foul play because Castro had been hassled and threatened by members of the White Fence gang ever since a shooting incident at the theater earlier in the month. Castro had shot and wounded seventeen year old Elias Alvarado during an attempted purse snatching. Elias' life had been saved by the .75 cent crucifix he wore around his neck. The shooting was ruled self-defense and no action was taken against Castro — but maybe some of Elias' friends wanted payback.
Deputies G. Franzen and M. Buoniconte were dispatched to search for Lorenzo, whom they found at the home of his friend Ruben Ramos. Castro was brought back to the theater for questioning. During Castro's interrogation, Deputies Franzen and Buoniconte were informed by Sgt. Vogan that the Newhall Station had called to report that a thirteen year old boy had been shot. The victim told officers that he and a friend had been kidnapped by the usher who worked at the Jewel theater. Castro and Ramos were arrested, transported to the East L.A. Sheriff's station and interrogated.
Castro told Homicide Detective Sgts. Walsh and Waldrip that the shooting in which he'd been involved earlier in the month had resulted in his nearly constant harassment by members of the White Fence gang. Lorenzo stated:
"Ever since that other time, the White Fence gang has been giving me a bad time. They've been pushing me around at the theater. They were doing it again Sunday."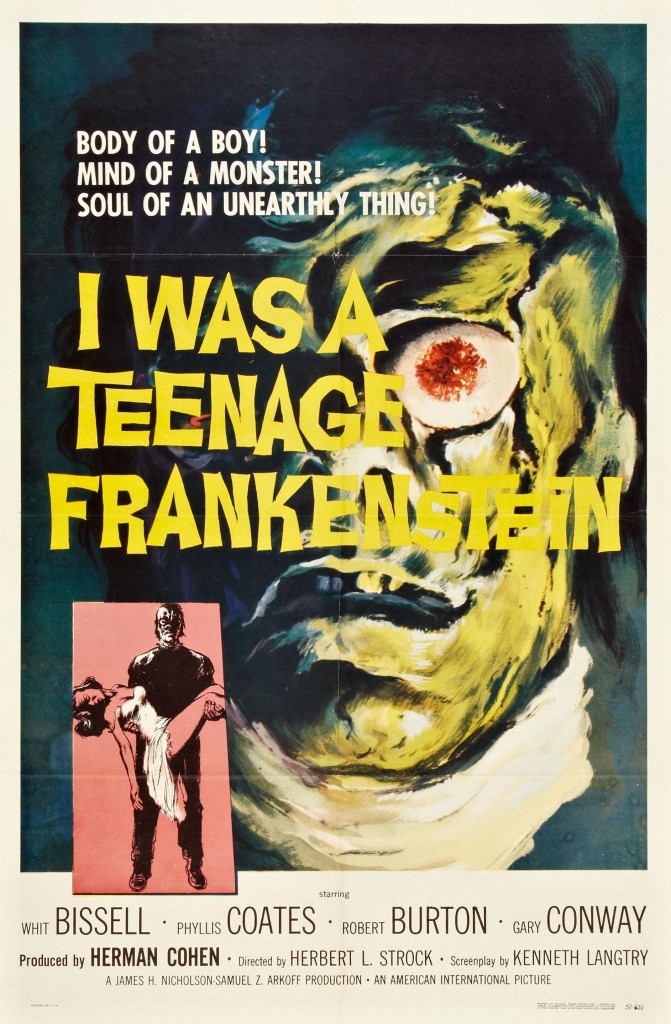 The young gang members had come to the Jewel Theater to catch a double feature: "I Was A Teenage Frankenstein" and "Blood of Dracula" — they'd also come to harass Lorenzo.
Lorenzo said that he was fed up and wanted to look for some of the guys who had been antagonizing him. Ramos offered to help — he had a car and a .32 caliber Harrington & Richardson chrome-plated six shot revolver. Castro and Ramos began to cruise the neighborhood around the theater. Lorenzo thought that some of the White Fence gang hung out at a hot dog stand at the corner of Indiana and Percy, so he and Ramos checked it out — nobody was there. They kept riding around until they spotted two guys that Lorenzo ID'd as part of the group that had tormented him. Lorenzo didn't know the boys by name but they were fourteen year old Gerald Randolph Delao and thirteen year old George Rodriguez. Ramos eased his car to the curb and Castro, holding the pistol, got out and forced the two boys into the sedan. Along the way Castro took Rodriguez' watch, set it ahead three hours, then broke it and forced the boy to put it back on his arm.
Then the four youths drove out to a spot along Soledad Canyon Road near the Tick Canyon Wash.
Ramos parked his 1952 Chevy Fleetline on a deserted section of road. Castro ordered the two younger boys from the car and told them to walk away. At about 15 feet from the road he barked: "Turn around". Then he opened fire. Both the boys fell, then Lorenzo walked to them and fired at each of the boys lying on the ground. Satisfied that neither of the boys would harass him again, Castro went back to the car to rejoin Ramos and the pair sped back to Los Angeles. Castro phoned his boss  and reported that there had been gang members outside Ramos' house, but they had finally left.
George Rodriguez, bleeding from a gun shot wound to his arm, staggered to the road and flagged down a trucker, Olen Hoover. Hoover took the boy to a nearby house to call Sheriff's deputies. Rodriguez was lucky to be alive, his friend Gerald had died at the scene.
Castro and Ramos were indicted for murder, assault with intent to commit murder, and kidnapping. Castro had a previous record for driving an automobile without the owner's permission and for carrying a concealed weapon. He was paroled from a forestry camp in 1956.
Thirteen year old George Rodriguez made a powerful witness against the defendants at trial. He told the jury of eight men and four women that he had been shot in the shoulder by Castro, and then turned over and shot again.  After pumping two rounds into Gerald, Ramos and Castro started to leave but they returned when they heard the boy moaning. George whispered to his friend to keep quiet, but Gerald was lying about three feet away and probably didn't hear him. The kid died with three slugs in his chest.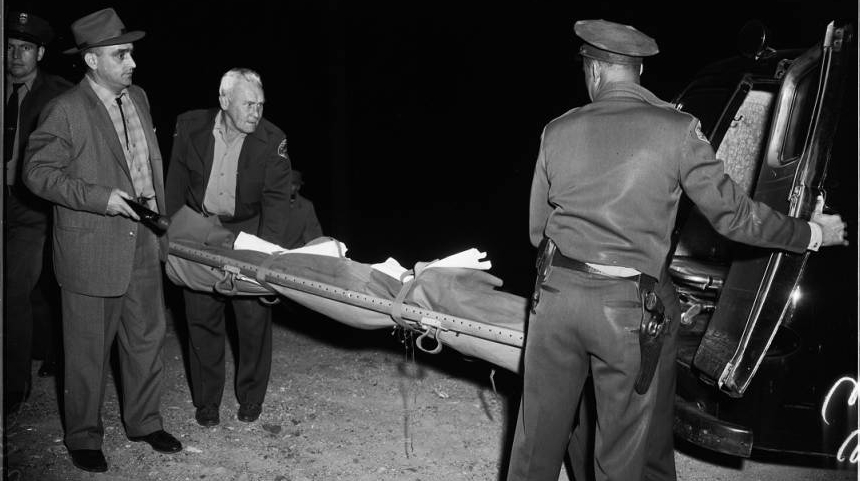 Feigning death, George was turned on his back and one of the defendants (likely Castro) fired at him from point-blank range, then he was dragged under some bushes and left for dead.
On May 28, 1958, former movie theater hero, Lorenzo Castro, was found guilty of murder in the first degree in count one, and guilty of attempted murder in count two.  He was sentenced to life in prison. His co-defendant, Ruben Ramos, was found guilty of murder in the second degree in count one, and guilty of attempted murder in count two.  Ramos was sentenced to from five to life.
In July 1958 each of the defendants appeared before Judge Dawson for probation hearings — both were denied and remanded to State Prison to begin their terms.
Castro came up for parole in 1967 but Sheriff Peter J. Pitchess recommended against it. In May 1969 Castro was again eligible for parole — the Sheriff's Department made
no recommendation. I don't know when or if either Castro or Ramos were released.