When Betty Laday married Jerry Ferreri in 1943 she had big plans–she believed that she was going to transform her handsome new husband from an indolent, skirt-chasing, playboy into a successful businessman. It never happened.
Jerry browbeat, and occasionally physically beat, Betty into complying with this plan, which required him to do nothing and live on whatever his parents and his wife could provide. Betty worked hard as a carhop and she made a pretty decent living, but what Jerry really wanted her to do was turn tricks. Yes, that's right–Jerry told his wife if she really loved him she'd prostitute herself for him. Betty did not act on his employment suggestion and stuck with the carhop gig.
It was fortunate for Jerry that his father Victor was a successful politician in New Jersey's Italian community (make of that what you will). When Jerry and Betty found a beautiful home on South Lucerne Blvd in L.A.'s Hancock Park/Wilshire District, the elder Ferreri's ponied up the cash to purchase the $35,000 home [$434,857.00 in current U.S. dollars]. Not surprisingly, Betty's carhop salary and Jerry's lack of gainful employment wouldn't have sealed the deal, so neither of them was on the mortgage, it was Jerry's mother who appeared on the deed.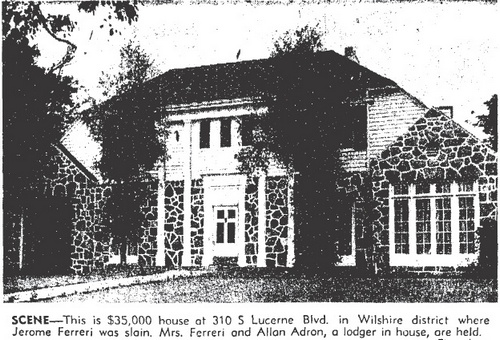 The house was large enough for Betty, Jerry, their 5 year old son Vincent and assorted friends and relatives. Among the residents at the home were Jerry's cousin Vincent "Charley" D'Angelo (35); Marion James "Val" Graham (24), a professional singer; Allan Aldron (51) a live-in handyman, and Mrs. Maxine Gould (28), who also roomed at the mansion.
All of the residents of the house had heard and seen Jerry verbally and physically abuse Betty, and Charley had once prevented Jerry from harming little Vincent.
On the night of October 26, 1948 Val Graham and Charley D'Angelo witnessed Jerry pick up a fire place poker and attack Betty. Jerry was red-faced and screaming that he was going to kill her.
Graham said: "He had a poker in his hand. Before we could interfere he lunged at Betty with the poker. he swung it hard enough to have killed her if it had hit squarely, but she ducked and the steel bar only knocked her hat off and grazed the top of her head.

"He swung once more–hard. And again he missed. He had started a third swipe of the poker when Charley reached him and held his arm."
The two men managed to calm Jerry down a bit and persuaded him to leave the house. They told Betty that he probably wouldn't return that night–but he did.
About 10 minutes after the scene in the living room, Allan Adron returned home from an errand and a few minutes after that Jerry was at the front door.
Charley and Val met Jerry at the door and told him they were going out for a cup of coffee, and they asked him if he wanted to join them but he said:
"No, I've got something to take care of."
Graham and D'Angelo had just seated themselves in the car at the curb in front of the house when they heard two shots and then screams. They ran into the house and found Jerry lying mortally wounded on the floor of the pantry. Allan had shot the man and Betty had taken a meat cleaver and used it to hack Jerry twenty-three times.
The police arrived and took Betty and Allan to the station for questioning. Detectives then began to try to unravel Jerry's complicated love life while police psychiatrist Paul de River (he was the psychiatrist in the Black Dahlia case) attempted to untangle "the complicated emotional pattern surrounding the Ferreris and to investigate the 'other woman angle'".
The cops had discovered that the dead man didn't have one girlfriend, he had at least two. Motives for his murder were growing exponentially by the second.
An attractive twenty-eight year old blonde, Mrs. Loretta Salisbury Burge had been seeing Jerry for at least eight months prior to his death. The cops found Loretta through a mysterious telegram found at the Ferreri home–it was addressed to Jerry and asked for a rendezvous–it was signed "Three Deuces". Loretta Burge lived at 222 North St. Andrews Place just a little more than one mile from Jerry's home.
Jerry had kept the "three deuces" telegram and he'd also kept a red face powder compact that belonged to neither Betty nor Loretta. The compact was identified as the property of Miss Floy Smock, a twenty-one year old redhead and former model with whom Jerry had been seen in his car on the night of the killing.
Apparently Jerry liked to keep his women close because Floy, like Loretta, lived only blocks from his home.
When detectives asked Floy about Jerry she insisted that they had been very good friends, but that the relationship was "purely platonic".
Because Floy had been riding around with Jerry in his car on the night of the murder investigators wanted her to provide a detailed recounting of their evening together.
Floy stated:
"On the night of the murder Jerry picked me up about 9 p.m. We drove around awhile. We drove up and down streets and I guess we passed in front of his house."
Betty said that she had seen her husband driving up and down their street with "some woman".
She continued:
"At about 10:20 p.m. we stopped by Jerry's house. He ran inside. Then he came out again and drove me home. I guess it was about 10:35 p.m. then. He drove away, drove back…to that."

"I can't tell you any more now."
Even though it seemed clear what had happened in the the pantry of the Ferreri home, cops know better than to take anything at face value. The coroner still had to weigh in on whether it was the gun shots or the meat cleaver that had ended Jerry's life.
Would the widow and/or the handyman be charged with murder?
NEXT TIME: The Ferreri case continues with an inquest and a cousin by any other name.