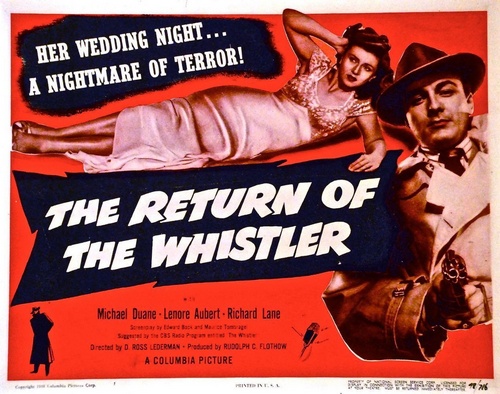 Welcome!  The lobby of the Deranged L.A. Crimes theater is open. Grab a bucket of popcorn, some Milk Duds and a Coke and find a seat.
Tonight's feature is THE RETURN OF THE WHISTLER which was the last in a series of films based on the radio series of the same name. The film stars Michael Duane and lenore Aubert.
As a bonus I'm also posting an episode from the radio series for your enjoyment.
********************************************************************************
Now for the film!
From TCM:
When a woman goes missing on the eve of her wedding, her fiancee hires a detective to track her down.

Late one night, young civil engineer Ted Nichols and his French-born fiancée, widow Alice Dupres Barkley, brave rain-swept country roads hoping to find a justice of the peace who will perform an on-the-spot wedding. Their hopes are dashed, however, when they are told that the justice of the peace is away for the night. The couple's misfortunes soon multiply when their car, which has been tampered with by a mysterious man who has been following them, breaks down in a small town that has no available hotel rooms.