I've been crazy busy the last couple of weeks so I slept right through Film Noir Friday! But the projector is back up and running, the popcorn machine is heating up and the sodas are chilled.
Put your feet up and get ready to enjoy a double feature.
Since it's Sunday I thought it would be nice to offer a light weight film selection. So find a seat and join me in the Deranged L.A. Crimes screening room for a couple of WWII era BOSTON BLACKIE films starring Chester Morris.
Our first feature is ALIAS BOSTON BLACKIE.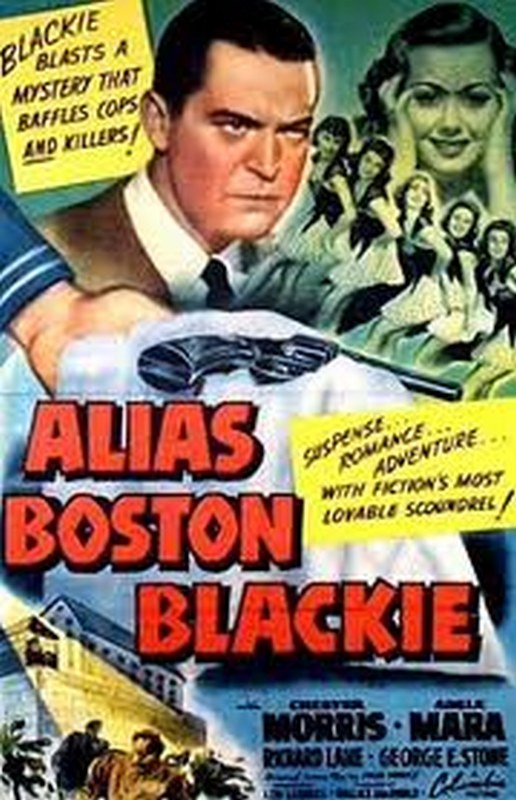 TCM says:
Prompted by the sentiment of Christmas, reformed safecracker Boston Blackie persuades the cast of a musical comedy company to help him entertain the inmates at his "alma mater," the state prison. The stars of the troupe are Roggi McKay, the famous clown, and a young dancer, Eve Sands, whose brother, Joe Trilby, is an inmate at the institution. Eve is anxious to see her brother, who was jailed on false evidence and who now he seeks revenge on Duke Banton and cab driver Steve Caveroni, the two men who framed him.
http://youtu.be/c5AgY4mTLro?list=PL5TUHC5E_gjcmy08vKChSLRyVDzwHfiWs
TIME FOR INTERMISSION!  YOU KNOW WHAT THAT MEANS–LET'S ALL GO TO THE LOBBY!
Now for our second BOSTON BLACKIE feature, AFTER MIDNIGHT WITH BOSTON BLACKIE.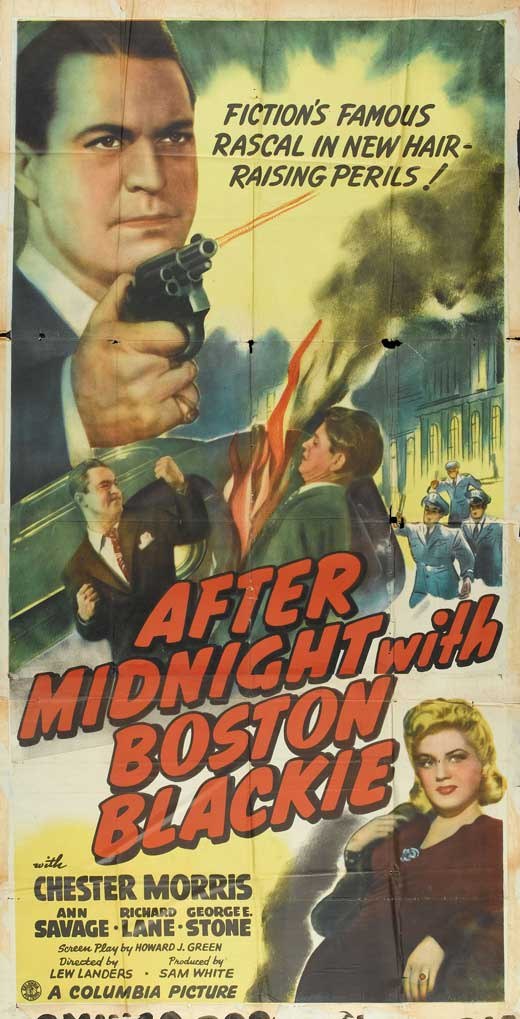 When Diamond Ed Barnaby is paroled from prison after serving a sentence for stealing diamonds, his fellow gang members, Joe Herschel, Sammy Walsh and Marty Beck, spring into action to reclaim the jewels. Anticipating trouble from Herschel and his gang, Diamond Ed tells his daughter Betty that he must leave town but will meet her at the Arcade Building on Friday. After retrieving the gems, Diamond Ed locks them in a safe deposit box at the Arcade Building, intending to give them to Betty. Several days later, a porter with a telegram for reformed jewel thief Boston Blackie pages him on a train. Inspector Farraday, Blackie's nemesis, who is also a passenger on the train, identifies himself as Blackie and accepts the telegram.