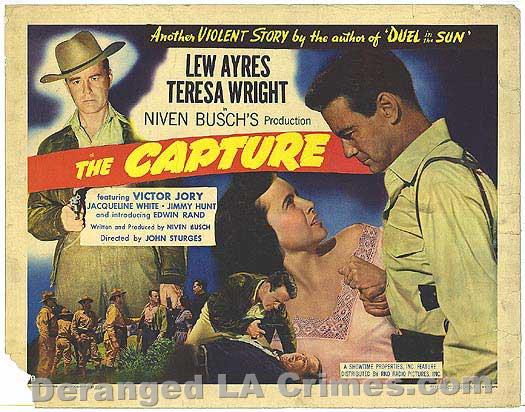 Welcome! The lobby of the Deranged L.A. Crimes theater is open for a rare Saturday matinee. Grab a bucket of popcorn, some Milk Duds and a Coke and find a seat.
Tonight's feature is THE CAPTURE ("Another Violent story by the author of "Duel in the Sun") starring Lew Ayres and Teresa Wright.  Enjoy the movie!
TCM says:
Pursued by police across Mexican range land, American Linley Vanner seeks refuge in the adobe hut of Father Gomez. That night, an exhausted Lin, whose arm is injured, finally reveals his story to the priest: A year earlier, Lin is working as a supervisor at an oil field when he hears that the company's payroll has been stolen and several guards who were protecting it, murdered. Lin is coaxed by his fiancée Luana to join the robbery posse, which is being led by company president Earl C. Mahoney. At first Lin refuses to consider the idea, but changes his mind when he develops a strong feeling about where the robber, whom witness Mahoney has described as "American," might have gone.