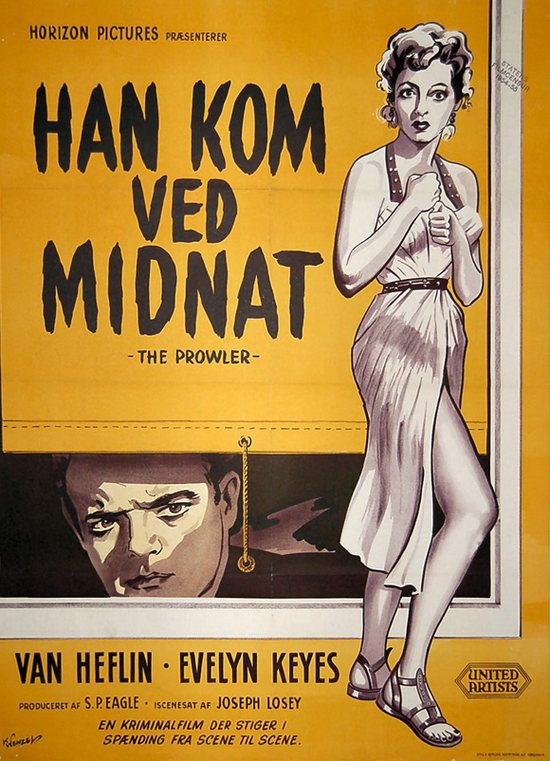 Welcome! The lobby of the Deranged L.A. Crimes theater is open. Grab a bucket of popcorn, some Milk Duds and a Coke and find a seat.
Tonight's feature is THE PROWLER [1951], directed by Joseph Losey and starring Van Heflin and Evelyn Keyes.  The print may not be stellar, but the film is a cult classic
Enjoy the movie!
TCM says:
One evening policemen Bud Crocker and Webb Garwood arrive at 1918 Orchid, Los Angeles, to follow up on the report of a prowler. The older, friendly Bud advises house owner and beautiful blonde Susan Gilvray to be careful but later that evening his partner, the younger flirtatious Webb, returns for a check-up call. While Susan and Webb listen to the radio and visit over coffee, Susan explains that she is alone because her wealthy, middle-aged husband John is the late night-disc jockey on the radio. Susan recognizes Webb as a once-famous high school basketball player from Indiana, where she grew up. Webb bitterly recounts his bad breaks since high school, but shares his dream of owning a motel court. Webb returns another evening to visit, and when he asks for a cigarette, Susan explains that her husband keeps both the cigarettes and her locked up. When Webb jimmies the desk drawer lock to retrieve a pack of cigarettes, he spies John's will and surreptitiously reads it. Webb grills Susan about the marriage, and she reluctantly answers that though John provides for her, he has not provided what she really wanted, a baby.