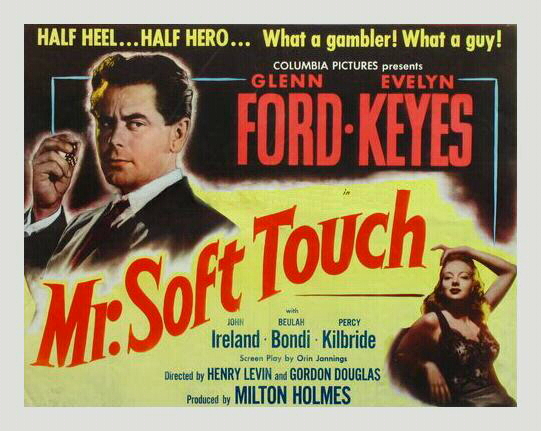 Welcome! The lobby of the Deranged L.A. Crimes theater is open. Grab a bucket of popcorn, some Milk Duds and a Coke and find a seat.
We are celebrating the holidays over the next few days with holiday themed noir movies.
Happy Holidays!
Tonight's feature is MR. SOFT TOUCH, starring Glenn Ford, Evelyn Keyes, John Ireland, Beulah and Percy Kilbride.
At Christmas time in San Francisco, Joe Miracle steals $100,000 from the River Club, which he used to own. After evading his pursuers, Joe hides out with Victor Christopher, the brother of his dead partner Leo, and Victor's wife Clara. Clara has purchased a berth for Joe on the next ship leaving the city. The ship, however, will not depart until the following night. While Joe is trying to decide where he will hide until then, the police demand to search the apartment. At first Joe believes they are looking for the stolen money, but learns that they want to arrest Victor for disturbing the peace and beating Clara. When the police mistake Joe for Victor and arrest him for the night, Joe believes that his problems are solved, but Jenny Jones, a social worker, persuades the judge to give Joe a suspended sentence.